Responses from Religious Leaders and Intergovernmental Organizations to the Violence in Northern Iraq (Selected List)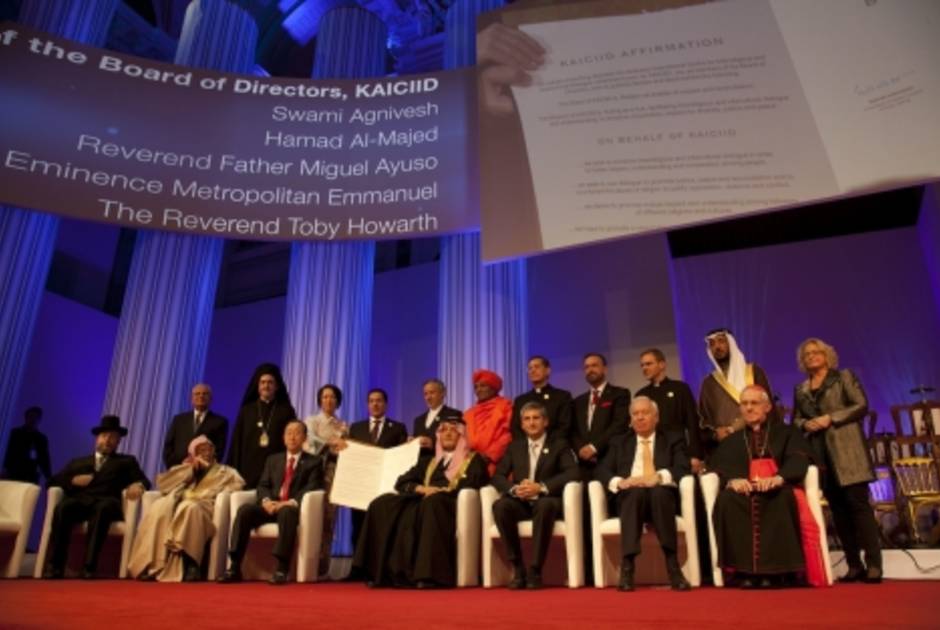 In northern Iraq, brutal violence has led to the murder of thousands of innocent civilians. Many religious and secular authorities from around the world have censured these heinous acts. KAICIID denounces all violence that targets minorities and religious followers, their communities and sacred sites. Adding its voice to those of political and religious leaders from around the world, KAICIID deplores and condemns violence committed in the name of religion.
This list is indicative of the wide variety of religious opinions condemning the "Islamic State" and is not intended to be an exhaustive list of all statements issued against the violence.
 
Shawki Ibrahim Abdel-Karim Allam, Grand Mufti of Egypt
"Isis is a danger to Islam and the Vatican is demanding that the world hold ISIS accountable for their crimes, and bring them to justice."
Alternate Link (Arabic)        Statement 2
"It is a blatant mistake to designate a terrorist group like ISIS as the Islamic state because it violates all the Islamic values, the higher objectives of Islamic law as well as universal values shared by all mankind. Bloodthirsty extremist groups are a danger to Islam and Muslims and distort its image. They shed blood and spread corruption on earth, weakening nations and giving the opportunity to others to destroy us and intervene in our affairs under the pretext of combating terrorism."
 
Ban Ki-Moon, Secretary General of the UN
Remarks at a Press Encounter, New York, 12 August 2014
"The so-called "Islamic State" – IS - is a threat to Iraq, Syria and the region.  I am profoundly dismayed by its barbaric acts, including accounts of summary executions, boys forcibly taken from their homes to fight, girls abducted or trafficked as sex slaves. I condemn in the strongest possible terms the systematic persecution of individuals from minority populations and those who refuse the extremist ideology of "IS" and associated armed groups."
 
(13 August 2014)
The recent wave of violence against innocent families and children in Iraq has rendered the world shocked and horrified. We will not remain indifferent or silent before such irrational persecution, cultural intolerance and appalling loss of life, especially when it is caused by religious hatred and racial hostility.
The targeting of tens of thousands of Christians (including Arameans, Chaldeans, and Assyrians) and other religious minorities (including Turkmens, Yazidis, and Kurds) can never be justified in the name of any religious creed or conviction.
What we are witnessing before our eyes in Iraq is the uprooting not simply of a religious minority – in this case the Yazidis, whose very existence is being threatened – but of an entire civilization. The victimization and extermination of women and children, as well as of the elderly and disabled, for any reason whatsoever – much more so in the supposed name of religious conviction – is a repudiation of our own future. Such calamity and cruelty of adherents to one religion can never be defended by cowardly and falsely invoking another religion. Such brutal acts are categorically unacceptable and unjustifiable before both God and humankind.
Violence never is pacified by violence, and hatred is only overcome by tolerance. Knowing that true and lasting peace only comes to pass through genuine encounter and dialogue, we call upon religious leaders and political authorities in this wounded region to promote conversation to resolve dispute, and to support peaceful means to overcome conflict.
We implore the same of all leaders in other parts of the world, especially in Gaza and Israel, in order that those conflicts, too, may not further escalate at the expense of more human life. It is precisely for this reason that, at the invitation of Pope Francis, we gathered in Rome for an interfaith summit of peace with Presidents Peres and Abbas last June.
The situation in Iraq is especially critical. The humanitarian predicament is more urgent than ever. Our response must be immediate and tangible. Therefore, we appeal to every responsible organization and every person of good will – beyond any support through perpetual and persistent prayer – to assist with material and humanitarian resources so that these innocent victims may no longer endure hunger, suffering, and death.
It is our wholehearted hope and fervent prayer that the God of love – worshipped by Jews, Christians and Muslims alike – may prevail over the false idols of fanaticism and prejudice. May the compassionate Lord grant peace to all.
Statement by Adama Dieng, Special Adviser of the Secretary-General on the Prevention of Genocide, and Jennifer Welsh, Special Adviser of the Secretary-General on the Responsibility to Protect, on the situation in Iraq
"The Special Advisers of the Secretary-General on the Prevention of Genocide, Adama Dieng, and on the Responsibility to Protect, Jennifer Welsh, condemn in the strongest terms the reported execution of some 500 members of the Yezidi community in Sinjar and surrounding areas in northern Iraq by members of the so-called Islamic State. They also express alarm at reports of the abduction by the "Islamic State" of some 1,500 Yezidi, Christian and Shabak women and girls.
"These reports are shocking in the extreme. They show, in very clear terms, the complete absence of humanity of the perpetrators of these crimes," stated the Special Advisors. They added that such acts "constitute grave violations of human rights and international humanitarian law and may amount to war crimes and crimes against humanity. The reports we have received of acts committed by the "Islamic State" may also point to the risk of genocide."
 
(14 August 2014) 
A spirit of responsibility should prevail in all Arab and International spheres in order to restrict this aggressive extremism which obstructs the road between Christianity to Islam, whether in the region or across the world, and to put jointly an end to its dramatic consequences. If certain circles some stealthily finance these extremist trends and spend money to send forth corruption across the earth, it is necessary to expose them before the international public opinion and forces of moral actors of the world. The only way to achieve stipulates that Arabs and Moslems should rebuild an image of cohesion among themselves and discover the advantages of diversity which is a characteristic of our East. It is also necessary to accept one another mutually, to live together on the basis of general respect, equality and citizenship everywhere. It is a plea deep from the heart to all the world, as we search unity with our Moslem brothers, an integration in the same fate binding us today and tomorrow, as it did yesterday, carrying thus abundant fruits. We call upon Moslem authorities, Sunnis and Shiites, to issue official and clear worded "fatwas" which prohibit attacks against Christians, against innocent people and belongings. We call upon all Arab and Muslim Parliaments to issue rules which urge towards such an opening, setting aside clearly all shapes of exclusion and rejection of the other, making those who do it accountable before law for their errors. We turn also to all sister-churches throughout the world to show solidarity with our pleas and prayers, in order to protect the salvation message of Christ in the Middle Eastern countries, swept by a wave of wide-scale persecutions.
The Arab league, Conference of Islamic Cooperation, UN Security Council, International Court of Justice, the International Community, react immediately through an efficient and massive relief work.
 
(11 August 2014)
Arab League chief Nabil Elaraby Monday denounced "crimes against humanity" committed by jihadists in Iraq against the minority Yezidi sect, demanding the perpetrators be brought to justice.
Iraqi politicians have warned of the dire plight of Yezidis stranded high up a mountain after Islamic State of Iraq and Greater Syria (ISIS) militants overran their lands.
 
"The Holy Father is following with deep concern the dramatic news reports coming from northern Iraq, which involve defenceless populations. Christian communities are particularly affected: a people fleeing from their villages because of the violence that rages in these days, wreaking havoc on the entire region.
His Holiness urgently calls on the international community to protect all those affected or threatened by the violence, and to guarantee all necessary assistance – especially the most urgently needed aid – to the great multitude of people who have been driven from their homes, whose fate depends entirely on the solidarity of others."
 
"Social crises that are being experienced in the Islamic world, political and military tensions, attempts to base conflicts on sects and disposition have reached serious dimensions that are threatening not only the region but the whole Islamic world with consequences that could be beyond repair. The chaotic environment that is being experienced in the Iraqi and Syrian axis has fueled tensions to new heights with new events led by the situation in Mosul. The reciprocal statements that contain violence, declarations of Jihad, threats aimed at the destruction of holy shrines, kidnappings and killings should be regarded as the pre-shocks of the approaching mass disasters. It is inevitable that the Islamic world will suffer permanent humane, social, religious and sectarian divisions if these events continue to escalate unabated.
The Muslim identity is above all sectarian, dispositional and political considerations. No structure should be allowed to spoil Islamic fraternity and unity. According to the Quran and the Sunnah (teachings and actions of the Prophet) the lives, the blood, the wealth and the honor of people are untouchable. Shedding the blood of a person unjustly is regarded as the greatest crime according to religion.
No Muslim group, faction or community can accept its own religious understanding as the truth and alienate other religious approaches and declare them unbelievers and condemn them to death. This is unacceptable.
At the same time a declaration of jihad of some sides against the other cannot be accepted. Because the Quran and the teachings and actions of the Prophet has never commanded a jihad that allows the shedding of the life and blood of a Muslim by another Muslim. The greatest jihad that the Muslims can declare today is the all out jihad against ignorance, poverty, oppression, sedition and discord. No one can justify the creation of new wrong doings in the name of a jihad against oppression.
Representatives of religious institutions and establishments in the regions of hot conflict should get together and make an effort to come up with initiatives to solve the problems based on religion and morals starting with Iraq and Syria. A delegation comprised of opinion leaders in the area of religion and morals in the Islamic world should take an initiative that aims to eliminate the polarization based on sectarianism. Accordingly the Muslim institutions and establishments with international status should shoulder responsibility. The Office of the Head of the Turkish Religious Affairs (Diyanet) will only be happy to lead such an effort of bringing together the Sunni and Shiite scholars throughout the world."
 
"The horrific events in Iraq rightly call our attention and sorrow yet again. Christians and other religious minorities are being killed and face terrible suffering.
"What we are seeing in Iraq violates brutally people's right to freedom of religion and belief, as set out under Article 18 of the Universal Declaration of Human Rights. It is extremely important that aid efforts are supported and that those who have been displaced are able to find safety. I believe that, like France, the United Kingdom's doors should be open to refugees, as they have been throughout history.
"The international community must document human rights abuses being committed in northern Iraq so that future prosecutions can take place. It is important and necessary for the international community to challenge the culture of impunity which has allowed these atrocities to take place."
 
"Christians are our homeland brothers, and our duty is to do all we can to protect them from extremists and terrorists. All of our cities and homes are open to receive them. There would be no religious limits or clampdown, had they wished to settle down in Najaf temporarily or permanently."
"They are our brothers in the country and in humanity, and have equal rights with all Iraqis."
 
"The Islamic State of Iraq and Sham (ISIS)" is committing crimes against innocent Christian Iraqi citizens in Mosul and Nineveh including forced deportation under the threat of execution; thus further tearing apart the social fabric of the Iraqi people. This forced displacement is a crime that cannot be tolerated; and that the practices of ISIS have nothing to do with Islam and its principles that call for justice, kindness, fairness, freedom of faith and coexistence."
 
"The suffering, persecution and displacement of Iraqi Christians, especially in the Mosul area, is a disgrace to the international community which is not doing enough to rescue the people of Iraq from the terrorist attacks carried out by ISIS. The Chaldean Church in Iraq goes back to the first century and the emptying Iraq of Christians is a great loss to the people of Iraq. I call upon the Iraqi government and the international community to make every effort to stop these terrorist crimes against Christians and upon on Al Azhar Al Sherif and Muslim scholars in the Middle East to stand against the terrorist ideologies of these terrorists who have also killed innocent Muslims."
 
"What is happening to the Christians of Iraq will result in the destruction of the people and it will push them to create sovereign states.
What happened in Iraq pertaining to the deportation of Christian Iraqis from their homeland and their homes and their communities, and forcing them to choose between Islam and death is not in the teachings or practices of true Islam. What is happening in Mosel today is not too different from what is happening in Gaza."
 
"Extremist and militant ideas and terrorism which spread decay on Earth, destroying human civilization, are not in any way part of Islam, but are enemy number one of Islam, and Muslims are their first victims."
 
"Al-Azhar Sharif calls on all Iraqis, especially the politicians to set aside party, racial and sectarian interests, and to immediately find a new agreed mechanism to protect Iraq's sovereignty and land unity, and save Iraq from fundamentalism in all forms and save their country from foreign forces that are in ambush.
It calls on all of them to maintain Iraq under the framework of a full political process, and defend its sovereignty and unity, prevent any kind of foreign intervention in Iraq affairs, not eliminate anyone in launching a political process, and not neglect any request."
 
"Praise be to Allah, and peace and blessings be upon the Messenger of Allah, his family, companions and allies:
We have known by the received news that the Islamic State gave Iraqi Christians in Mosul a deadline to be driven out of the city at 21 Ramadan 1435 AH, already they left the city and so it been free of them for the first time throughout the long Islamic history, starting from the era of the Message, passing through the Caliphate of the Umayyad, Abbasid and Ottoman, and other Islamic and non-Islamic regimes that permeated these periods.
The ِAssociation considers this act as an affront to the innocent, there is no reason to do it, and out of the right way that recommended by the Prophet of Islam, and the Muslim jurists explained after Him, how to deal with this component, and other people of Scripture."
 
"Christians in countries of the Middle East are suffering from harsh persecution, being kicked out from their homes and lands by takfiri extremists amid total international silence."
"We call upon the Arab League, the Organization of Islamic Conference, the U.N. Security Council and the International Criminal Court to take swift, effective and immediate salvaging action. The United Nations is requested to take a firm decision to ensure the return of the people to their lands by all possible means and in the quickest possible time."
 
"We, the Patriarchs and Heads of Churches in Jerusalem, are horrified and shocked by the persecution of Christians in Syria and Iraq by the so-called Islamic State in Iraq and Syria (ISIS), a militant Islamic group.  We are especially alarmed by the ill-treatment of Christians in Mosul, Iraq, who in the last 48 hours were ordered by ISIS to leave their homes by noon on July 19, 2014, or comply with their fanatic demands:  convert to Islam; pay Jizya, a tax imposed on non-Muslim people; or die.
We strongly condemn this horrendous behaviour and call upon all governments, religious leaders, and peoples of the region to denounce such crimes against humanity.  We remind everyone that diversity, tolerance and harmonious living together has been the way of life for centuries in the Middle East, and is the standard by which we maintain just societies. Moreover, we call upon all to respect the dignity of every human being, as each person is made in the image of God."
 
(28 August 2014)  
Archbishop Socrates Villegas, who heads the country's Catholic bishops, also asked churches on Thursday to collect donations for Christians who have been displaced by the militants and whose places of worship have been razed "by a godless rage with which no genuine religion can ever identify."
Citing actions by the Islamic State group including the beheading of American journalist James Foley, Villegas said the Philippine church would "do our part ... to counter the defacement of religion."
 
"The whole world has witnessed with incredulity what is now called the "Restoration of the Caliphate," which had been abolished on October 29, 1923 by Kamal Ataturk, founder of modern Turkey. Opposition to this "restoration" by the majority of religious institutions and Muslim politicians has not prevented the "Islamic State" jihadists from committing and continuing to commit unspeakable criminal acts. This Pontifical Council, together with all those engaged in interreligious dialogue, followers of all religions, and all men and women of good will, can only unambiguously denounce and condemn these practices which bring shame on humanity: -the massacre of people on the sole basis of their religious affiliation; -the despicable practice of beheading, crucifying and hanging bodies in public places; -the choice imposed on Christians and Yezidis between conversion to Islam, payment of a tax (jizya) or forced exile; -the forced expulsion of tens of thousands of people, including children, elderly, pregnant women and the sick; -the abduction of girls and women belonging to the Yezidi and Christian communities as spoils of war (sabaya); -the imposition of the barbaric practice of infibulation; -the destruction of places of worship and Christian and Muslim burial places; -the forced occupation or desecration of churches and monasteries; -the removal of crucifixes and other Christian religious symbols as well as those of other religious communities; -the destruction of a priceless Christian religious and cultural heritage; -indiscriminate violence aimed at terrorizing people to force them to surrender or flee. No cause, and certainly no religion, can justify such barbarity. This constitutes an extremely serious offense to humanity and to God who is the Creator, as Pope Francis has often reminded us. We cannot forget, however, that Christians and Muslims have lived together - it is true with ups and downs - over the centuries, building a culture of peaceful coexistence and civilization of which they are proud. Moreover, it is on this basis that, in recent years, dialogue between Christians and Muslims has continued and intensified. The dramatic plight of Christians, Yezidis and other religious communities and ethnic minorities in Iraq requires a clear and courageous stance on the part of religious leaders, especially Muslims, as well as those engaged in interreligious dialogue and all people of good will."
 
(1 August 2014)  
Religious Affairs Minister Lukman Hakim Saifuddin appealed to Indonesian Muslims not to support the extremist Islamic State of Iraq and Syria, or ISIS.
He called on local Muslims to be wary of ISIS's request for support, stating that it is a radical movement that employs violent means to establish an Islamic state in Iraq and Syria.
In a press release on Friday, Lukman said that supporting ISIS runs counter to Indonesia's state ideology of Pancasila.
Lukman also denounced ISIS affiliates in Indonesia that seek to recruit support while renouncing the state ideology.
"To say Pancasila is thogut, or pagan, which needs to be resisted, is crossing the line," the minister said.
Lukman called on all Muslim leaders and organizations in Indonesia to guide their members to an understanding of Islam as rahmatan lil alamamin (a blessing to all humankind), adding that the unity of the nation must be preserved.
"Islamic teachings are about inviting and embracing all creeds graciously with wisdom, not through terror and violence," said the minister, who is a member of the moderate Islamist United Development Party (PPP).
 
"The dramatic situation of the Christians, the Yazidis, and other minority religious and ethnic communities in Iraq demands that religious leaders, and above all Muslim religious leaders, people engaged in inter-religious dialogue and all people of good will take a clear and courageous stance. All must be unanimous in their unambiguous condemnation of these crimes and denounce the invoking of religion to justify them. Otherwise, what credibility will religions, their followers and their leaders, have? What credibility could the inter-religious dialogue [which has been] patiently pursued in recent years have?"
 
"The World Council of Churches is following with great concerns the tragic developments of the situation in Iraq.
We are deeply shocked and distressed by the recent events in Mosul, where hundreds of thousands of people have fled the second largest city in Iraq because of the violence and raids by the "Islamic State", a terrorist group formerly known as the "Islamic State of Iraq and al-Sham" (ISIS). This radical group is imposing its terror on the whole population, specifically targeting minority groups, including Christians, who have remained steadfast in the city after several waves of displacement.
Out of the 500,000 people who have left Mosul and the area, there are around 10,000 Christians who have been displaced and fled to the neighbouring Kurdish areas, as well as thousands of people from other religious and ethnic minorities and many who oppose the terror regime imposed by ISIS.
Credible media reports and other accounts received from the Bishops in Mosul and the neighbouring villages in the Nineveh plain confirm that Mosul has been nearly emptied of its Christian population. Christians in this city have maintained a continuous presence since the dawn of Christianity. We also mourn with those who have lost their innocent loved ones during the military offensive, and pray for a speedy recovery for the injured."
 
"All Muslims are deeply wounded with the pains, tears, anguish, violence and conflicts being experienced in the many places of the Islamic geography led by the ancient cities of the Islamic civilization Baghdad and Damascus. These events that are being experienced show that the common values of our civilization have been eroded in modern times and that the Islamic world has to display a concerted effort to revitalize these values. As a matter of fact it has been these values of our civilization that has guaranteed the basic rights of everyone living together irrespective of their beliefs and has secured their survival until today because all human beings are the children of Prophet Adam and all have equal rights. Human beings cannot be differentiated and discriminated according to their color, gender, language, geography, etc. It is natural that human beings are divided into various tribes, languages and colors. This is among the verses of Allah and is for getting to know each other, display solidarity and compete to do goodness. To turn these differences as a pretext for superiority and discrimination is void of any religious, moral or humane basis.
All believers are brothers and sisters. No pretext can validate Muslims causing damage to each other, no Muslim can offer any ethnic, political or sectarian pretext to justify such actions. No religious socio-political structure can be involved in an effort spoil Islamic fraternity and Muslim unity. As a matter of fact Islamic identity is the supra identity above all lover identities for Muslims. This identity is above all political, communal and sectarian lower identities. Sectarian, dispositional etc. religious entities and memberships and all attachments are secondary and cannot supersede the Islamic identity."