Religious and Political Leaders Join Invocation for Peace in the Middle East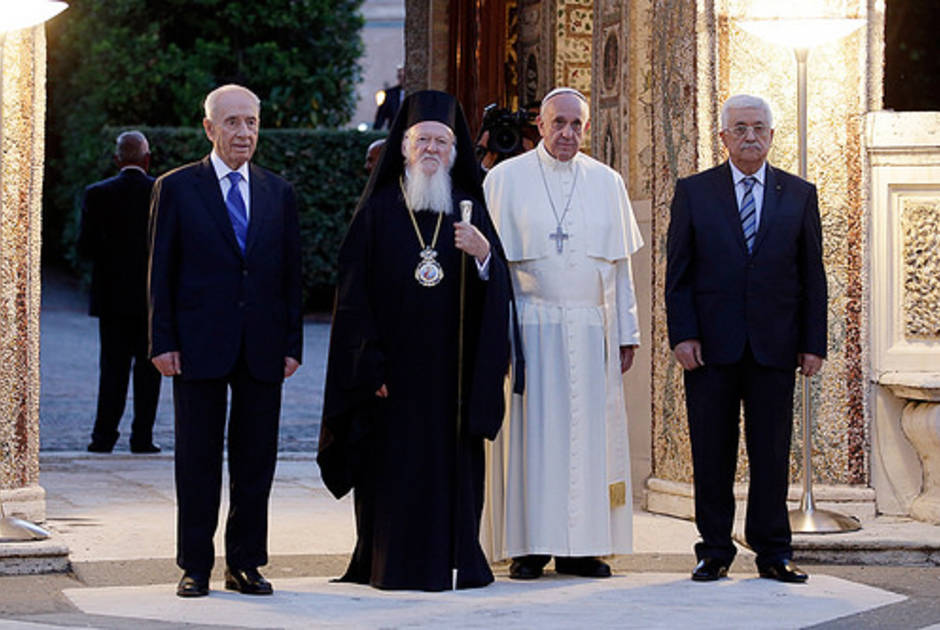 During his recent visit to the Middle East, Pope Francis invited the Ecumenical Patriarch Bartholomew and other religious representatives, as well as Israeli President Shimon Peres and Palestinian President Mahmoud Abbas to join him in an invocation for peace for the Middle East.
The historic invocation was held on 8 June 2014, in the Vatican Gardens, where the leaders called for a new effort to open the imagination to envision peace flourishing in the Middle East.
Following their respective traditions, the three faith communities prayed and then met together in a demonstration of brotherhood.
Pope Francis said, "Peacemaking calls for courage, much more so than warfare. It calls for the courage to say yes to encounter and no to conflict: yes to dialogue and no to violence; yes to negotiations and no to hostilities; yesto respect for agreements and no to acts of provocation; yes to sincerity and no to duplicity. All of this takes courage, it takes strength and tenacity."
The Ecumenical Patriarch Bartholomew read a text from the Book of Isaiah.
The four leaders, the Pope, the Patriarch, President Peres, and President Abbas shook hands and took part in planting an olive tree in the Vatican Gardens.
Bringing together Jewish, Christian and Islamic religious community representatives from the Middle East, the invocation for peace was attended by Rabbi Rasson Arussi of the Chief Rabbinate Council; Rabbi David Rosen; Rabbi Professor Daniel Sperber; Theophilos III, Patriarch of the Orthodox Church of Jerusalem; Bishop Fouad Twal, Latin Patriarch of Jerusalem; Bishop Nourhan Manougian, Armenian Patriarch of Jerusalem; Bishop Munib Younan, president of the Lutheran World Federation and the Evangelical Lutheran Church, Bishop of Palestine and Jordan; Patriarch Emeritus Michel Sabbah of the former Latin Patriarch of Jerusalem; Sheikh Mohammad Kiwan, president of the Union of Imams in Israel; Sheikh Moafaq Tarif from the Druze community in Israel; Dr Mahmoud Al Habbash, Chief Justice of the Palestinian Sharia Courts and Special Adviser to President Abbas; Ziad Al-Bandak, the Palestinian Minister for Christian Relations; among other religious representatives.
Photos of the event are available on the website of the Ecumenical Patriarchate.