Peaceful Myanmar Initiative launches major Interreligious event in Mandalay Region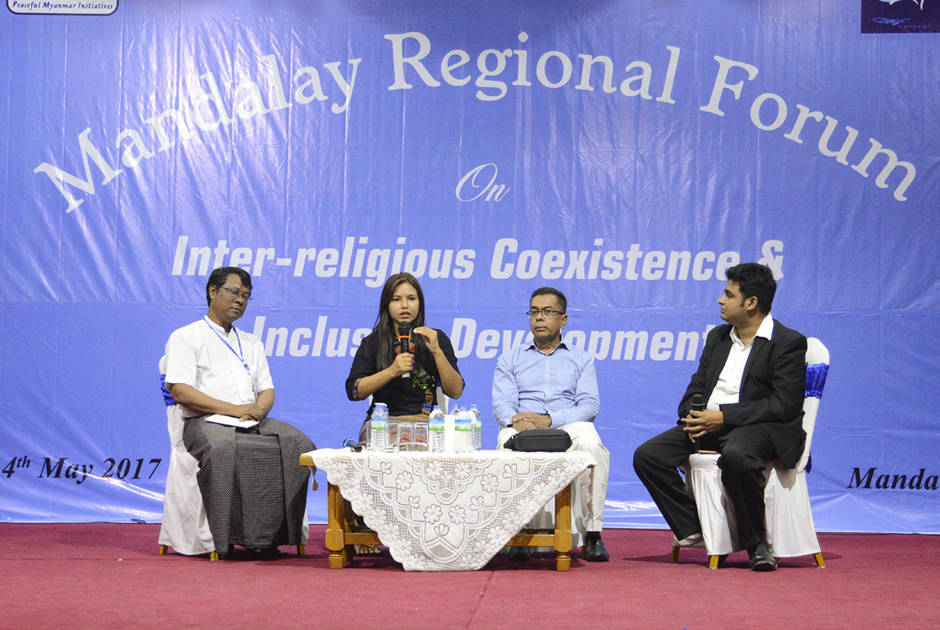 From 3 to 4 May 2017, the Peaceful Myanmar Initiative with the support of the International Dialogue Centre (KAICIID) successfully launched its first major interreligious dialogue event in Mandalay, Myanmar, gathering nearly 200 participants representing Bahai, Buddhists, Christians, Hindus, Muslims and Sikhs.
Titled the "Mandalay Regional Forum on Interreligious Coexistence and Inclusive Development," the conference was the first large-scale interreligious dialogue forum in Mandalay to bring together religious leaders, IRD practitioners and senior government officials to promote interreligious dialogue, inclusive development and violence prevention.
The Forum created the first regional platform in Mandalay for the coordination of IRD activities and initiated an open, transparent and productive dialogue on the current state of interreligious relations in the Mandalay Region. Members of the forum also issued a list of recommendations on promoting interfaith harmony, dialogue and peace to be shared with government officials and civil society organizations. The Forum will establish a regional IRD platform, which is hoped to expand nationally in the coming months.
This initiative was led by PMI members, the Metta Campaign and Asia Light Foundation, in coordination with the Law Ka Tha Ra network.
About the Peaceful Myanmar Initiative (PMI)
The PMI is a multi-religious and inclusive network composed of 22 prominent religious leaders from different faith traditions (Buddhism, Christianity, Hinduism and Islam) and civil society organizations aiming to promote peaceful dialogue across Myanmar. Led by respected religious leaders and civil society activists, the PMI is working in partnership with KAICIID to pilot various IRD activities and trainings in selected regions in Myanmar. PMI and its partners aim to serve as a sustainable dialogue network to build bridges between religious, ethnic, political and regional communities in Myanmar.  PMI actively promotes interreligious dialogue in Myanmar after launching its first pilot activities in December 2016. Since then, the PMI network has trained nearly 350 participants in promoting interreligious harmony and inclusive dialogue.
KAICIID's Myanmar Country Programme
The Myanmar programme focuses on the development of interreligious networks as part of local peace advocacy efforts, with the aim to revive the spirit of tolerance in the country. The purpose is to contribute to the active involvement of religious actors and community leaders in the efforts to promote acceptance, mutual respect and social cohesion. KAICIID's activities in 2017 centre on the implementation and follow-up of several activities that were planned in 2016 by the members of the Peaceful Myanmar Initiative. They focus on capacity building activities in key pilot regions in Myanmar, through the provision of expertise on IRD methodologies and tools in promoting dialogue and conflict prevention.