At Meeting of Partnership for Religion and Sustainable Development, Policymakers Praise Contribution of Religious Actors in Addressing Humanitarian Crises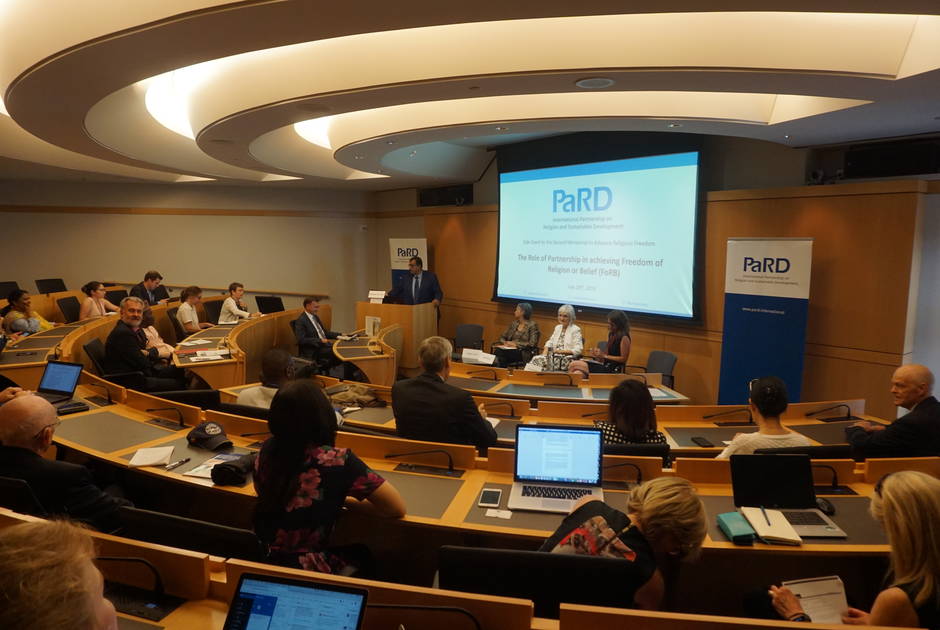 At the online general assembly of the International Partnership on Religion and Sustainable Development (PaRD) on 3-4 September, policymakers from national and transnational organizations affirmed the vital role of faith actors in addressing global crises, including the COVID-19 pandemic.
Financed by the German Federal Ministry for Economic Cooperation and Development (BMZ) and the United States Agency for International Development (USAID), PaRD, a network of governmental and intergovernmental entities, diverse civil society organisations (CSOs) and faith-based organisations (FBOs), seeks to engage the social capital and capacities vested in diverse faith communities for sustainable development and humanitarian assistance in the spirit of the 2030 Agenda for Sustainable Development. KAICIID is a co-chair and member of PaRD.
Mohammed Abu-Nimer, KAICIID Senior Adviser, opened the meeting in his role as PaRD Co-Chair by recognizing the crucial importance of partnership for sustainable development, and the unique role of PaRD as a space for religious and policymaking bodies to interact.
"On COVID-19, and every other crisis: Governments cannot do it alone. Neither can FBOs. So we are looking for ways to support and strengthen each other, which is really the core mission of PaRD. One of the unique aspects of PaRD is the ability to create this space for sharing, and also to recommend policies and actions which can be implemented on the ground," he said.
A keynote address by Dr. Zwelini Mkhize, Minister of Health, the Republic of South Africa, on that country's response to COVID-19 was followed by a series of presentations on religious responses to the COVID-19 pandemic and other global issues, including climate change.
"What faith based organizations can do is seek a role for global advocacy, we can seek a role in investing in clean energy and we can seek a role in behavioral change towards sustainable consumption and we can be models in greening our house of worship", said Iyad Abu Moghli of the UN Inter-Agency Task Force on Religion and Sustainable Development.
Mohammed Abu-Nimer also moderated a panel discussion on funding gaps for faith-based organizations seeking to address the pandemic in their communities.
Dr. Kenneth Staley, Executive Director of the USAID COVID-19 Task Force stressed the need for cooperation between faith actors and governments:  
"The only way change happens is at the individual level. FBOs which have ties to the communities where we're trying to help, can have the most impact. This pandemic has highlighted the importance of religious institutions as they have activated their connections in the community to provide help. They have ties to hospitals, to health systems and they are mobilizing just as they did with Ebola and Zika."
Speaking of her work with the World Bank, Ms. Mercy Niwe, Global Faith Engagement Lead at the bank said:
"Community engagement is a key part of our strategy response and engagement with faith leaders is critical due to their growing presence, their ability to elicit behavioral change, disseminate accurate messaging and provide services and reach vulnerable populations."
Ms Niwe pointed out that significant challenges remain for FBOs seeking funding from multilateral organizations (like the World Bank or USAID): she highlighted the lack of implementing and grant-writing capacity among FBOs, the lack of understanding of the critical role played by FBOs from grant-making and bilateral and multilateral organizations, and the lack of quantitative proof of the impact of faith on development.
At the conclusion of the online assembly, KAICIID Secretary General Faisal Bin Muaammar provided meeting participants with an overview of the G20 Interfaith Forum, which KAICIID is organizing with its partners, the G20 Interfaith Association, the United Nations Alliance of Civilisations and the National Committee for Interreligious and Intercultural Dialogue in Saudi Arabia. The G20 Interfaith Forum, and KAICIID's membership of PaRD are focused towards achieving the same goal, of amplifying religious voices in policy discussions, through highlighting their significant role and prowess in serving communities in need.
"The G20 Interfaith Forum will be a platform to highlight and document the networks of religious and policy actors that have been built through the G20 Interfaith Process. It is our hope, as the organizing committee, that one of the outputs of the forum will be a formal recognition of the G20 Interfaith Forum as an engagement group within the G20 process. This would be a powerful recognition of our goal, and one that we share with PaRD, of advocacy and partnership between religious and policy actors on our shared challenges and crises," he said.