KAICIID Visit to UNGA Underscores Emphasis on Peacebuilding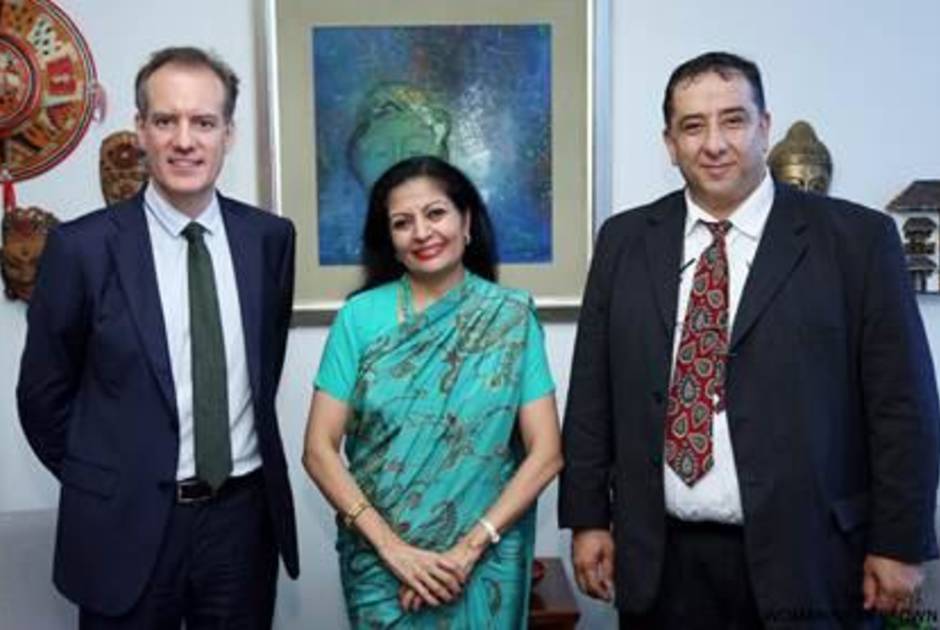 VIENNA, Austria – 5 October 2015: A KAICIID delegation met a wide range of UN agencies, high level officials and diplomats in New York during the United Nations General Assembly to discuss existing projects, formalize relationships and search for new areas of cooperation.
KAICIID's Deputy Secretary General for External Relations, Ambassador Alvaro Albacete, said that the trip underscores KAICIID's strong focus on working with organizations like the UNDP and UN Women to advocate for the inclusion of the voices of religious leaders and communities in peacebuilding projects.
"KAICIID is establishing itself as a global leader in the use of interreligious dialogue to promote peace and social cohesion in conflict areas, and we have the ability to add this dimension to existing and future projects, with the UN, the US State Department and other partners," said Ambassador Albacete.
During the week-long visit to New York, the KAICIID delegation met with officials from the UNDP, UN Women, the Office of the Special Advisor for the Prevention of Genocide, the UN Department of Political Affairs (UNDPA), the UN Peacebuilding Support Office (PBSO), the Organization for Islamic Cooperation (OIC) and the US State Department.
"The most immediate priority was to finalize arrangements for our two existing projects with the UNDP in Iraq and the Arab Region, and to follow up on the Fez Action Plan, a project on curbing hate speech and preventing incitement to violence with the UN Special Advisor for the Prevention of Genocide, Adama Dieng," said KAICIID Senior Advisor, Mohammed Abu-Nimer.
Abu-Nimer explained that the KAICIID delegation also used its time in New York to explore a number of new opportunities.
"There is clearly a need to include the voices of religious leaders in peacebuilding projects around the world, and we at KAICIID have the ability to help UN agencies and other partners do this. There was also a great interest in the role that KAICIID can play promoting interreligious and especially intra-religious dialogue," he said.
Ambassador Albacete said that he looked forward to formalizing new partnerships and following up on these opportunities.
"This is a very exciting time for our organization as we begin to embark on a range of new initiatives centred on using dialogue to build peace in conflict areas," he said.
While in New York, the delegation also participated in a UNGA side event on strategies for reducing religious sectarianism. The event was hosted at the Mission of Finland to the United Nations and was organized by the Ministry for Foreign Affairs of Finland, the Ministry of Foreign Affairs of Spain, the US Department of State's Office of Religion and Global Affairs and the Organization for Islamic Cooperation, in cooperation of the Network for Religious and Traditional Peacemakers, of which KAICIID is a core member.
The full range of bilaterals included meetings with:
Dr. Sima Bahous, Assistant Secretary-General, Assistant Administrator and Director of the Regional Bureau for Arab States of the UNDP
Mari Yamashita, Director and Deputy Head of the UN Peacebuilding Support Office (PBSO)
Lakshmi Puri, Executive Director of UN Women
Kenneth Gluck, Director of the UN Office of the Special Envoy to Yemen
Antonella Caruso, Director of the Middle East and West Asia Division of UN Department of Political Affairs (UNDPA)
H.E. Adama Dieng, UN Special Advisor on the Prevention of Genocide
Sheikh Abdallah bin Bayyah, Co-Moderator and Executive Committee Member of Religions for Peace (RfP)
Dr. Aref Ali Nayed, Ambassador of Libya to the United Arab Emirates
H.E. Seyed Hamid Albar, OIC Special Envoy for Myanmar
Shaun Casey, Special Representative for Religion and Global Affairs at the US State Department
Ambassador Pekka Metso, Ministry for Foreign Affairs of Finland