KAICIID Urges G20 World Leaders to Harness the Influence of Religious Communities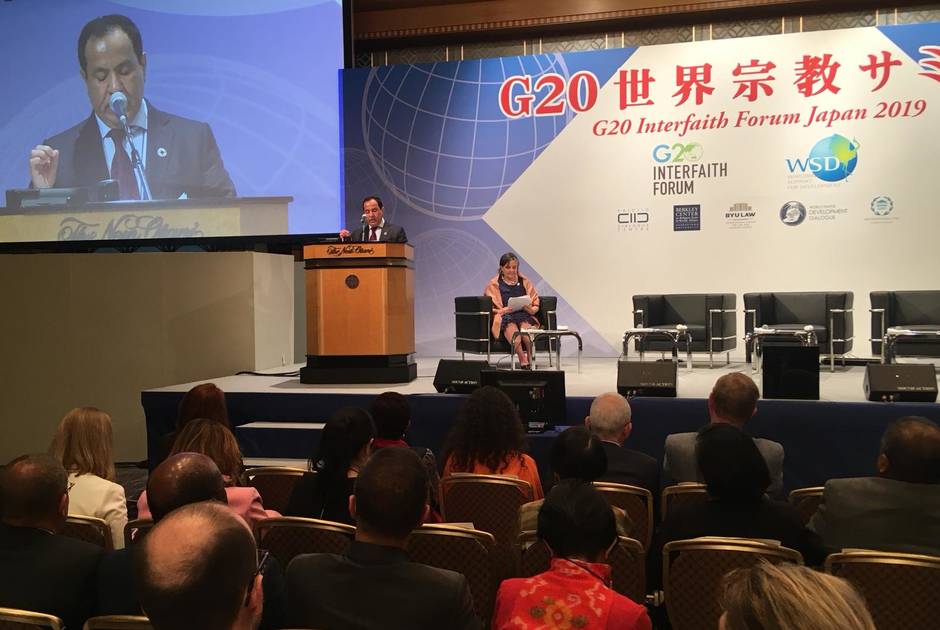 A delegation from the International Dialogue Centre (KAICIID) led by the Secretary General, Faisal Bin Muaammar, participating in the G20 Interfaith Forum in Japan urged leaders of the world's governments to include the voices of religious leaders and communities in discussions on current challenges and to recognize and welcome the influence of religion as a force for good.
"Religious leaders and communities are guardians of our shared heritage and our collective conscience. Individually, religions motivate people to do good, to help their neighbours. Together, through interreligious dialogue, religious communities working together can bring peace to divided societies, preserve the environment, protect the poor, and promote equal rights," Bin Muaammar said.
The G20 Interfaith Forum 2019 brought together representatives of international organizations, academics, religious leaders, policy makers and civil society actors in Kyoto from 7-9 June and in Tokyo from 11-12 June to gather policy recommendations from the religious point of view to be shared at the annual G20 Summit, taking place in Japan on 28-29 June this year.
"The cooperation between religious actors and policymakers should be based on respect rather than manipulation, engagement from the beginning rather than utilization at the end, and a holistic rather than fragmented approach," Amb. Alvaro Albacete, KAICIID Deputy Secretary General explained.
The G20 Interfaith Forum discussions addressed issues such as human rights, security, refugees and inequality. KAICIID Senior Advisor Mohammed Abu-Nimer talked about the challenges of protecting sacred sites and listed interreligious dialogue and community mobilization as effective methods in doing so. KAICIID External Relations Officer Jasmina Bosto highlighted the important role of women in the work of faith-based organizations translating global normative frameworks for peace and development into reality on the ground.
KAICIID participated in this Forum for third consecutive year, following meetings in Germany (2017) and Argentina (2018) and ahead of the 2020 G20 Interfaith Forum in Saudi Arabia.
tags: