KAICIID takes part in Second Ministerial to Advance Global Religious Freedom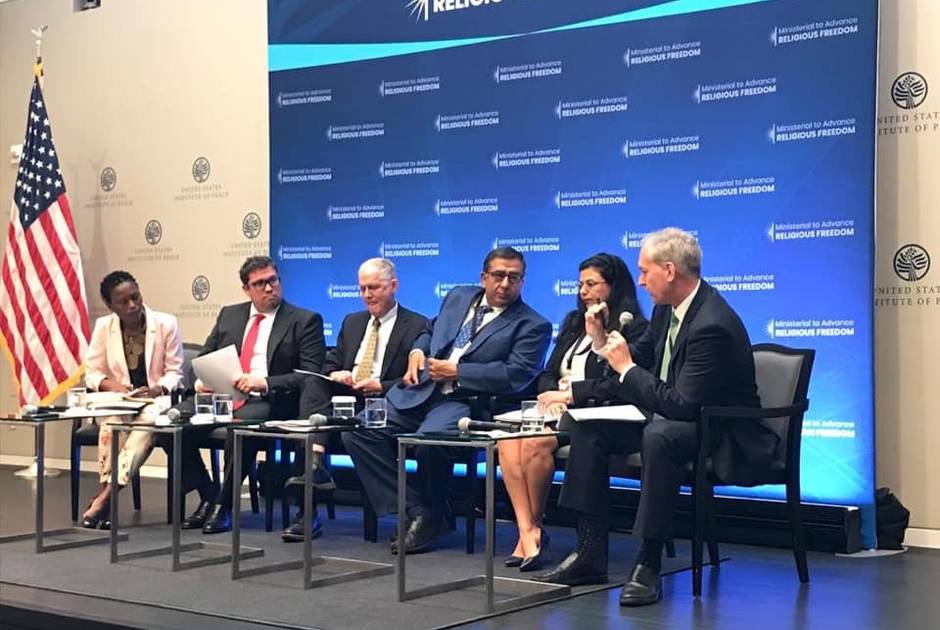 Washington D.C. – The International Dialogue Centre (KAICIID) was one of the key stakeholders participating this week in the Second Annual Ministerial to Advance Religious Freedom, organised by the United States Department of State. Religious leaders, government officials, representatives of international organizations, survivors of religious persecution and members of civil society organizations came together this year to debate the multiple challenges associated with combatting religious persecution and discrimination, and to identify ways to guarantee respect for freedom of religion or belief in all corners of the globe.
Speaking to the participants in Washington, D.C., KAICIID's Secretary General Faisal bin Muaammar stated: "Today, we are seeing a broad-based recognition of the need to engage religious representatives and viewpoints when defining policy solutions. Bringing together around one thousand stakeholders, this second Ministerial is an impressive result of this recognition"
Besides the meetings at the U.S. Department of State, hosted by US Secretary of State Mike Pompeo, numerous side events have taken place throughout the week. As a unique international organization bringing together religious institutions and policymakers in a permanent space for dialogue, KAICIID had a particularly active role in this edition of the Ministerial. In addition to co-hosting two side events, its Senior Advisor Professor Mohammed Abu-Nimer participated as moderator and panellist in other roundtable discussions and breakout sessions.
"The Sultan and the Saint": Promoting Muslim-Evangelical Dialogue in the U.S.
Together with the Unity Production Foundation and Kingdom Mission Society, KAICIID screened the Emmy-nominated movie "The Sultan and the Saint", which is inspired by the courage and peace-building efforts of St. Francis of Assisi and Sultan al Kamil. The movie centres on two individuals from opposing world views who, instead of attempting to change the other, decided to join forces and search for mutual respect and common ground.
The movie is an essential component of the KAICIID-supported initiative "Peace Requires Encounter", which has successfully built bridges between Muslims and Evangelical Christians in the United States. Since 2017, the initiative has reached more than 2.000 people. "We are thrilled to continue our partnership with the KAICIID Dialogue Centre by hosting this reception and programme for Evangelical and Muslim leaders in conjunction with the Ministerial. Our work with KAICIID has sought to forge stronger ties between Evangelical Christians and Muslims in America", Daniel Tutt, Director of Programmes at Unity Productions Foundation said.
Facilitating dialogue when discussing the right to freedom of religion and belief
In cooperation with the United States Institute of Peace, KAICIID organized a training with 50 participants in Washington, D.C. on how to facilitate dialogue on difficult topics such as the right to freedom of religion and belief (FORB). The training aimed to explore interesting approaches and tools to facilitate difficult and eventually controversial issues concerning FORB in working with intra- and interfaith communities.
"Even the most experienced facilitators encounter new challenges when facilitating dialogues that touch on difficult topics. What we have done here is to put forth a variety of different tools and methods that facilitators can use to diffuse tensions and sustain the dialogue while still delving into such topics thus preventing superficiality.", Mohammed Abu-Nimer stated.
KAICIID's Senior Adviser also moderated a panel discussion hosted by the International Partnership on Religion and Sustainable Development (PaRD) and spoke at another one organized jointly by PaRD and USAID. While the second panel provided participants with the opportunity to discuss the role of partnership in achieving freedom of religion or belief, the first one focused on perspectives of freedom of religion and belief and the role of religious actors in mitigating the shrinking space for civil society and working towards sustaining peace. Among many other renowned experts, Ján Figel, the EU's Special Envoy for the Promotion of the Freedom of Religion, took part in one of the discussions.
Preventing Violence against Holy Sites
During a side event that centred on the protection of sacred spaces, KAICIID's Prof. Abu-Nimer highlighted the crucial role of interreligious cooperation in preserving places of worship, which has become an increasingly shared concern across faith traditions, in particular against the background of a rising number of attacks on innocent people in their places of worship all around the globe.
"Interreligious engagement and cooperation among religious leaders can serve as both a model and a way to engage their respective communities with one another. This engagement reduces the fear and prejudice that often leads to violence against holy spaces," Prof. Abu-Nimer said. The discussion was hosted by "Search for Common Ground" and "Religions for Peace" at George Washington University.
tags: