KAICIID-supported Study Provides Evidence that Local Faith Actors are Vital Partners in Peacebuilding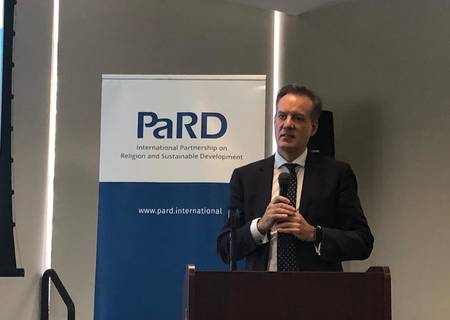 A new study, co-sponsored by the International Dialogue Centre (KAICIID) through its membership with the International Partnership on Religion and Sustainable Development (PaRD), identifies opportunities and challenges for partnerships with local faith actors in support of United Nations Sustainable Development Goal (SDG) #16: the promotion of just and peaceful societies.   
KAICIID supported the launch of a new study this week, which examines opportunities and challenges for engaging local faith actors across various stages of conflict, including prevention, humanitarian assistance, mediation, and reconciliation.
Performed by the Joint Learning Initiative, the study was commissioned by PaRD as part of its SDG-16 workstream, which KAICIID co-leads. Key findings were presented at a side event on July 16 in coordination with the United Nations 2019 High Level Political Forum in New York. With over 40 organizations in the work stream, the study is indicative of the importance of international cooperation on research and projects towards the achievement of the SDGs.
According to the study, local faith actors have been increasingly recognised over the past decade as key actors in conflict response – often able to deliver aid in areas where international organizations are denied access. Furthermore, due to their networks and influence, faith actors have been able to advocate increased rights for marginalised and vulnerable communities.
KAICIID Secretary General Faisal Bin Muaammar explains that faith actors provide an excellent resource for international organizations because they can access communities which are barred to outside humanitarian agencies due to fear and mistrust.  
 "The value of solidarity and the desire to achieve peace, equality and justice are common to all religions," he said. 
"Motivated by these powerful values, religious leaders around the world are mobilising their communities as mediators and agents for change. Their efforts should be acknowledged, and their potential should be recognised. When we tap into this phenomenal resource, bringing down the walls of fear and mistrust becomes an easy task." 
Looking at ten case studies from South Asia and Africa, the study concluded:  
Intermediaries are needed in order to forge a path for local partnerships and international organizations. This "broker" bridges capacity and is a translator between local needs and international priorities.
Faith actors can serve as intermediaries between international humanitarian agencies and grassroots initiatives on the ground. In many cases faith actors may already have existing relationships with government officials and can facilitate introductions and collaborations with intergovernmental organizations. The reverse is also true.
Continuous training and follow-up is needed in partnerships with local faith actors, who might be lacking necessary capacity in areas such as finance and administration, as well as in project implementation.
To read or download a copy of the study, click here.