KAICIID Secretary General Faisal Bin Muaammar elected an Honorary President for Religions for Peace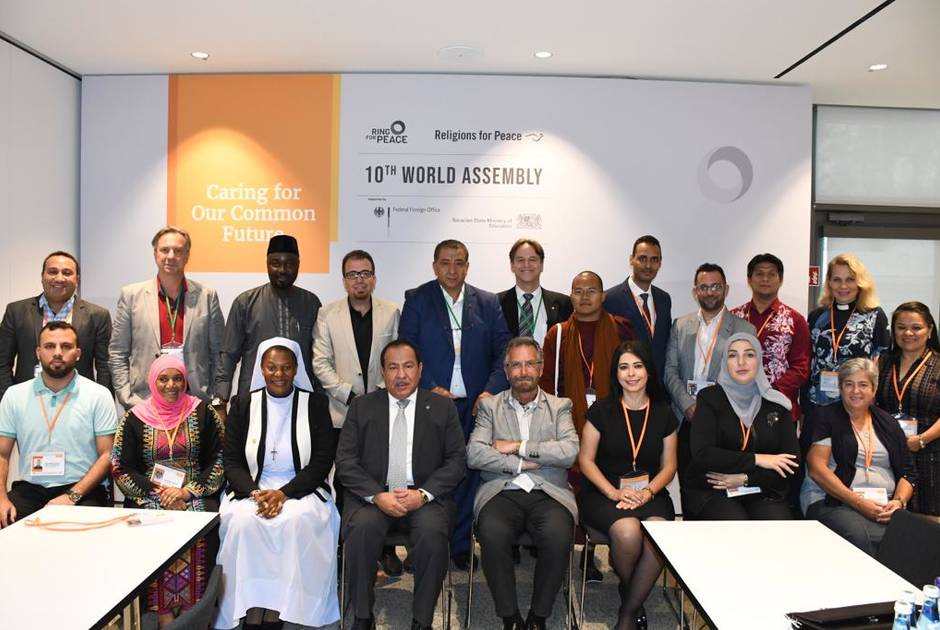 22 August 2019, LINDAU – The multi-religious coalition Religions for Peace (RfP) has elected the International Dialogue Centre (KAICIID) Secretary General Faisal Bin Muaammar as an Honorary President at its 10th World Assembly in Lindau, Germany.
The Secretary General was elected among other distinguished candidates in the category of fraternal organisations for his work promoting intercultural and interreligious dialogue.
"I am deeply honoured to be selected as an Honorary President, joining an international, multireligious group of leaders committed to interreligious dialogue. This appointment is a recognition of KAICIID's mandate and my team's efforts to bring peace through dialogue. We cannot achieve peaceful and cohesive societies without organizations like Religions for Peace, a very important partner for KAICIID since its establishment in 2012", the Secretary General said.
The Secretary General's election followed the appointment of Dr. Azza Karam, a Senior Advisor at the UN Population Fund, as the new Secretary General of Religions for Peace. She will be replacing Dr. William Vendley, who has held this position since 1994.
KAICIID Board Members Dr. Kezevino Aram, H.E Metropolitan Emmanuel, Rev. Kosho Niwano, Chief Rabbi David Rosen and Dr. Mohammad Sammak, alongside Advisory Forum Members such as Dr. William Vendley and Ela Ghandi, all of whom hold senior positions at Religions for Peace, took part in the Assembly. The Centre's delegation, led by the Secretary General, included Senior Advisers Mohammed Abu Nimer and Patrice Brodeur. Representing 13 countries, 17 Fellows also attended the conference.
This international multi-religious event follows the successful 9th World Assembly, co-organised by Religions for Peace (RfP) and KAICIID in Vienna in November 2013 under the theme "Welcoming the Other: Action for Human Dignity, Citizenship and Shared Well-being", with the participation of 800 delegates from over 140 countries. KAICIID's Global Forum on "The Image of the Other" took place just prior to the Assembly, and the partnership with RfP increased the Forum's impact among RfP's network of religious leaders.
Under the theme "Caring for Our Common Future", the 10th Assembly concentrated particularly on conflict resolution through multireligious cooperation, inclusive citizenship, integral development and environmental protection.
Peace consultations on Myanmar, the Central African Republic and the Middle East, some of KAICIID's focus areas of work, were also part of this year's Assembly, which brought together 700 participants from more than 100 countries, ranging from religious leaders to government representatives, diplomats, members of civil society and intergovernmental organisations, youth and women of faith.
As part of the Assembly's capacity building activities, Senior Adviser Mohammed Abu Nimer facilitated a workshop on Religion and Mediation which was convened jointly by KAICIID and the Network for Religious and Traditional Peacemakers. Senior Adviser Patrice Brodeur was part of a workshop on Religious Values and Peace Education, facilitated by Prof. Dr. Johannes Lähnemann and Prof. Dr. Reinhold Mokrosch.
KAICIID's Programme Manager for Online Resources, Ms. Elizabeth Perks, showcased KAICIID's work and cooperation with the International Partnership on Religion and Sustainable Development (PaRD) on SDG 16 and promoted the Dialogue Knowledge Hub.
During the event, RfP adopted the Peace Charter for Forgiveness and Reconciliation, an initiative focused on forgiveness as a vital process for healing and reconciliation.  The Charter will be available on KAICIID's Dialogue Knowledge Hub.
tags: