KAICIID-Organized Workshop Mobilizes Christian and Muslim Women to Ensure Peaceful General Elections in Nigeria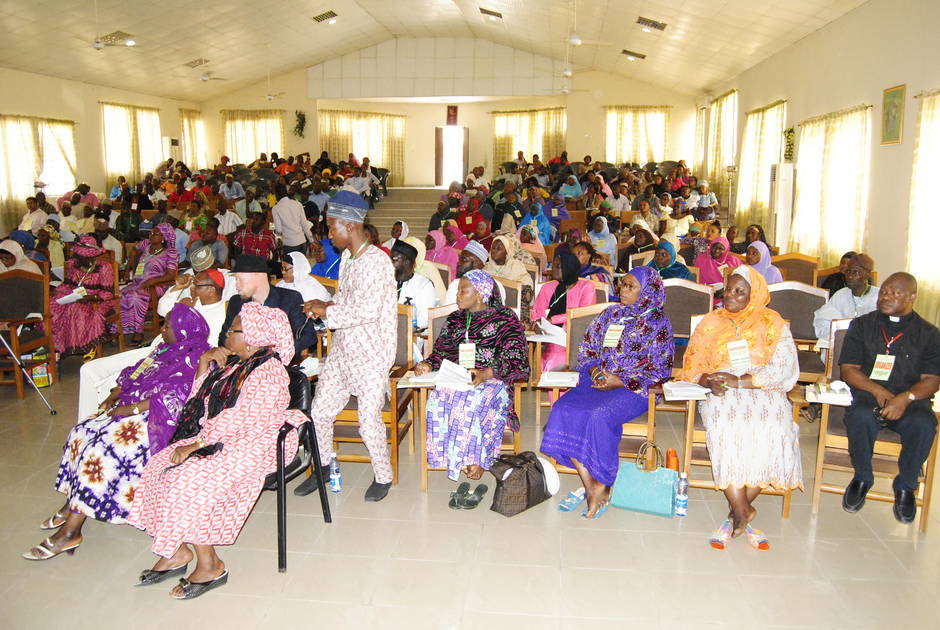 KAICIID-RfP Workshop on Getting Women and Youth Involved in Dialogue in Abuja, Nigeria
22 January, 2015, ABUJA: KAICIID, together with partner Religions for Peace, organized a 3-day workshop to strengthen the role of women and youth in peacebuilding in the 2015 Nigerian general elections. The meeting, which had the endorsement of the highest religious leaders in the country, was attended by the Roman Catholic Cardinal Archbishop of Abuja, John Onaiyekan; and Alhaji Idris Musa, Sarkin Jiwa.
Cardinal Archbishop of Abuja, John Onaiyekan, called on those in attendance to help ensure peaceful and violent-free elections this coming year.
The Chairperson of WOFPN, Rev. Sr. Agatha Chikelue said that involving Nigerian women and youth is the most effective approach to conflict prevention and peace building ahead of the forthcoming election. "The truth is that when women participate in peace negotiations and in the crafting of a peace agreement, they keep the future of the societies, their communities and their families in mind. They think of how their children and grandchildren will be able to live in their own homeland in a peaceful and secure environment, how they will benefit from the structure of peace.''
The workshop brought together over 150 Christian and Muslim women, and 150 Christian and Muslim youth. The goal of the workshop was to empower the 300 participants to become more actively and directly involved in conflict prevention and peacebuilding during the current situation and the coming weeks leading up to the 2015 general elections. This is KAICIID's largest-ever training event since its founding in 2012.
Topics under discussion by the Muslim and Christian representatives at the meeting included building peace, promoting dialogue and advancing religious tolerance in their communities during the time leading up to and following the general election that will be held on February 14th.
Nigeria has a population of over 160 million people, is made up of 250 tribes and and is home to speakers of 500 languages. The majority of the population in Nigeria today is made up of Christians and Muslims. For over five decades Nigeria has witnessed several crises, conflicts, tension and violence, which is often politically motivated, yet committed under the pretext of religion or ethnicity. Most recently, militant group Boko Haram claimed responsibility for a massacre in the northeast Nigerian town of Baga that left at least 2000 dead, and thousands more homeless and displaced.
In light of recent events taking place in Nigeria, KAICIID is proud to support the Women of Faith Peacebuilding Network (WOFPN) and their efforts.
The WOFPN is a coalition of multi-religious organizations of women who have come together from a diverse group of different tribes, religions and cultures within Nigeria who all share a common goal for peace.
This is one of the first steps in a longer six month process taking place which will include monitoring of impact and follow up that will be reported to KAICIID. KAICIID is also planning future activities in Nigeria with the Center for Peace and Conflict resolution, and the Organisation of the Islamic Conference (OIC). A keynote speaker, Bishop Sunday Onuoha was quoted as saying that, 'In the midst of conflict, there is need for dialogue and dialogue removes ignorance from others.´
This workshop also raised awareness about gender issues and the role that women can play in the peacebuilding process, and the trainees learned about human rights and conflict prevention management during the 3 day workshop.