KAICIID Launches Arab Region Journalism Fellowship Programme to Foster Peacebuilding and Dialogue in the Media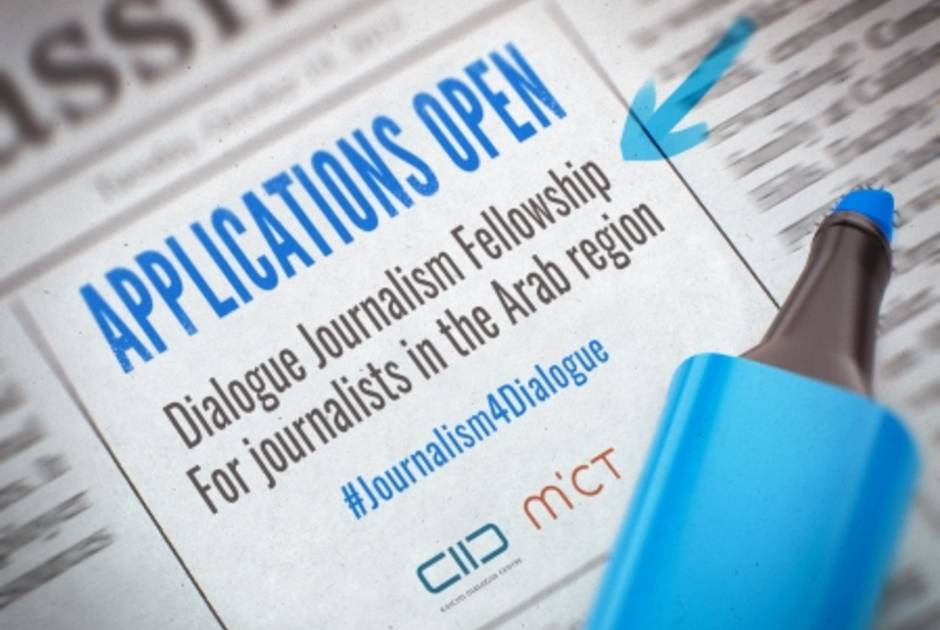 KAICIID is launching today its new Journalism Fellowship Programme for the Arab region. The scheme will offer mentorship, tuition, and funding for around two dozen media professionals, reinforcing the core values of journalism while promoting accuracy, fairness and balance, as well as respect for diversity, ethnicity and religion. The programme's participants will be drawn from diverse communities across the Arab world — a region blighted by war, sectarian division, and political and economic instability. 
"Through our upcoming Dialogue Journalism programme, we aim to work with journalists on enhancing their storytelling skills and providing them with counter narratives that will enhance reporting on people, events and issues related to diversity, religion, and peacebuilding," KAICIID Secretary General Faisal Bin Muaammar said.
Reporting on Religion and Ethnicity
Over the past several years, elements of the media have engaged in unethical reporting of religion and ethnicity, particularly in their coverage of the region's many conflicts. At times, this skewed approach has stoked inter-community hostility, increasing the incidence of hate speech and inciting violence. Addressing this is the programme's principle aim, organisers say.      
"The programme attempts to bridge the knowledge gaps in Arab media about how it can contribute to peacebuilding, as opposed to being the spark that induces more division and discrimination," said Edwar Hanna, Programme Manager for the Arab region Journalism Fellowship Programme.
"The main issue is that there is less reporting on peacebuilding and interreligious programmes than reporting on the conflict and violence the initiatives look to address," he added. 
Dialogue Journalism
The Journalism Fellowship Programme in the Arab region will select 20 to 25 candidates, each a mid-career journalist working across print, broadcast, radio, and/or digital media. To be successful, applicants will have to have at least 5 years of experience, have worked in conflict-sensitive contexts, be aged between 28 and 40 years old, and come from one of the Arab region's predominantly developing countries.  
Over the course of the year-long programme, the group of chosen fellows will have access to online one-on-one mentorship sessions in addition to three four-day capacity building sessions, training them in the practice of so-called 'dialogue journalism'.
A fairly new concept, dialogue journalism strives to move away from the sort of one-way reporting that dominates the modern media landscape, instead promoting civil discourse by putting communities at the heart of the news agenda. Key to this aim is disseminating information that highlights common ground and shared challenges, rather than stories that force groups of different ethnic and religious backgrounds further apart.
By educating participants in the principles of dialogue journalism, the programme will bolster their ability to ethically report on issues of faith, identity and conflict, helping them to bridge religious and cultural divides and combat hate speech. 
Crucially, the scheme will also cover the journalistic skills needed to meaningfully impact policy making, allowing participants to use their work to help promote peacebuilding at the top of governments. If progress is to be made, this is vital, say KAICIID regional experts. 
"We as peacebuilding activists recognise the role of the media as an essential building block in the process of peacebuilding and dialogue promotion," said Maya Sukar, KAICIID's Capacity Building Consultant in the Arab region. "We know that the media is a key actor playing a vital role in a country's social, economic, and governance system, and that it contributes in shaping the manner in which policy is made," she added.
---
---
KAICIID's Partnership with MiCT
In addition to mentorship and training — which might be provided in-person, depending on the state of the COVID-19 pandemic — the programme will offer participants a grant to be used to produce content that follows the principles of dialogue journalism, helping the participants become active advocates for peace by shining the spotlight on stories that foster social cohesion. KAICIID has partnered with Media in Cooperation and Transition (MiCT), a global nonprofit that implements media development projects in crisis regions, to make this happen. 
"I think that journalists have a problem talking about religious and interreligious topics because they don't want their work to be misused for sectarian identity politics," said Klaas Glenewinkel, MiCT's co-founder and managing director.
"For that reason, they might neglect religious issues, which means there's a vacuum which is maybe filled by people who want to stir-up problems associated with religious identity," he added.
KAICIID's partnership with MiCT will lead to the establishment of a Media for Peace Programme, composed by the Journalism Fellowship and the Media Policy Forum. In addition to producing content that will serve as a model for ethical reporting of interreligious issues in the future, the scheme's participants will be invited to participate in the Media Policy Forum.
Bringing together senior journalists, commissioning editors, policymakers, and religious leaders from across the Arab region, the Media Policy Forum will see key stakeholders discuss the principles and ethics of good journalistic practice. Collectively, the group will conclude a set of recommendations for more sustainable conflict and religion reporting, and potentially publish a Media for Peace charter. 
"By empowering young journalists in the Arab region with the required Dialogue Journalism skills for religion sensitive reporting, peacebuilding and social cohesion, they can become active advocates for peace and dialogue, contributing effectively to combating hate speech and bridging divides through their work. Journalists have a central role in driving public opinion, and if we can work with them to promote dialogue and pluralism, I am certain that we can make a difference for a better more cohesive world," said KAICIID's Secretary General Bin Muaammar. 
The scheme isn't KAICIID's first foray into the world of media and peacebuilding — the Centre has been promoting the work of peace-minded journalists in the Central African Republic (CAR) since 2018.
Supporting an organization called the Peace Journalist Network, KAICIID has played an instrumental role in strengthening the capacity, skillset, and conflict-prevention literacy of the journalists in the war-torn African nation. 
To apply for the fellowship please press here  
APPLY