KAICIID International Fellows Programme Concluded its First Session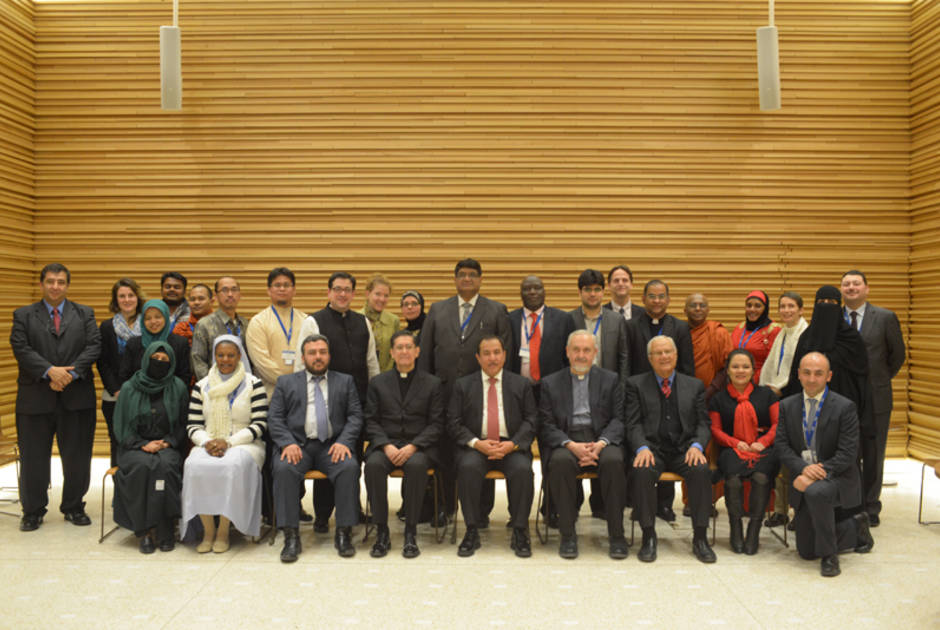 Vienna- On 19 February, 2015 the KAICIID International Fellows Programme successfully launched its 2015/2016 training year. To celebrate the 21 Fellows' first week of training, KAICIID's Secretary General Bin Muaammar applauded their commitment, "I hope to see you again one day as ambassadors for dialogue all over the world." The Fellows will convene again in Asia for their second week-long session in early May. Beforehand, during March and April, the Fellows will complete a KAICIID online training to further expand their expertise in interreligious dialogue. 
The reception was opened by three of KAICIID's board members. Reverend Father Ayuso welcomed the Fellows, "I am really honored to be here today, to celebrate the first group of Fellows. Together you are 17 different nationalities, coming from different realities, and have joined together here, in fraternity and friendship to promote understanding and diversity." His Eminence Metropolitan Emmanuel and Dr. Mohammad Sammak also expressed their appreciation to this inaugural group.  Dr. Sammak said, "I think what you learned here, and what KAICIID is for, is to build bridges. You are now the bridge builders, peace makers. We need to promote the culture of dialogue, the culture of accepting differences, not eliminating differences." The objectives of KAICIID's International Fellows Programme are long term. Hillary Wiesner, director of KAICIID's Programmes Department lauded the Fellows for the influence they will have in years to come; "you are training the next generation of religious leaders and religious peace makers." 
Throughout the week, the Fellows undertook intensive trainings, which often included lively exchanges of ideas, experiences and insights about the need for interreligious dialogue in places beset by tension and conflict. One of the objectives of the programme is to help support the Fellows develop interreligious dialogue programs at their home institutions.  The training of the Fellows themselves also has immense value. Patrice Brodeur, director of KAICIID's Research Department, explained that "the teaching of interreligious dialogue is itself peacemaking, prevention, and post conflict reconciliation, and sometimes all three at once, depending on who the students are."
During this introductory week-long session, the Fellows learned about the different types of dialogue methods and philosophies. Dialogue occurs in many forms, and board member Metropolitan Emmanuel shared his definition at the reception, "the word dialogue, which is a Greek word, means that we come together to share an exchange in a continuous, substantial, creative and transparent way.  A dialogue has to be sincere. I hope that your experience as Fellows in this program, was a sincere experience. An experience that you will carry on and share, and that will mark your life." The reception concluded with an opportunity for the Fellows to meet with guests from the local Viennese religious and diplomatic communities.
To stay updated regarding KAICIID's future public events, please sign up for our newsletter on our homepage. 
Photograph by Daniel Shaked