KAICIID Fellows will learn about interreligious dialogue and diversity management in Madrid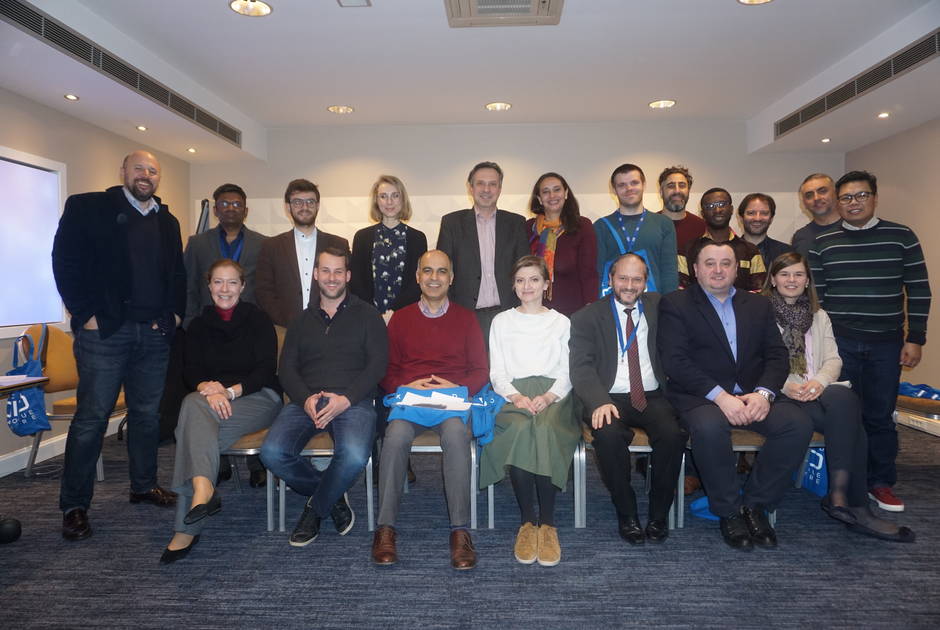 Researchers on issues related to religion, migration experts, educators and representatives of organizations working with dialogue coming from 13 European countries, members of the KAICIID Fellows Programme, will meet in Madrid from 6-10 May to receive training in interreligious and intercultural dialogue and prepare to become multipliers in their  home communities
Through encounters with the Buddhist, Catholic, Jewish and Muslim communities of Madrid, the group will also learn about the situations of different religious communities in Spain and diversity management. Fellows will visit Casa Árabe and Sefarad Israel Center, both public institutions and learn from the experience of the Pluralism and Coexistence Foundation. They will also visit historic sites in Toledo, an enduring symbol of peaceful intercultural and interreligious coexistence.
In addition, The Fellows will participate in a seminar at the Complutense University of Madrid on the topic of religious diversity management in Spain, co-organized with the Institute of Religious Sciences, taking place on Monday, May 6 at 4:00 pm at the Faculty of Philology's conference hall. The panellists will be Prof. Fernando Amérigo, Prof. Mónica Cornejo, Rafael Ruiz and KAICIID's Deputy Secretary General, Ambassador Álvaro Albacete, who will discuss diplomacy and religion.
The facilitators will include Professor Patrice Brodeur, KAICIID Senior Adviser and professor at the University of Montreal, author of numerous publications on interreligious and intercultural dialogue; and Stephen Shashoua, 2017 Fellow, experienced in internationally recognized interreligious initiatives in London and Amsterdam.
The training will prepare Fellows to develop interreligious programmes and initiatives in their institutions and communities, as well as to lead peace efforts with a related religious element. One of the sessions will focus on organizing visits to houses of worship from different religious traditions to break prejudices through gaining first-hand knowledge and exposure to these communities. Fellows will also learn to facilitate dialogues among followers of different religions and to handle challenging situations that may arise during such encounters.
The Fellows are selected from different religious denominations and are associated with institutions such as the Red Cross in Austria; the archdiocese of Vienna; the Swedish agency for the support of religions; the Blanquerna Observatory of Communication, Religion and Culture; the Scouts and the Union of Helsinki Lutheran Parishes, among others.
The group also includes two members of the KAICIID Dialogue Network, which brings together grassroots organizations from different parts of Europe working to support migrants and refugees through dialogue. The Network emerged from a recommendation of the European Commission's representation in Austria and allows its members to exchange experiences, cooperate in specific projects and jointly develop recommendations for public policies of integration in Europe.
About the Fellows Programme
The KAICIID International Fellows Programme brings together leaders and educators from Buddhist, Christian, Hindu, Jewish, Muslim and other religious backgrounds from around the world for training in dialogue facilitation, intercultural communication and promoting social cohesion by KAICIID experts. The programme equips Fellows with the skills to educate their students and communities about interreligious dialogue so they can become facilitators and leaders in the dialogue and active peace advocates in their communities.
Since its first edition, in 2015, over 200 Fellows have graduated from the programme. Since 2016, in addition to the international programme, regional programmes have been carried out annually, each year focused on a different geographical area (Southeast Asia, Africa, the Arab region and in this case and for the first time, Europe). At the end of the one-year programme, the Fellows become part of a network where they continue to exchange experiences, collaborate on projects and receive grants for new projects that promote dialogue.