KAICIID Fellows Take Part in Virtual Conference on Efforts to Counter COVID-19's Global Effects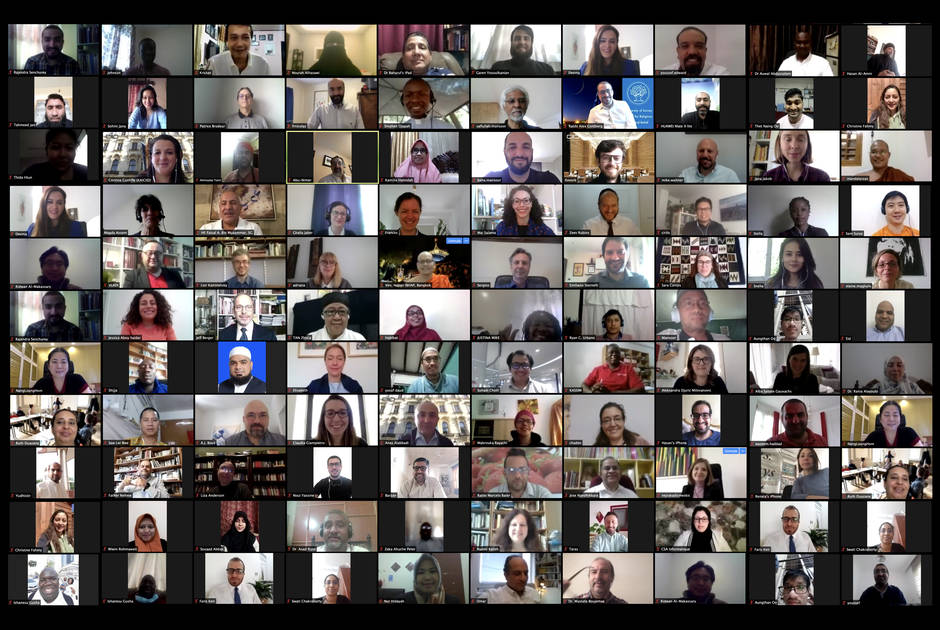 Over 120 KAICIID Fellows from all over the world took part in a virtual conference on COVID-19 this week, providing a vivid picture of how the pandemic is affecting their respective communities and outlining their efforts to mitigate its effects.
In the session, led by Faisal bin Muaammar, KAICIID's Secretary General, Fellows from Africa, India, Pakistan, Europe and the Arab Region provided compelling testimonies on the challenges posed by the virus, on the initiatives they and religious leaders had undertaken to tackle them and on ways in which the situation had been abused as a vehicle for marginalising others.
"It is gratifying to see our global network of Fellows engaging with each other and their local communities to fight the effects of COVID-19," bin Muaammar said. "Their interfaith and multifaith efforts and initiatives, notably in preventing misinformation about the disease being used to marginalise others, are deeply appreciated. KAICIID will continue to support these efforts and thanks its Fellows and alumni for answering our call for solidarity and action."
The conference coincides with efforts by KAICIID to identify and support, with funding where necessary, initiatives by the Fellows related to countering the effects of COVID-19.  So far 26 projects have been identified, ranging from social media campaigns to combat disinformation linked to the disease, to setting up an online database of interreligious initiatives, to care programmes for the vulnerable in isolated areas.
Of particular concern during the session, however, were reports that the disease is leading to the false association of ethnic minorities or faith groups with its outbreak and spread.
"In India, particularly in the media, there is a lot of hate mongering around religion," said Dr. Bajarul Islam, a 2016 Fellow from India. "We are fearing that the hate mongering that has happened will take months to reverse, and has hurt the interfaith work we have done. We will need to take back that space, especially from those who are attaching the coronavirus to a religion or community."
Dr Islam's testimony was echoed this week by Antonio Guterres, Secretary General of the United Nations, who condemned what he said was an "outbreak" of misinformation, hate speech and conspiracy theories attached to the spread of COVID-19 and urged the appropriate actors to intensify and magnify efforts to educate and counter their effects.
This issue was echoed by many Fellows, some of whom outlined efforts to counter COVID-related misinformation, particularly through the promotion of solidarity and understanding on social media.
"We have to deploy an active approach in providing information on social media particularly through dialogue. These changes should happen, otherwise our young generation, who are the main users of social media, will have wrong information and will have the worst biases," said Dr. Islam.
During the virtual session, the Fellows agreed that religious communities play a vital role in providing support for those in need, as well as educating people about the importance of hygiene, social distancing and mental health. With KAICIID's support, Fellows are engaging religious leaders, reaching out to vulnerable communities, educating and bringing people together digitally.
Many of the Fellows identified common issues affecting all countries and communities such as denial of the virus's existence, a reluctance to change religious practices to counter its spread, or a lack of access to information.  Fellows said they are working to address these issues in their specific locales, but emphasised that efforts will not be fully successful without collaboration between governments and religious leaders.
Nearly every major religion draws spiritual meaning from acts of communal worship, which in the current situation can lead to the spread of the disease through close contact.  Some communities throughout the world have been slow to adapt religious practices however.
"I think we need to reorient our minds," Dr. Habibat Oladosu-Uthman, a 2020 Fellow from Nigeria said. "We need to let people know the impact of it for the present and future. We think that if we are not congregating, we are not worshipping. This is not true. We need to put more efforts into educating our congregation."
Emiliano Stornelli, a 2019 Fellow from Italy, accepted the need for religious communities to comply with government protocols aimed at containing the disease, but said there were issues at play to do with respect, for the principle at least, of "freedom of worship".  Governments need to pay particular attention when planning policy to tailoring restrictions on worship to the level of the local health emergency.
For many communities, the key to preventing infection is reaching religious leaders who set the example in times of crisis. They play a key role in spreading information and educating people about the hazards of Covid-19, and are essential government partners.
"Religious leaders are opinion leaders. They can influence people. It is important for religious leaders to stand up to these challenges and confront them. It can't be done alone by the government. It is their responsibility to educate their congregation," Dr Oladosu-Uthman said.
Despite the existing challenges, KAICIID Fellows from the Arab region reported increased interreligious collaboration in response to the pandemic. Faris Kati, a 2019 Fellow from Iraq, explained that many religiously affiliated NGOs have started to support "not only their followers, but anyone who needs help regardless of their religion." 
"As a consequence of COVID-19, we have crossed the boundaries of our religious differences and became united in humanity," Chaden Hany, a 2018 Fellow from Lebanon said. "Instead of praying for their own followers, religious leaders are now praying for all humanity and planet earth," Zafer Nahas, a 2019 Fellow from Syria added.
KAICIID will continue to support the work of its nearly 370 current Fellows and alumni from 67 countries in playing a pivotal role in promoting dialogue, protecting the vulnerable, and promoting solidarity under the global shadow of COVID-19.
tags: