KAICIID Fellows Programme Expands to Latin America; APPLICATIONS OPEN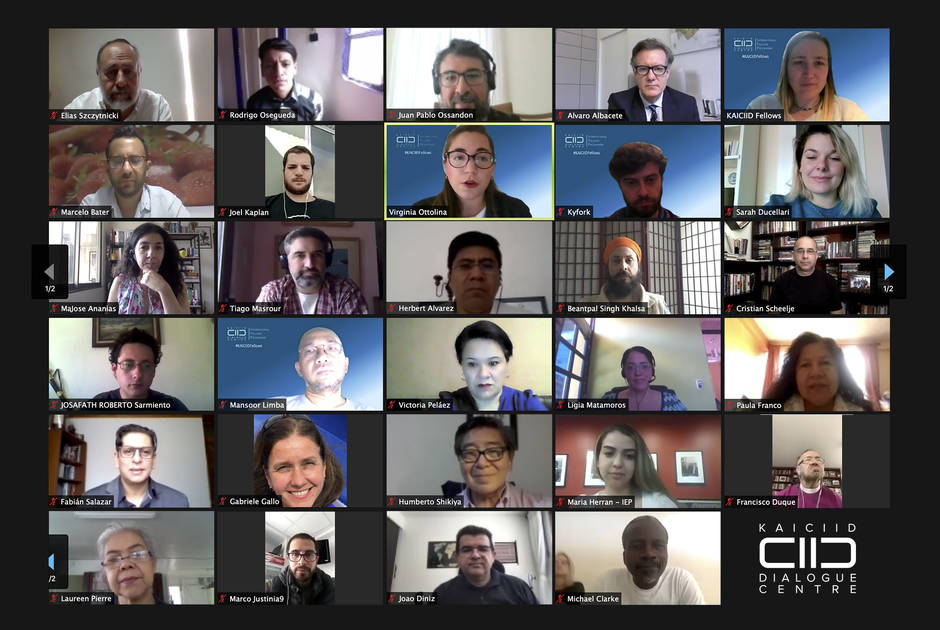 The International Dialogue Centre (KAICIID) today opened the call for applications for the new Latin American and the Caribbean Regional Fellows Programme 2021/2022. For the first time, and in partnership with Religions for Peace Latin America and the Caribbean, the Centre will select participants from this region for a one-year training programme on interreligious dialogue.
"We are thrilled to launch our Fellows Programme in Latin America. We look forward to strengthening our engagement with Latin American stakeholders in a sustainable manner, to learn from each other in support of peace and social cohesion," KAICIID Deputy Secretary General, Álvaro Albacete, said.
"From the beginning of its operations, KAICIID has recognized the wealth of experience in interreligious dialogue contained in the Latin American continent. Interreligious dialogue pioneers from the region are represented in our governance structures and in all our global initiatives," Albacete added.
According to Albacete, Latin America is a region with immense social and economic challenges where faith communities play a fundamental role in fostering coexistence, dialogue, and social equality.
"Interreligious dialogue has evolved in several countries in the region, but we still need to strengthen it to prevent the wave of intolerance that affects other regions of the world," Elías Szczytnicki, Secretary General and Regional Director of Religions for Peace Latin America and the Caribbean, said.
KAICIID Fellows in Latin America
As of this year, 13 Fellows from Latin America have graduated from, or are currently part of, the KAICIID International Fellows Programme. However, for this new cohort, the Centre will tailor the programme to the context and specific needs of countries in the region.
"The Programme will help us increase the number of faith educators and to promote multireligious education in the region," Szczytnicki explained.
The new Fellows will be trained by KAICIID experts to become leaders and facilitators of interreligious dialogue and intercultural communication in their educational institutions. They will also be empowered to become promoters of peacebuilding and social cohesion in their communities. The Programme will be conducted in English, with simultaneous interpretation into Spanish. The sessions will be conducted virtually, and when possible, in-person.
Selected participants in the programme will also receive funding to implement small-scale local and international initiatives and will have the opportunity to organise and participate in dialogues, discussions, talks, field visits, and conferences.
The KAICIID International Fellows Programme brings together religious leaders, educators and interreligious dialogue practitioners from Buddhist, Christian, Hindu, Jewish, Muslim and other religious backgrounds from around the world. The Programme does not end with the Fellows graduation. Instead, after one year of training, they become part of the Fellows Alumni Network, which currently has 364 members. Through the Network, Fellows can connect with a vibrant community of global changemakers, learn from each other, seek support and guidance from KAICIID experts and access training and funding opportunities to continue promoting interreligious dialogue.
Requirements for applicants:
1. Teach in an institution that educates future religious leaders (seminaries, temples, and similar institutions); and/or dialogue professionals with access to the education at said institutions.
2. Be affiliated with (and/or have the support of) an institution.
3. Educators under 40 years of age are preferred.
4. Willingness to learn and cooperate with leaders of different religious backgrounds.
5. Capacity to participate in and commit to the whole programme, which includes: three in-person trainings, online training and the implementation of a small-scale interreligious dialogue initiative during the programme.
Latin American and the Caribbean Regional Fellows Programme deadline: 5 June
International Fellows Programme deadline: 10 June
Apply here! For more information, please visit the Frequently Asked Questions page.