KAICIID Fellows Issue Statement for Human Rights Day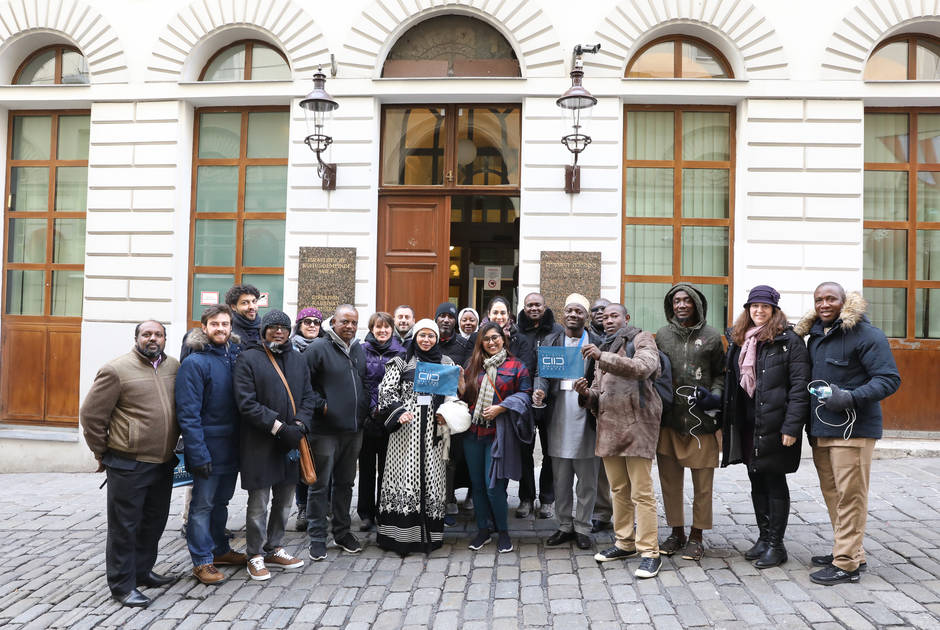 Over 100 KAICIID Fellows from 35 countries have issued a statement in honor of Human Rights Day, pledging to uphold human rights and dignity and insure inclusion of marginalised communities through interreligious dialogue. 
Human Rights Day commemorates the United Nations General Assembly's 1948 adoption of the Universal Declaration of Human Rights, which proclaims the inalienable rights of all people. It serves as a yearly reminder that everyone is entitled to civil, political, economic, social and cultural rights regardless of race, ethnicity, religion, social origin, gender, or any other status.
This year's theme places particular emphasis of the role of Youth for Human Rights. The KAICIID International Fellows Programme (KIFP) equips young religious leaders, academics, and other dialogue activists with the skills for interreligious dialogue to actively foster peace in their local communities.
The Fellows issued the statement in the context of this week's Dialogue4SDGs conference, hosted by KAICIID in Vienna, Austria, where pariticipants are discussing ways in which KIFP can actively contribute to the United Nations Sustainable Development Goals. 
Statement:
"We, the undersigned KAICIID International Fellows, in observing Human Rights Day, reconfirm our commitment to stand up for human rights globally, ensuring that they are universal, indivisible and interrelated. As indicated in the Universal Declaration of Human Rights, we proclaim that all human beings hold inalienable rights regardless of race, colour, religion, sex, language, political or other opinion, national or social origin, property, birth or other status.
This year's Human Rights Day theme highlights the potential of youth as transformative agents of change, vital to addressing the urgent challenges of our times. Around the world, hundreds of thousands of youth are leading collective movements to create a better and more inclusive world.
As young ambassadors of dialogue ourselves, we express our strong support for every young person who is promoting peace, addressing inequality and discrimination and fostering respect for human dignity. We encourage our peers to continue to promote the UN Sustainable Development Goals – providing equal access to education, health care, food, and clean water, and actively addressing environmental concerns which widen inequality. We believe that we need more united efforts and effective policies to successfully implement the UNSDGs by 2030. 
Finally, we believe that a commitment to human dignity is a core value common to every major world religion. To that end, we pledge to build bridges among different religious and cultural communities and promote interreligious and intercultural dialogue, knowing that together we can uphold rights and dignity for all."
Signatories: 
Sri Swami Svatmananda, United States 
Claudia Giampietro, Italy
Bishop Maximos Pafilis, Greece
Suhadi, Indonesia
Arif Kemil Abdulah, Bulgaria 
Dr. Amanah Nurish, Indonesia
Kamilia Hamidah, Indonesia
Yassine Noui, Algeria 
Khonsavanh Vongvannaxay, Lao PDR
Vladimer Narsia, Georgia
Kathy Win, Myanmar
Adriana Bara, Canada
Swe Mar Oo, Myanmar
Rajendra Senchurey, Nepal 
Dr. Kenu Agarwal, India
Rev. Lisa Garvin, United States
Tirmizy E. Abdullah, Philippines
Aung Htay Myint, Myanmar
Aung Than Oo, Myanmar
Fr Stephen Ojapah, Nigeria 
Aboobacker Rameez, Sri Lanka
Firouz Bibi, Algeria
Kristan, Indonesia
Rabbi Alexander Goldberg, United Kingdom
Hasan al Amin, Lebanon
Auwal Farouk Abdussalam, Nigeria 
Saw ler Bwe, Myanmar 
Rabbi Jeff Berger, United Kingdom
Waheedullah Massoud, United Kingdom
Father Nehme Saliba, Lebanon
Wiwin Siti Aminah Rohmawati, Indonesia
Dr Habibat Oladosu-Uthman, Nigeria
Basmah Jastaniah, Saudi Arabia 
Dr. Marcelle Issa Jwaniat, Jordan
Rokia Ouhejjou, Morocco 
Mohamad Alamin, Lebanon 
Melissa Nozell, United States
Wafa' AlMakhamreh, Jordan
Mansoor Limba, Philippines
Youssef ban Elmahdi, Morocco 
Ws. Mulyadi Liang, Indonesia
Rev. Zaka Ahuche Peter, Nigeria
Dr. Ammar Hikmat Farhan, Iraq
Abakar walar Madou, Chad
Dr.Shaima Bakheet Alnamani, Saudi Arabia
María del Milagro Dallacaminá, Argentina
Samanta Surya, Indonesia
Ryan C. Urbano, Philippines
Dr. Abdul Muhaimin, Pakistan
Venerable Napan Santibhaddo Thawornbanjob, Thailand 
Emiliano Stornelli, Italy
Adane Dechassa Teshale, Ethiopia
Pradana Boy Zulian, Indonesia
Bishoy Zayed, Egypt
Sergios Voilas, Greece
Awatef Anwar Boshra Amin, Egypt
Tahmeed jan, Pakistan
Ridwan al-Makassary, Indonesia
Nejra Kadić Meškić, Croatia
Hani Dawah, Egypt
Vicky Missira, Greece
Mohamed Eissa Aboungila, Egypt 
Faris Ilyas Keti, Iraq 
Thet Naing Tun, Myanmar 
Thaer al-Baghdadi, Iraq
Rev. Samaila Yahaya, Nigeria 
Adam Bedarkrg, Iraq
Johnson Elijah Amamnsunu, Ghana/UK
Ougba Ben Nafi Ahmadou, Central African Republic 
Nur Hidayah, Indonesia
Rania Alayoubi, Jordan
Nor Asiah Madale Adilao, Philippines
Sohini Jana, India
Mabrouka Rayachi, Austria 
Jose Nandhikjara, India
Dr. Syed Asad Abbas Rizvi, Pakistan
Dr. Swati Chakraborty, India
Stephen Shashoua, Portugal
Janani Chaitanya, USA
Sneha Roy, India
H.A. Nishantha Kumara, Sri Lanka
Anja Fahlenkamp, Germany
Aisha Abdulraouf Nass, Saudi Arabia 
Ruth Ouazana, France
Father Khaled Gammoh, Jordan
Sara Camps Pérez, Spain
Sw. Athmadas Yami, India 
Md Abu Taher, Bangladesh 
Cirilo Boloron Jr., Austria
Ramy Atta Seddik, Egypt
Nourah Alhasawi, Saudi Arabia 
Alba Sabaté Gauxachs, Spain
Garen Yosolkanian, Lebanon/Armenia 
Stella Francis, Nigeria
Zon Vanel, Indonesia
Thet Naing Oo, Myanmar 
Elisabeth Palugyay, Austria 
Andrew James Boyd, Italy
Nang Loung Hom, Myanmar/ Sri Lanka
tags: