KAICIID explores cooperation with the office of the Mayor of Vienna on the "Campus of Religions" initiative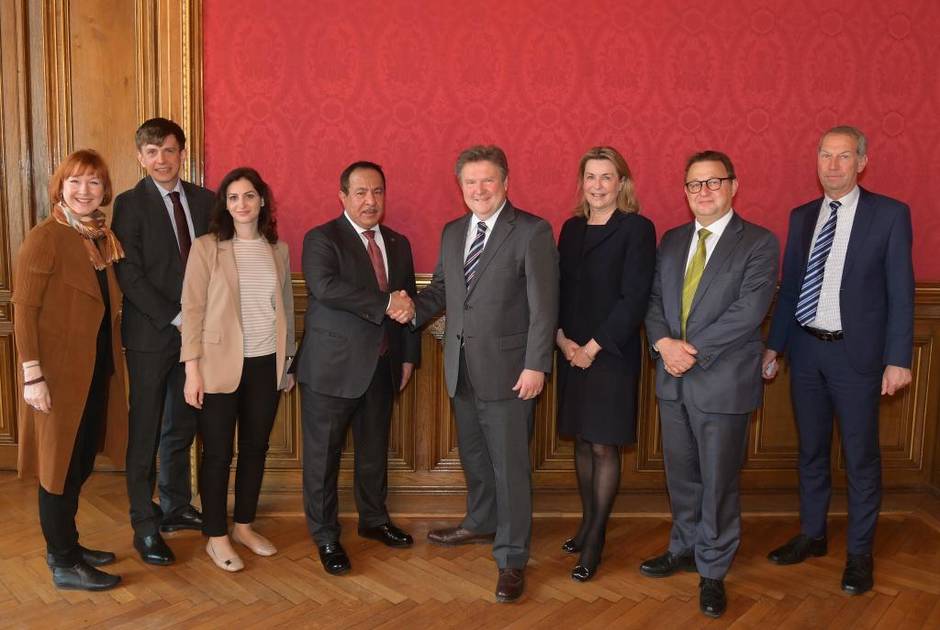 KAICIID explores cooperation with the office of the Mayor of Vienna on the "Campus of Religions" initiative
17 April 2019, Vienna's City Hall: In a visit between KAICIID's Secretary General Faisal Bin Muaammar and Mayor Michael Ludwig of Vienna, the two parties discussed the initiative of the City of Vienna "Campus of Religions", as well as KAICIID's ongoing support for interreligious dialogue platforms like the European Muslim Leadership Council, and the Centre's efforts supporting the integration of newcomers in their host community.
They agreed on the importance of interreligious dialogue and the role of religious leaders in mitigating and preventing conflicts stemming from fear of diversity or ignorance about the other. They discussed opportunities for collaboration, namely pertaining to the City of Vienna's initiative "Campus of Religions".
The Mayor and Governor Dr. Michael Ludwig said: "Vienna has for a long time been a centre for international dialogue and peace and every initiative in this regard is welcomed."
KAICIID's expertise in the field of interreligious dialogue on the high-level and on the local level is an indispensable added value that the Centre would bring to this potential partnership. Not to mention, significant synergies could be made to link between the "Campus of Religions" and several existing KAICIID initiatives that would complement this project, such as the KAICIID Dialogue Knowledge Hub, which is a freely accessible online database of interreligious dialogue resources and e-learning tools.
The International Dialogue Centre (KAICIID) Secretary General Bin Muaammar briefed the Mayor about the Centre's ongoing cooperation with local and international partners, to combat anti-Semitism, Islamophobia, and hate speech. He shared experiences from KAICIID's close cooperation with the Muslim Jewish Leadership Council (MJLC), which was founded by fourteen European religious leaders – 7 Jewish and 7 Muslim religious leaders in Vienna in 2016 with the support of KAICIID and with the goal of collaboration on issues of common concern and to establish greater trust and mutual understanding between their communities. It was registered as an Austrian non-governmental organization on 29 October 2018.
Bin Muaammar also highlighted the Centre's work supporting the integration of refugees and migrants in their host community, Austria, through the People Seeking Refuge Programme, which aims to enhance the social cohesion and the two-way process of integration for people seeking refuge in Europe. The majority of the work of the Programme continues to be done in Vienna, and would welcome the opportunity to collaborate with local authorities who may be running projects with similar goals or with an overlap in approach.
Bin Muaammar said: "The City of Vienna's significant efforts resulted in excellent and pioneering work in promoting integration of new migrants in the face of considerable challenges. We at KAICIID believe that dialogue begins at home, and for that reason it is one of our main priorities to support and contribute to the efforts being implemented in our host city."
He also highlighted that KAICIID always aims to be inclusive in its work, which merits the mention of the diversity of participants in KAICIID activities. Among the groups who have participated at the Centre's various events and programmes are: the Armenian Apostolic Church, Chaldean Catholic Church, Coptic Orthodox Church, Druze, Greek Orthodox, Maronite, Melkite Greek Catholic, Syriac Catholic, Shi'a, Sunni, Yazidi, Protestant, Anglican, Sikh, Baha'i, Hindu, Buddhist, Indigenous Religions, and Jewish people from over thirty countries, including several conflict zones. Through the Centre's work, it has been able to directly engage 17.950 stakeholders in dialogue, establishing five interreligious dialogue platforms around the world in the Arab Region, the Central African Republic, Europe, Myanmar, and Nigeria.