KAICIID Event at the UN Highlights the Often Unacknowledged Contribution of Religious Leaders in Preventing Crime and Recidivism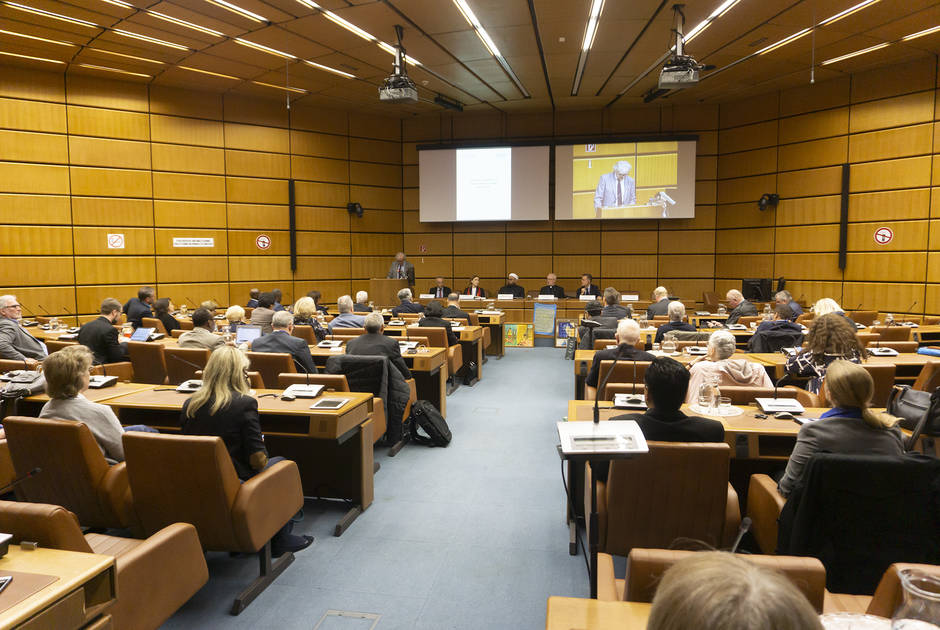 Religious leaders and communities steer youth away from drugs, extremism and violence; provide social and spiritual support to prisoners and their families; and are key in the rehabilitation and resocialization of people released from prison to avoid recidivism. And yet, the contribution of faith-based organizations to crime prevention is often ignored or forgotten. A recent meeting at the United Nations headquarters in Vienna, organized by KAICIID and the United Nations Office on Drugs and Crime (UNODC) sought to correct this omission.
Based on figures and case studies from around the world, religious leaders, policymakers and representatives of intergovernmental organizations meeting at the United Nations headquarters in Vienna on 21 May 2018, emphasized the crucial role of Faith Based Organizations (FBOs) in the prevention of crime and called for increased cooperation and government recognition of their work.
Religious leaders presented examples from their work on crime prevention in their communities: from the United Kingdom came stories of a 200 km walk from Birmingham to London organized by the Methodist Church to draw attention to the rise in knife crime in the United Kingdom, and joint action by religious leaders in Sheffield on hate crime, domestic violence or drug abuse, presented by Imam Sheikh Mohammad Ismail, Muslim Chaplain of the University of Sheffield and Deputy Lieutenant for South Yorkshire.
"There is a need to recognize the work of FBOs and religious leaders, particularly in the prevention of crime. This will help countries and communities to improve, structure and develop the role of religious leaders in tackling crime. The United Nations can play a very important role by encouraging governments around the world to create structured projects involving FBOs and religious leaders to prevent crime", Imam Ismail, , said. Imam Ismail is also a member of KAICIID's Muslim Jewish Leadership Council, a joint platform of European Jewish and Muslim leaders.
Mag. Friedrich Forsthuber, Vienna's Criminal Court President and Chief Judge, described how pastoral care in prisons is one of the oldest support systems for prisoners, and helps them to cope with daily problems, a similar work to that of social workers and psychologists. "Religious freedom in prisons is inoperable without the assistance of religious representatives," he acknowledged.
Also based in the Austrian experience, Bishop Franz Scharl, Auxiliary Bishop of Vienna, explained how faith-based organizations can bring hope to prisoners by providing spiritual support, access to sacraments, retreats and art therapy. He encouraged further cooperation with religious institutions for post-release programmes, for example in providing housing support, and helping the process of resocialization.
Reverend Dracy Roake, Minister at the Community Church Unitarian Universalist in New Orleans, Louisiana, which has the second highest incarceration rate in the world, warned that almost 50% of juvenile prisoners return to prison within 3 years of their release due to difficulties reintegrating into society, unemployment or underemployment. She also brought attention to the fact that children of those who had been incarcerated are more likely to drop out of school or to be imprisoned themselves. "People of faith at the table can be allies, can be the voice of those affected, and with those relationships of trust built over time they allow for direct impact and to have a voice in policy decisions, solutions and ideas," she said bringing attention to the need to work both inside prisons and afterwards.
Panelists agreed that religions' share common values around compassion, solidarity and support to those in need, and these shared values motivate FBOs work around crime prevention. "Crime prevention is something religious leaders and FBOs have been doing for many years. We acknowledge that religious leaders are very influential and active at a grassroots level, and we should find ways to join forces to have a stronger impact on the ground", Ambassador Alvaro Albacete, KAICIID's Deputy Secretary General, said. "Religious leaders are doing a very important job. We have to bring them around the table, creating awareness about what they are doing and speaking in a united voice," Gilberto Gerra, UNODC's Chief of Drug Prevention and Health Branch, added.
The event, which took place on the sidelines of the 28th session of the Commission on Crime Prevention and Criminal Justice, was part of KAICIID's efforts to bring the voices of faith-based organizations to discussions in areas where faith-based, secular and international organizations have common objectives, Amb. Albacete explained: "It is very obvious that crime prevention is of common interest". As an example, he mentioned one of KAICIID's focus countries, the Central African Republic, where local community members have raised concerns about the presence of drugs and crime affecting their daily lives. "And while we are dialogue facilitators, we have to give an answer to daily challenges our stakeholders face. Our work in the field and with religious leaders is related to that".
tags: