KAICIID Director General Meets His Holiness Pope Francis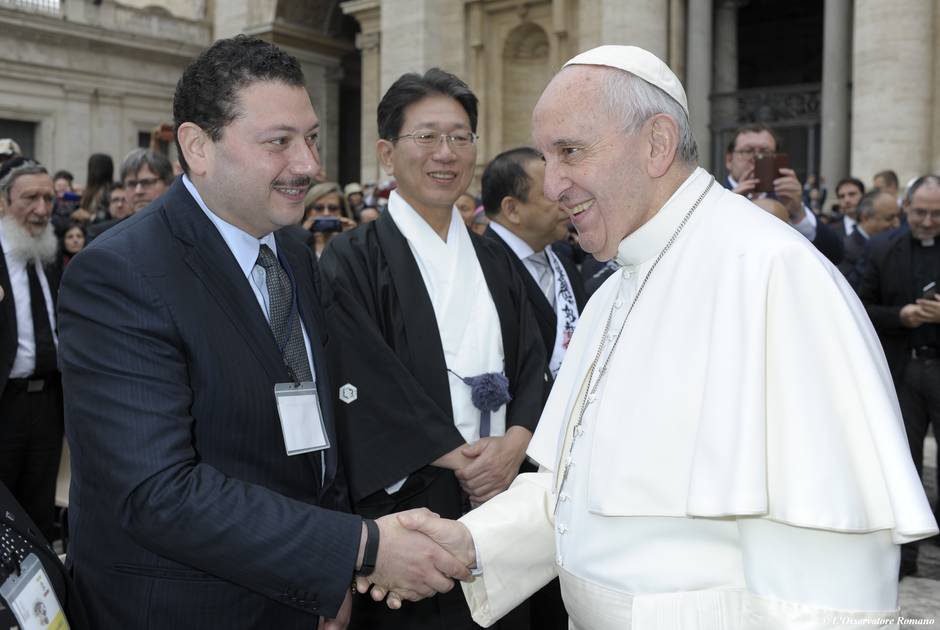 At a commemoration of the 50th anniversary of the Nostra Aetate declaration, His Holiness Pope Francis stressed in an audience at the Vatican the importance of interreligious dialogue. 
During the audience with His Holiness, KAICIID Director General Fahad Abualnasr expressed his gratitude to the Pope for supporting KAICIID and its efforts to promote interreligious dialogue as a means to peace and conflict resolution. 
The papal audience took place during a three-day gathering, sponsored by the Vatican and the Pontifical Gregorian University, to commemorate the 1965 Nostra Aetate ("In Our Time" in Latin) declaration: a landmark document that transformed the relations between the Catholic Church and other religions, in particular Judaism and Islam.
Abualnasr said: "The Nostra Aetate Declaration, and its emphasis on tolerance, reverence and understanding of other religions, is a key building block of interreligious dialogue.
The Vatican's support for these values, and for dialogue between and among different religions continues today, when it is more needed than ever before.
We are grateful to the Catholic Church and to His Holiness for their continued support of KAICIID and its activities to promote interreligious dialogue."
The Catholic Church is represented on KAICIID's Council of Parties and its Board of Directors: the Holy See is a founding Observer of KAICIID, and Reverend Miguel Ayuso, Secretary of the Pontifical Council for Interreligious Dialogue, is a member of the Board of Directors.
Reverend Ayuso addressed the gathering during the opening ceremony of the conference. KAICIID Board of Directors members Rabbi David Rosen, International Director of Interreligious Affairs of the American Jewish Committee), and Reverend Kosho Niwano, also spoke at the conference.
KAICIID will convene a meeting on 19 November 2015 in Vienna, Austria to commemorate the Nostra Aetate declaration.