KAICIID Council of Parties Approves 2020 Budget and Programming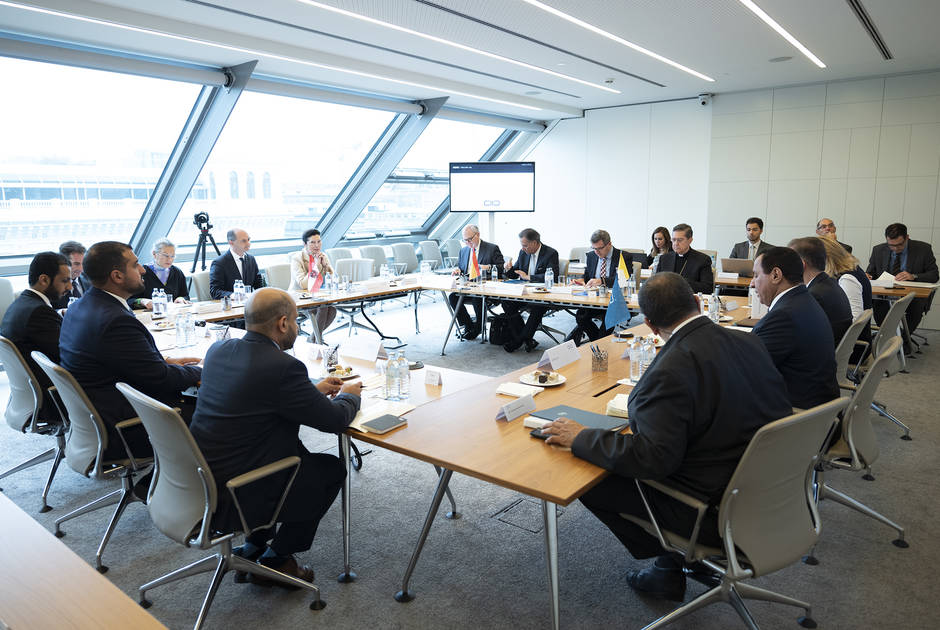 KAICIID's Council of Parties, comprising representatives from the governments of the Republic of Austria, the Kingdom of Saudi Arabia and the Kingdom of Spain, and the Holy See as Founding Observer, met this week to approve budget and programming for 2020.
Convening at KAICIID headquarters on December 12, 2019, the representatives reviewed the Centre's achievements in 2019, including its programmatic outreach in the Arab Region, Central African Republic, Myanmar and Nigeria, as well as the recent Hate Speech Conference and Fellows graduation celebration.
Representatives then approved the Centre's 2020 budget as well as its plans to start a new strategy cycle following the close of an external evaluation process. The previous five-year strategy cycle began in 2015.
The delegations attending the Council of Parties meeting included:
Republic of Austria H.E. Ambassador Gregor W. Koessler, Director of Cabinet of the Federal Minister for Europe, Integration and Foreign Affairs (Head of Delegation); H.E. Ambassador Dr. Teresa lndjein, Director General for International Cultural Relations, Federal Ministry for Europe, Integration and Foreign Affairs; H.E. Ambassador Dr. Marcus Bergmann, Federal Ministry for Europe, Integration and Foreign Affairs; Mr. Christoph Girbinger, Federal Ministry for Europe, Integration and Foreign Affairs Kingdom of Saudi Arabia  H.E. Mr. Abdullah Al Rashidan, Head of Dialogue Department MOFA KSA; Ms. Hana Al Ghannam, Dialog Department MOFA KSA; Mr. Shalan Binijl, First Secretary, Embassy KSA Vienna; Ms. Asma Alamdar, Legal adviser MOFA KSA Holy See Rev DDr. Michael H. Weninger, Ambassador ret., Pontifical Council for Interreligious Dialogue Kingdom of Spain H.E. Mr. Juan Sunyé Mendía, Ambassador, Embassy of the Kingdom of Spain in the Republic of Austria; H.E  Ambassador Juan Manuel González de Linares, Ambassador at Large For Peacekeeping Tasks,  Ministry of Foreign Affairs, European Union and Cooperation
tags: