KAICIID Cooperates with Partners, to Improve Buddhist-Muslim Relations in Myanmar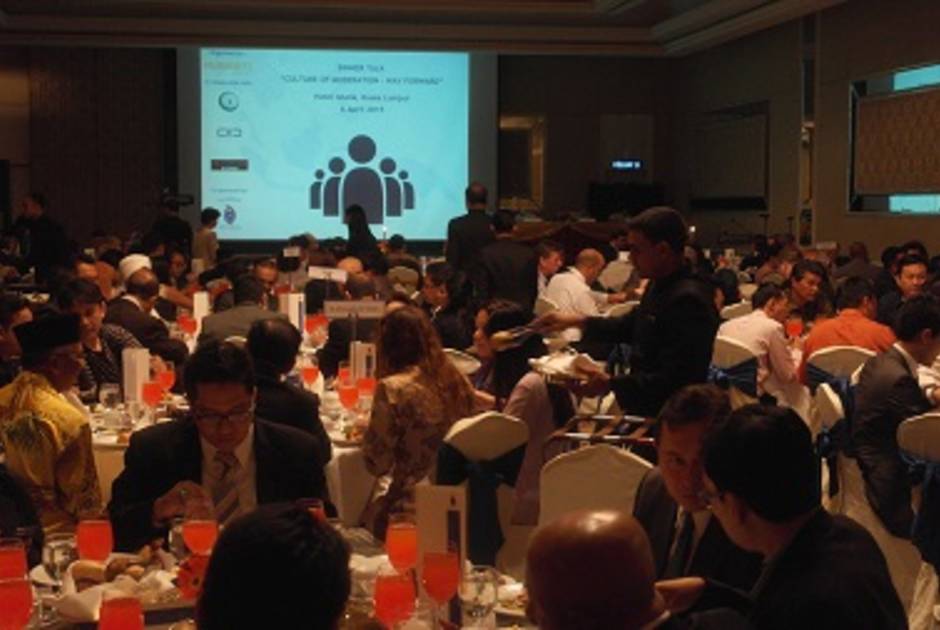 Representatives of civil society, policy makers, and religious leaders from diverse ethnic and religious communities meet in Kuala Lumpur to discuss a path to peace
KAICIID co-organized a meeting in Kuala Lumpur, Malaysia from 6-7 April to discuss ways for civil society organizations and religious leaders to contribute to improved Buddhist-Muslim relations in Myanmar and the region.  The meeting was co-organised with a number of prominent partners from the Asian region, including HUMANITI Malaysia, ALTSEAN (the alternative ASEAN network on Burma) and the Organization of Islamic Cooperation (OIC).
The Roundtable Discussion on 'Tolerance in a People-Centred ASEAN' brought together around 50 people from organizations and migrant communities, as well as refugees based in Kuala Lumpur. The group included experts and practitioners already engaged in capacity building in advocacy, interfaith dialogue and education. The participants examined religious, ethnic, political and social divisions that are provoking fault lines and conflicts in the country and the region.
Discussions at the meeting were designed to provide a safe space to share sensitive perspectives, and sessions were private to allow participants to work together and address incitement to hatred and violence.
Roundtable participants voiced overwhelming concern about the trend of rising intolerance in Myanmar. Their concern focused on continuing violence and discrimination against ethnic and religious minorities, including Rohingya, in many parts of the country.  This intolerance also includes proposed legislation related to the 'protection of race and religion' that is inconsistent with United Nations conventions to which Myanmar is party, as well as.
These trends have caused and contributed to crises with severe humanitarian consequences, gender-based discrimination, statelessness, segregation, refugee flows and other threats to human security, posing challenges to Myanmar's transition to democracy and upcoming elections. Moreover, the situation threatens regional stability and could exacerbate violence and polarisation along religious and ethnic fault-lines. Most significantly, in on-going violence in the northern state, Rakhine, since June 2012, the Rohingya people, an ethnic and religious minority have been disproportionately affected.
Large numbers of the Rohingya people arrived in Myanmar as refugees after the war in Bangladesh in the 1970s. Many of the Bengali Muslims living within Rakhine state lack citizenship because they were not documented in Myanmar's official census. Civil tensions in the country have left more than 1.5 million people internally displaced and stateless, according to the UNHCR. They reported that in 2014, "the ability of humanitarian agencies to deliver assistance has been severely limited by the political context, while conditions for IDPs deteriorate. More than 800,000 individuals in Rakhine State lack citizenship, in addition to other groups potentially at risk in other parts of Myanmar."
In a statement, the Roundtable called to mind that since "the ASEAN Human Rights Declaration includes the protection of the right to freedom of religion, there is a continued need to facilitate interfaith engagement and dialogue within Myanmar and the wider region".
The Roundtable promotes tolerance in Myanmar and the region and emphasizes the essential contribution of interreligious dialogue between the majority Buddhist community and the minority Muslim community to long term peace. The roundtable developed an extensive action plan whose outcomes will be supported and sustained by follow up discussions with policy makers at the national and ASEAN regional levels to insure the development and implementation of mechanisms and policies that will protect and support the rights of religious minorities and strengthen the commitment for religious pluralism.
The Roundtable Discussion on 'Tolerance in a People-Centred ASEAN' also issued a press statement that can be read on the website of the NGO, ALTSEAN, here.
The need for more interreligious dialogue in this region was previously reaffirmed by the "Yogyakarta Statement", issued by the high-level Buddhist-Muslim summit, "Overcoming Extremism and Advancing Peace with Justice. The Statement which was signed by religious leaders from 15 countries in Indonesian city, Yogyakarta, on 5 March 2015. The religious leaders emphasized that their religions "respect the sacredness of life and inherent dignity of human existence, which is the foundation of all human rights without any distinction as to race, color, language or religion."