At KAICIID conference, Nigerian Muslim Leader Urges Christian-Muslim Solidarity and Calls on Government to Arrest Hate Preachers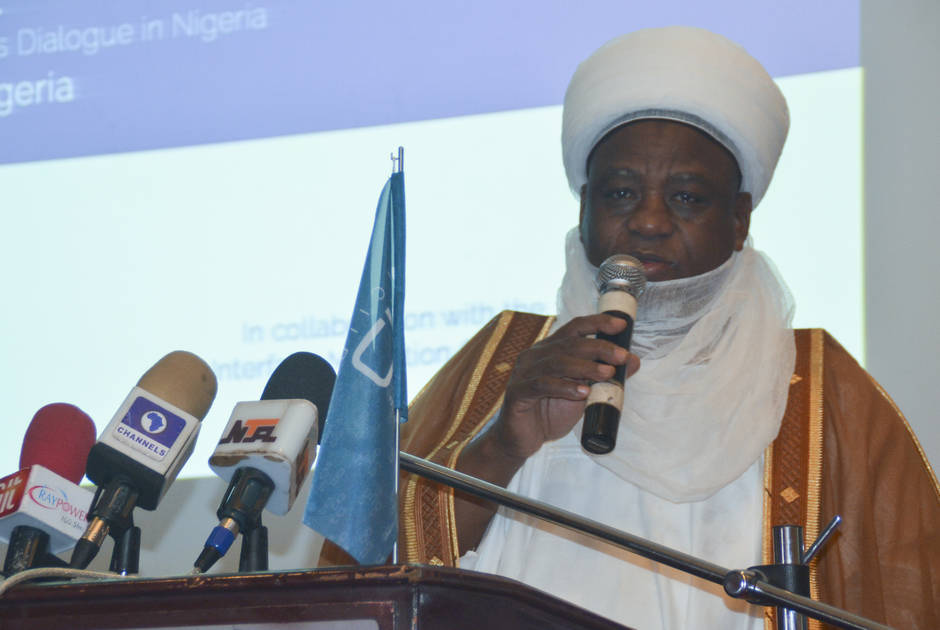 The Sultan of Sokoto, Alhaji Sa'ad Abubakar III, the main spiritual leader of the Muslim communities in Nigeria, has declared that Nigerian Muslims and Christians can live in peace only if they resolve to stand for peace and unite against hate preachers, who are enemies of peace.
Speaking at the opening ceremony of a two-day conference organised by the International Dialogue Centre (KAICIID) on the theme, 'Coordinate to Achieve 2 - Inclusive and Sustainable Interreligious Dialogue in Nigeria,' that took place on January 25-26, 2017, the Sultan appealed to the Nigerian government to arrest hate preachers.
"I have not lost hope in this country; I believe that Christians and Muslims can live peacefully.  You cannot change a man overnight and it is critical that we continue to show love to each other, irrespective of our world views.  We cannot be preaching one thing and be doing another," the leader of Nigeria's Muslims said.
"We must tell ourselves the truth irrespective of the religious divide we find ourselves in. Those who don't want peace are out to cause trouble. We must rally round the government to assist him deal with the enemies of peace in this country. Those who are encouraging violence are not following the true teaching of Christianity and Islam."  
Calling on religious leaders not to engage in encouraging violence in any form, the Sultan declared that considering the respect and authority commanded by religious leaders, both Muslim and Christian leaders should be at the forefront of promoting peace through respect for one another.
"I have never picked up the microphone to insult any Christian leader. We should be tolerant of one another and work towards achieving peace in this country. I have never lost hope in this country as far as the search for peace is concerned. No matter what happens, those championing peace will succeed at the end of the day," declared Sultan Abubakar.
The Sultan said that Muslim leaders would continue to work with Christian leaders to bring peace to Nigeria. "We are the only ones who can work and bring peace for us. We must have a commitment among us to live in peace, work in peace and bring peace. We believe in dialogue. If we do not believe in dialogue, we won't be here".
Applauding the efforts of KAICIID in organizing the conference, Sultan Abubakar III tasked participants in the conference to ensure the implementation of all the conference's recommendations. Among the recommended activities at an intrareligious level, Christians resolved to visit various churches and organise joint prayers and sport events for youth to create awareness for peace among different denominations. Muslims proposed interreligious summer camps and asked the Nigerian Supreme Council for Islamic Affairs to create spaces for leaders of communities to meet regularly and to facilitate legislation on hate speech at the National Assembly.