KAICIID Conducts Interreligious Dialogue Training at the 12th World Scout Youth Forum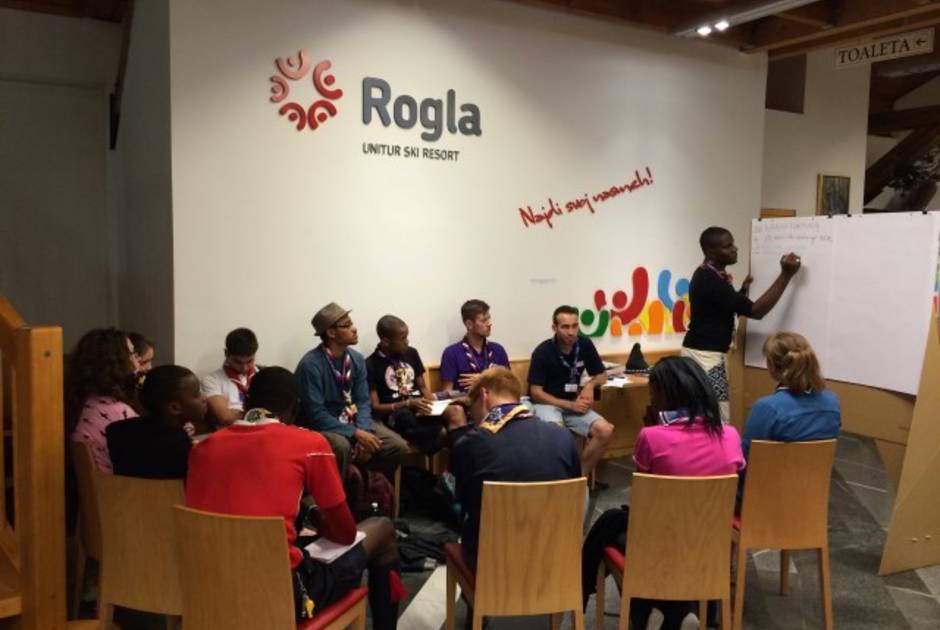 Held In Rogla, Slovenia, the 12th World Scout Youth Forum gathered over 200 participants, all under the age of 26, from 80 different countries. As part of its continuing commitment to education, KAICIID was invited to the Forum in order to conduct two interreligious and intercultural dialogue training sessions with young adult members of the Scout community. After a brief introduction on KAICIID and its activities in the field of dialogue by the Centre's programmes officer Anas Alabbadi, the scouts were encouraged to join in exercises tackling stereotyping, the perception of the "Other", and how the same ideas and issues may be tackled differently across different cultures.
A key part of the workshop was an exercise entitled Collaboration vs. Competition, which challenged the idea that competition will always occur between two or more groups (be they cultural, religious, ethnic, etc.), even when there is much more to be gained through collaboration. The 34 participants, who hailed from 27 countries and from different religious and cultural backgrounds. found the workshop very useful; Hadjer, a 24 year old girl scout from Algeria, explained that:
"The training helped me to understand how to deal with the issue of religious diversity, not only to coexist with it, but to go beyond coexistence to acceptance. I learned about 'adaptation', which is also better than just 'tolerance'. KAICIID promotes the idea that religions are not the problem, but religions can help in solving problems. I even noticed in the beginning of the training that most of the participants identified religion as the problem; however, through the dialogue that occurred, I noticed how their perceptions changed towards the idea that religion can bring people together, and that religious diversity does not contradict human rights and peaceful coexistence."
KAICIID remains committed to working with the World Organisation of the Scout Movement to promote interreligious and intercultural dialogue in the eyes of young people and in scout programmes, as outlined in the Memorandum of Understanding signed between the two organisations in late 2013. In particular, the Centre is looking forward to taking an active role in the next World Scout Jamboree, which will be held in August 2015 and where around 30 thousand scouts between the ages of 14 and 17 will meet up for a week of activities in Japan. Young scouts are often exposed to different cultures and religions, both within the Scout movement and in most of their local communities. By training scouts worldwide to improve their interreligious and intercultural dialogue skills, KAICIID and WOSM can directly improve interreligious and intercultural relations worldwide. .