KAICIID Announces Peacebuilding Initiative in Central African Republic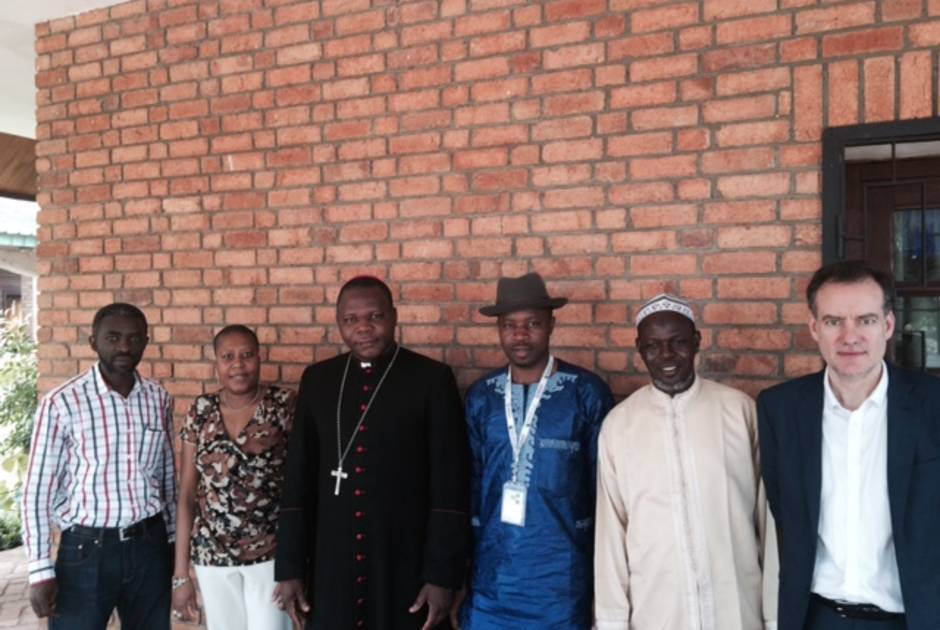 BANGUI, 27 FEBRUARY 2015
In partnership with international conflict transformation NGO Search for Common Ground, and the largest Finnish development cooperation organisation Finn Church Aid (FCA), the KAICIID Dialogue Centre launched a twelve month project to promote dialogue among Christian and Muslim communities in the Central African Republic (CAR). The project supports reconciliation in a country beset by a conflict that has forcibly displaced over 900,000 people.
The KAICIID initiative will support local religious leaders' in their efforts to realise a swift end to the conflict.  KAICIID will facilitate intra-religious and interreligious dialogues within the Christian and Muslim communities in the country, to help their voices be heard in the process of rebuilding their country, to help them build stronger alliances across religious lines, and to build shared and equal citizenship with every person in the country, irrespective of his/her religious belief.  
KAICIID's activities in the Central African Republic are based on a needs assessment and consultation of stakeholders in the country and internationally. In May 2014, KAICIID brought religious leaders, policymakers, and NGO representatives with direct experience in the peace process to Vienna to assess the situation, explore cooperation and make recommendations to KAICIID for future action. KAICIID's initiatives in the Central African Republic are designed to fulfil these recommendations, and to strengthen already existing peacebuilding and dialogue efforts in the country. 
Since May, KAICIID experts have been working with religious leaders and policy makers in the country, identifying partners and building relationships to build the projects.
KAICIID Advisor on Peacebuilding, Alvaro Albacete said: "The conflict in the Central African Republic has many causes, and the manipulation of religion is definitely one of them.  The role of religion as part of the solution is often neglected.  When Christian and Muslim religious leaders come together in dialogue on the common problems facing their country, the process of reconciliation is made much more effective."
Together with our partners Search for Common Ground and Finn Church Aid, both of whom have vast experience in this field, we are committed to working with the people of CAR to find solutions to a conflict which has gone on far too long."
The Central African Republic has faced heightened ethnic and sectarian violence since 2012. Despite an international peacekeeping effort, violence continues into 2015, and organisations active in the country have warned that these measures may not be enough to stem the violence in the long term. 
According to the UNHCR, in total more than 893,000 people have been forcibly displaced by violence in the Central African Republic. Some 442,000 are displaced inside the country, including more than 50,000 in Bangui, some 35,000 people who fled to Bambari and 33,700 in Batangafo. Some 451,000 are living in exile, mainly in Cameroon (245,000), Chad (94,000), the Democratic Republic of the Congo (88,000) and the Republic of the Congo (24,000).