KAICIID and UNICEF Commemorate World Interfaith Harmony Week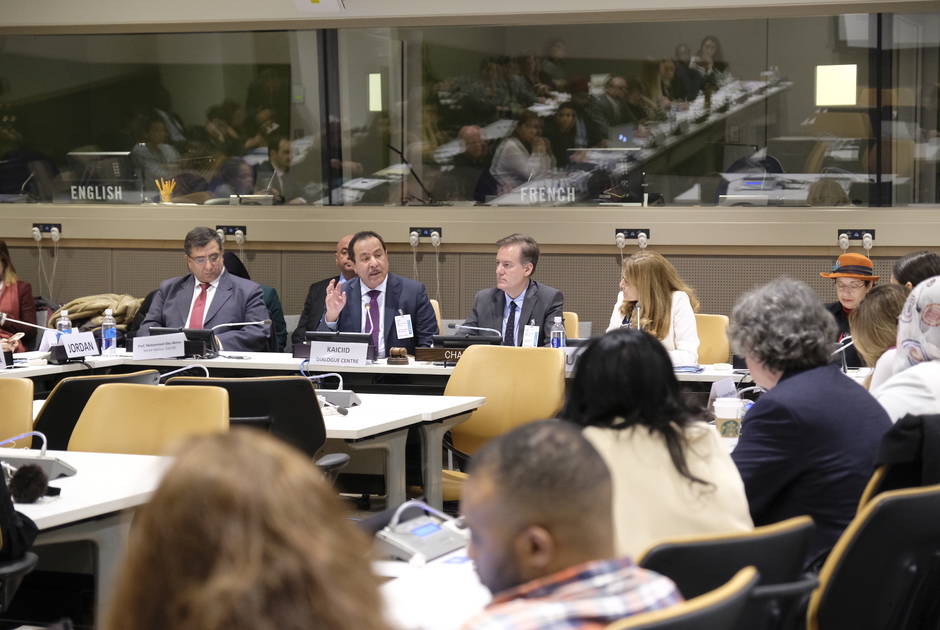 8 February 2018, UN Headquarters, New York: In commemoration of World Interfaith Harmony Week 2018, the International Dialogue Centre KAICIID and UNICEF jointly hosted an expert meeting entitled 'Expanding Social Media as a Space for Constructive Encounter for Young People'. The event was supported by the UN Permanent Missions of Austria, Jordan, Saudi Arabia, Spain and the Permanent Observer Mission of the Holy See.
The meeting was a result of common effort by UNICEF and KAICIID to raise awareness of social media's importance in promoting pluralism and diversity.
Representatives of UN Permanent Missions to the United Nations, UN agencies as well as civil society attended the meeting.
Faisal Bin Muaammar, Secretary General of KAICIID said: "Religious leaders can use social media to be powerful agents of positive change. Religious leaders are influencers and community leaders: we must empower them to take on this role in the digital sphere. Also together we must provide young people guidance on how to live in peace with their neighbours by using these media to popularize dialogue and common citizenship education. Social media can be a space where young people experience dialogue with others, not exclusion."
Paloma Escudero, Director of Communications at UNICEF said: "We need to focus on designing responses that seek to empower children and young people; that build their digital literacy skills. The online world may be full of risks, but exposure to these risks does not need to translate into harm. By teaching children and adolescents what it means to be a digital citizen from a young age, we can build their resilience and guide them on how to make the right choices online and to be voices of peace and tolerance amidst the often chaotic and hateful noise."
The meeting's participants outlined the opportunities social media opens for peace advocates, as well as the challenges and restrictions facing social media influencers working to promote dialogue, pluralism and equality online. The participating experts assessed the needs and challenges faced by young people using social media, with a focus on the Arab region. UNICEF and KAICIID presented their priorities and relevant programmes concerning youth and social media, and exchanged views on how to increase the impact of these activities.
Participants concluded that cross-sectoral effort is required to effectively advance progress in addressing these issues and support the youth's engagement in using social media to initiate and sustain a dialogue in support of peace and coexistence.
About World Interfaith Harmony Week
The World Interfaith Harmony Week was first proposed at the UN General Assembly on September 23, 2010 by H.M. King Abdullah II of Jordan. Just under a month later, on October 20, 2010, it was unanimously adopted by the UN and henceforth the first week of February will be observed as a World Interfaith Harmony Week.
About UNICEF
UNICEF works in 190 countries and territories to protect the rights of every child. UNICEF has spent 70 years working to improve the lives of children and their families. Defending children's rights throughout their lives requires a global presence, aiming to produce results and understand their effects. UNICEF believes all children have a right to survive, thrive and fulfill their potential – to the benefit of a better world.
About KAICIID
 The International Dialogue Centre (KAICIID) is an intergovernmental organization that promotes dialogue to build peace in conflict areas. It does this by enhancing understanding and cooperation between people of different cultures and followers of different religions. The Centre was founded by Austria, Saudi Arabia and Spain. The Holy See is the Founding Observer. Its Board of Directors comprises prominent representatives from five major world religions (Buddhism, Christianity, Hinduism, Islam, and Judaism). The Board designs and supervises the Centre's programmes.
tags: