KAICIID and UNESCO Chart Future Cooperation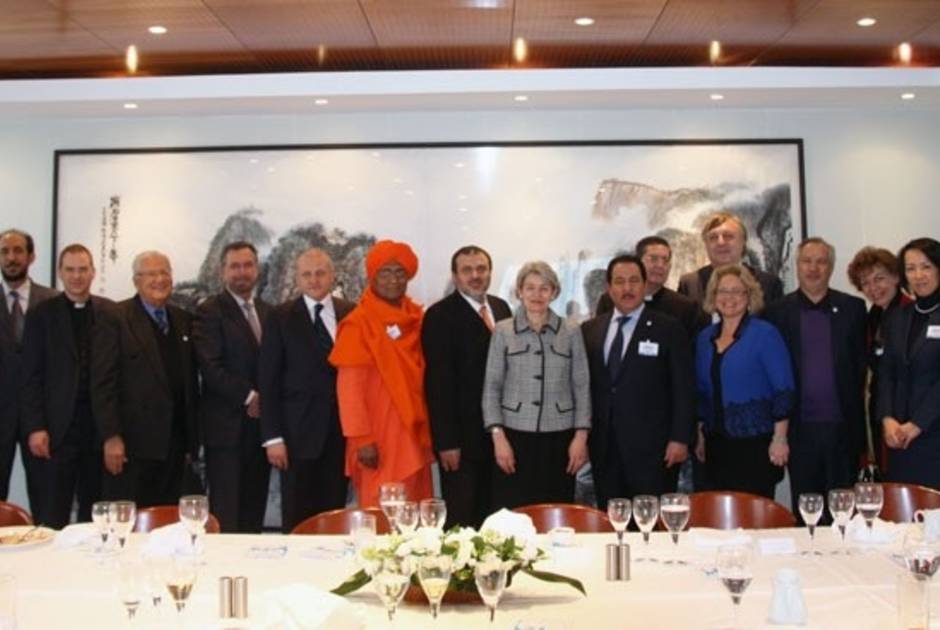 In a meeting with permanent delegations representing member states of UNESCO and separate meetings with UNESCO Director General Irina Bokova, the KAICIID Dialogue Centre's Board of Directors and Secretary General Faisal Bin Muaammar discussed future cooperation between the two intergovernmental organisations.
The KAICIID Board of Directors, which had earlier gathered in Paris for its first 2014 meeting, reviewed in detail with the Secretary General and senior officials of both organisations areas of cooperation during a round-table discussion moderated by Hans d'Orville, UNESCO Assistant Director-General for Strategic Planning. In greeting the KAICIID officials, Director General Bokova, who had visited KAICIID Headquarters in Vienna in 2013, said, "KAICIID is vital in promoting interreligious and intercultural dialogue, which is needed now more than ever before. KAICIID's work on the 'Image of the Other' represents a very important opportunity for humanity to work together towards a common goal and shared values that reject extremism and embrace the richness of diversity. UNESCO and KAICIID share the holistic view that educating youth can foster social integration and involvement, while countering indifference, intolerance and prejudice."
In his statement to the permanent delegations, KAICIID Secretary General Bin Muaammar said, "To believe in peace is to believe in dialogue. KAICIID and UNESCO share a common goal: to achieve lasting peace and mutual understanding amongst followers of different religions and cultures. Such peace requires holistic policymaking that involves all stakeholders, including religious and cultural leaders, and builds on the common values that unite us, rather than the differences which divide us. We look forward to cooperating with UNESCO on the promotion of dialogue through education, through the media and through sharing institutional networks and strengths. UNESCO and KAICIID both strive to encourage dialogue that strengthens cooperation, respect for diversity, justice and peace."
During the round-table discussion, UNESCO and KAICIID officials reviewed potential cooperation in four key areas:
Enhancing interreligious and intercultural education;
Promoting commonly shared values by developing educational and scientific content, as well as exchanging and disseminating knowledge on intercultural and interreligious dialogue for peace;
Supporting institutional cooperation through initiatives focusing on promoting youth dialogue;
Employing the media as a key tool for fostering dialogue and mutual understanding.
These areas of cooperation are included in a memorandum of understanding under discussion between the two organisations.
KAICIID enables dialogue amongst followers of different religions and cultures around the world. It brings together policymakers, religious leaders and experts from around the world to support, enhance and facilitate the work of organisations already active in fostering interreligious and intercultural dialogue.
UNESCO is an intergovernmental organisation with over six decades of experience in fostering intercultural dialogue. It has been an important partner in KAICIID's work since the latter's founding in 2012, and has been closely involved in the work carried out by KAICIID in 2013 on the Image of the Other in Interreligious and Intercultural Education programme. At the KAICIID Global Forum in November 2013, the UNESCO Director General was represented by the director of the Division of Cultural Policies and Intercultural Dialogue and the manager of the UNESCO Intersectoral Platform on the Culture of Peace, Katérina Stenou.