KAICIID's Network for Dialogue publishes policy briefs addressing issues of social exclusion among Europe's refugee and migrant communities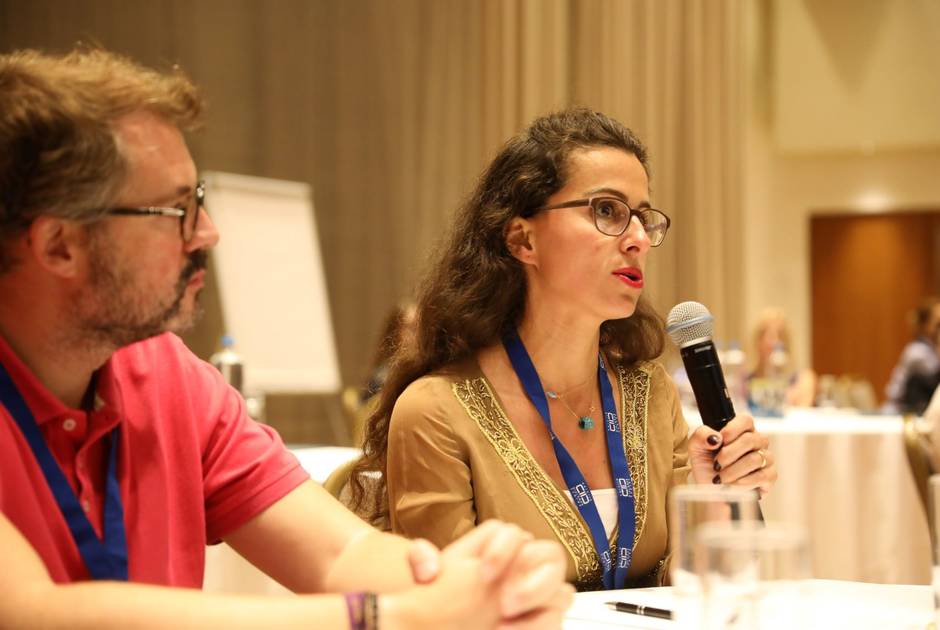 A series of recommendations aimed at countering the complex challenges presented by European migration is published today by the KAICIID-supported Network for Dialogue, a Europe-wide initiative seeking to unite faith-based and secular organisations, religious leaders, and scholars in strengthening dialogical approaches to the integration of refugees and migrants.
Drawn from inputs, advice and experiences of both expert and grassroots stakeholders, the policy briefs offer recommendations for addressing the extensive social issues facing Europe's migrant and refugee communities in three areas – education, trust building and the need to reshape migration narratives through interreligious and intercultural dialogue.
The policy briefs are being submitted as a resource to facilitate engagement with policymakers working on the social inclusion of refugees and migrants. They will also shape the context for deliberations at the approaching 3rdEuropean Policy Dialogue Forum (EPDF) on Refugees and Migrants.    
The EPDF is an annual gathering of key stakeholders working on the social inclusion of refugees and migrants in Europe. It brings together a diverse selection of participants in interactive discussions, building bridges between those of different viewpoints, and finding common ground for the advancement of causes related to the migration and settlement of vulnerable people.  
The Network for Dialogue policy briefs — summarised below — are drawn from outcomes of the 2nd EPDF, which dealt with how dialogue can assist with the social cohesion and social inclusion of Europe's migrant and refugee groups.
Policy Brief #1: Supporting teachers in the use of interreligious and intercultural dialogue in inclusive education for refugees and migrants 
Increased migration has led to growing religious and cultural diversity in Europe's classrooms, presenting challenges, the brief says, as well as opportunities to share the merits of multiculturalism with developing minds. 
There is growing recognition that schools, educational systems, and teachers are key to overcoming obstacles to social inclusion, as well as advancing the socio-economic prospects of refugee and migrant communities, the brief continues.
"Very often diversity is seen not as a positive element, but rather as a threat," says Johannes Langer, programme manager of KAICIID's Europe Region Programme. "If teachers get the education and are prepared to address diversity, there is the possibility to appreciate multiculturalism in the classroom much more than currently is the case." 
It is important that Europe's educators are better informed on the principles and competencies of intercultural and interreligious dialogue, so they can integrate these teachings into school curricula, the brief says. This will motivate students to learn about people of different backgrounds and religious traditions, countering stereotypes and enriching relationships with ethnically diverse peers.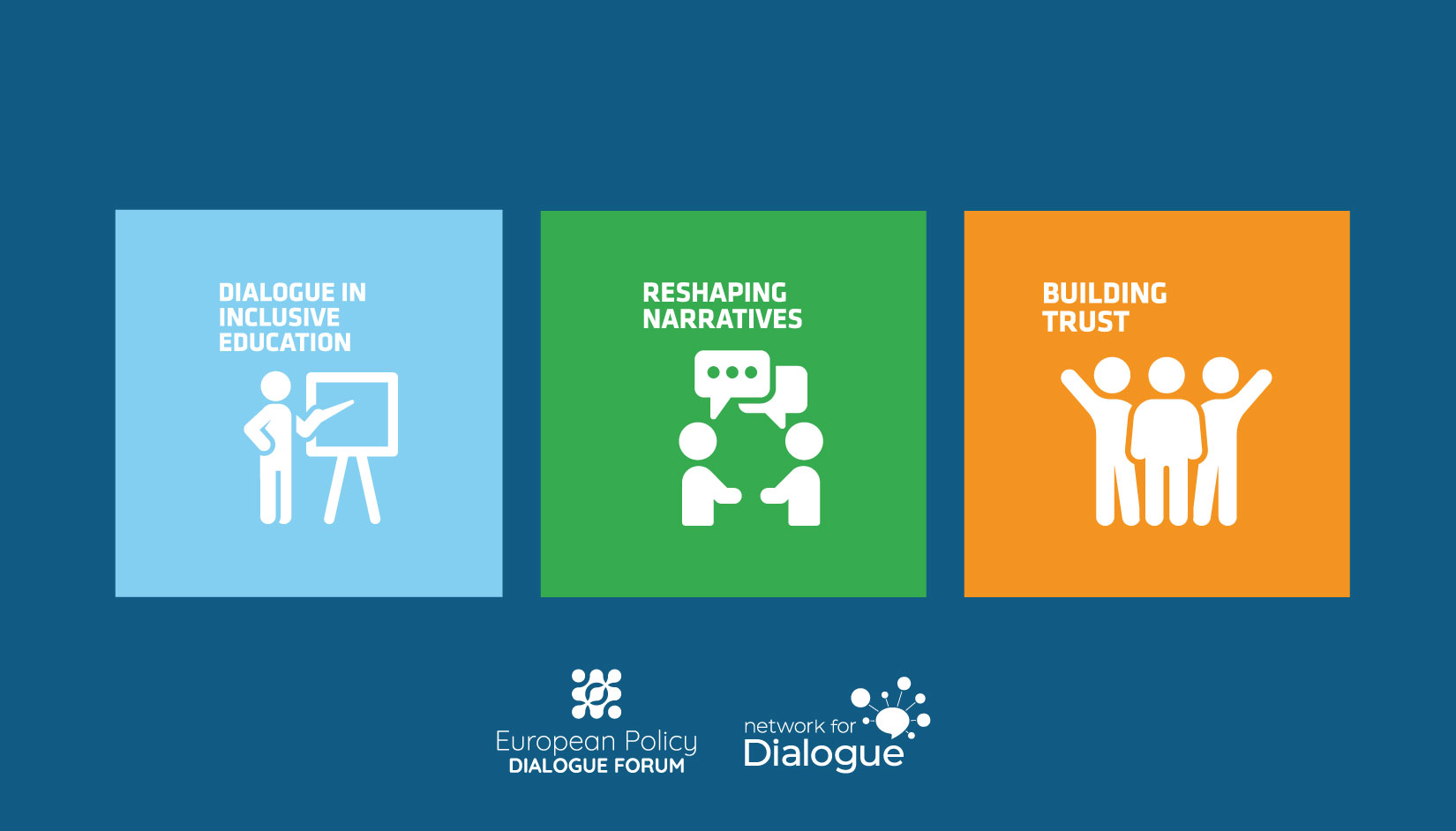 It is important also that the unique challenges faced by migrant and refugee pupils receive dedicated support, and that more is done to equip teachers with the skills to help students from diverse socioeconomic, cultural, religious, ethnic, and linguistic backgrounds. Encouraging greater diversity among the teacher profession should also be a priority, the brief says. Increased engagement with refugee and migrant families as well as migrant or refugee-led civil society organizations is also desirable.
Among specific recommendations are the creation of fast track qualification programmes for teachers from refugee/migrant backgrounds, the mainstreaming of intercultural and interreligious dialogue education within the curriculum and the provision of interreligious and intercultural dialogical skills for teachers.
Policy Brief #2: Building trust through dialogue in local communities: a key ingredient for social cohesion
A lack of social cohesion arising from migration often stems from mistrust, the policy brief says.  This mistrust can be rooted in a limited and distorted understanding of 'the Other', as well as a lack of appreciation or knowledge of the experiences of refugees and migrants on the part of public authorities. A shortage of positive interactions with people of different backgrounds and under representation of refugee and migrant communities in policy-making can also contribute.
To assist with the trust-building process, local communities should be helped to recognise the positive contributions refugees and migrants make to their host countries, the brief contends. Accordingly, local policymakers should implement community outreach campaigns that illustrate the human story behind migration, and develop platforms and mechanisms that share promising practices and make the achievements of refugee-led and migrant-led organisations more visible.
Public officials should receive formal training on intercultural and interreligious dialogue, with inputs by refugees, migrants, and / or religious actors from the community. Similarly, interfaith bodies should be created to help design the trust-building process, and the participation of grassroots refugee and migrant-led groups in public policy formation should be encouraged. 
"There's an absence of space for positive interactions, and an exclusion of refugees and migrants from key decision making processes," says Dr. Aleksandra Djurić Milovanović, coordinator of the Network for Dialogue project. "We recommend the implementation of campaigns so the host community can help rehumanise refugees and migrants."
Policy Brief #3: Reshaping narratives on migration through intercultural and interreligious dialogue
Europe's "migration debate" can be acrimonious, with public discourse surrounding refugees and migrants often shaped by political populism, the brief claims. Despite admirable efforts to address this, a negative narrative persists across Europe, leading to the marginalisation of already vulnerable refugee and migrant groups.
 "A lot of narratives around migration have been 'securitised'. This means that everything around migration is seen through a security lens, thus as a threat," says Langer. "Another issue is that when religion comes into play, it is often linked and conflated with Islam."
To address this, policymakers, religious and civil society networks, advocacy organisations, academics, and refugee and migrant groups must come together. A key priority is to shift from a legalistic rights-based approach to the protection of refugees and migrants, to an approach that is based on theological values, such as inherent human dignity and human fraternity, the brief suggests. In this endeavour, it is vital to encourage the self-representation of refugees and migrants in the media and on policymaking bodies.  
This can be achieved with targeted media fellowships and support for refugees and migrants to create independent media platforms. Representation can be fostered by reserving space for diverse communities in the local legislative process, and holding frequent consultations in inclusive spaces.  
To download the briefs, please click here