Interreligious dialogue key in conflict prevention and peacebuilding: Experts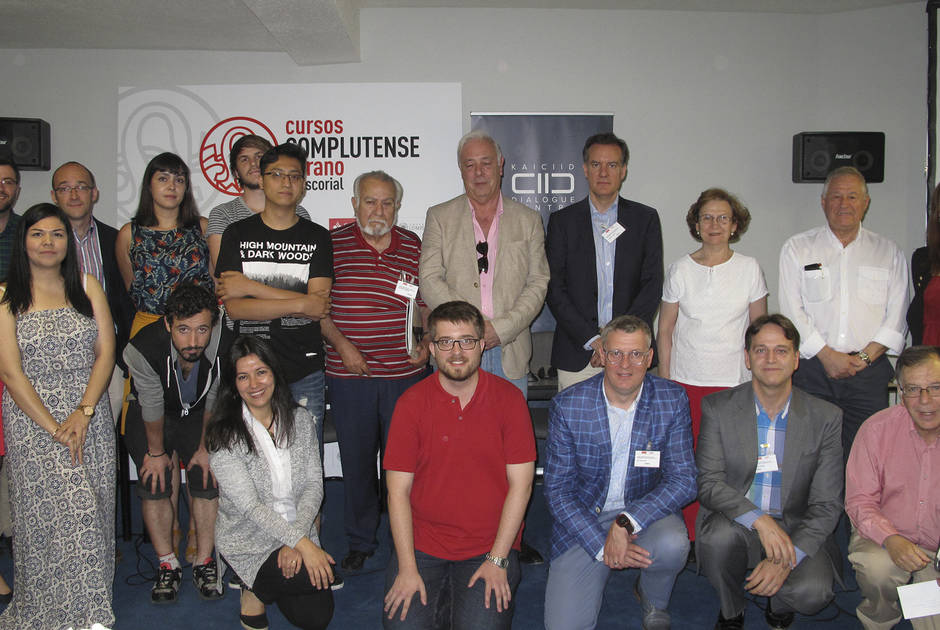 Meeting at El Escorial, academics and representatives of international organizations discussed the contribution of dialogue and religion to peace at the summer course co-organised by KAICIID and Complutense University of Madrid. Participants held a minute of silence in solidarity with the victims of Thursday's attack in Nice
El Escorial, 15 July 2016 – With the expansion of globalization, extremism and the use of social media to share messages advocating violence, the role of interreligious dialogue (IRD) has emerged as a crucial tool to respond to current societal challenges, agreed academics, diplomats and policymakers participating in the course "World Governance: Interreligious Dialogue and Peacebuilding", from 13-15 July 2016, organized by the International Dialogue Centre (KAICIID), in cooperation with the Institute of Sciences of Religions (IUCCRR) and the Complutense University of Madrid (UCM) Summer Courses. 
The Centre was represented by KAICIID Deputy Secretary General for External Relations, Ambassador Alvaro Albacete, and KAICIID's Senior Adviser Professor Patrice Brodeur. During the opening session, Albacete spoke about the contributions of KAICIID to peace through its programmes promoting interreligious dialogue. "We believe that platforms that institutionalise interreligious dialogue can be very beneficial in countries with conflicts that have religious elements. It is not always easy or possible to bring the highest leadership of each religion to the dialogue table, but we can certainly start working with religious leaders at the grassroots", he stated.
The DSG also explained KAICIID's programme to promote peace on social media: "Extremists use social media with great success, for propaganda and recruitment. We think that their messages should be also countered in those spaces. At the International Dialogue Centre, we are very committed to this work with social media. We have developed a manual on how to use social media effectively, supporting religious leaders and communities directly. We believe that engaging moderate voices in social media can have a multiplier effect. To that end, we have already held three trainings on social media in Jordan and Egypt. Soon we will be having more sessions in Iraq and Tunisia."
Professor Gustavo Suarez Pertierra, former Minister of Education and Science and former Minister of Defense of Spain, spoke about the role of religion in public spaces. "Many ongoing conflicts have religious elements. We cannot fall into utilitarian perversions of religious fundamentalism, which erode the image of religion and create prejudice in society," he stressed.
Belen Alfaro, Spain's Ambassador at large to the UN Alliance of Civilizations and for Interreligious Dialogue, said that "interreligious and intercultural dialogue is a priority of Spain's foreign policy. It is essential to address the new challenges that are emerging in the societies of the 21st century and for world peace and increased understanding between different cultures and religions".
Dr. Fernando Amerigo Cuervo-Arango, IUCCRR Director and the course's Co-director, said: "We are very pleased with the debate of the last three days. It is essential to discuss these issues and we have managed to bring together experts who have analyzed, from different angles, the contribution of religious leaders, religions and dialogue for peace. This course has brought together representatives of international organizations, academics, policymakers, diplomats, students and people working in grassroots organizations. Collaboration between all is essential to establish peace in our societies".
International Activity
Representatives of other international organisations that are active in the field of IRD and are collaborating with the KAICIID also participated in the course.
Jos de la Haye, UNDP Regional Cluster Leader, explained the importance of interreligious and intercultural dialogue to achieve the Sustainable Development Goals: "Religion is a positive source of motivation and inspiration for the vast majority of people around the world. Therefore, strategies to combat violent extremism must be rooted in a nuanced understanding of the impact of religion on individuals and communities. In this context, it is important to counter the narrative that it is religion per se that is the cause of violence and to acknowledge that religious leaders bear a particular responsibility to help prevent violent extremism".
"The United Nations Alliance of Civilizations core mission is to build bridges between societies, promote dialogue and understanding and to forge the collective political will to address the world's imbalances. It is important to remember the context of the time when the Alliance was initiated almost 10 years ago. A time when polarization between cultures was high and a wave of terrorist attacks took our world by a storm. Sadly, today we find ourselves in an almost similar position. Our work is as relevant today as it was 10 years ago", said Nihal Saad, Chief of Cabinet & Spokesperson for the High Representative of the United Nations Alliance of Civilizations.
About KAICIID
The International Dialogue Centre (KAICIID) is an intergovernmental organization that promotes dialogue to strengthen social cohesion. Its work enhances understanding and cooperation between people of different cultures and followers of different religions. The Centre was founded by Austria, Saudi Arabia and Spain. The Holy See is the Founding Observer. Its Board of Directors comprises prominent representatives from five world religions (Buddhism, Christianity, Hinduism, Islam, and Judaism). The Board designs and supervises the Centre's programs.
About IUCCRR
The Institute of Sciences of Religions at the UCM is a university institute that analyses religious matters from an academic and non-denominational perspective. It has professors and researchers in the areas of History, Philology, Law, Political Sciences, Sociology, Anthropology and Psychology.