Interreligious Conference Prior to the G20 Summit Will Gather Recommendations to Achieve the SDGs with the Contribution of Religious Communities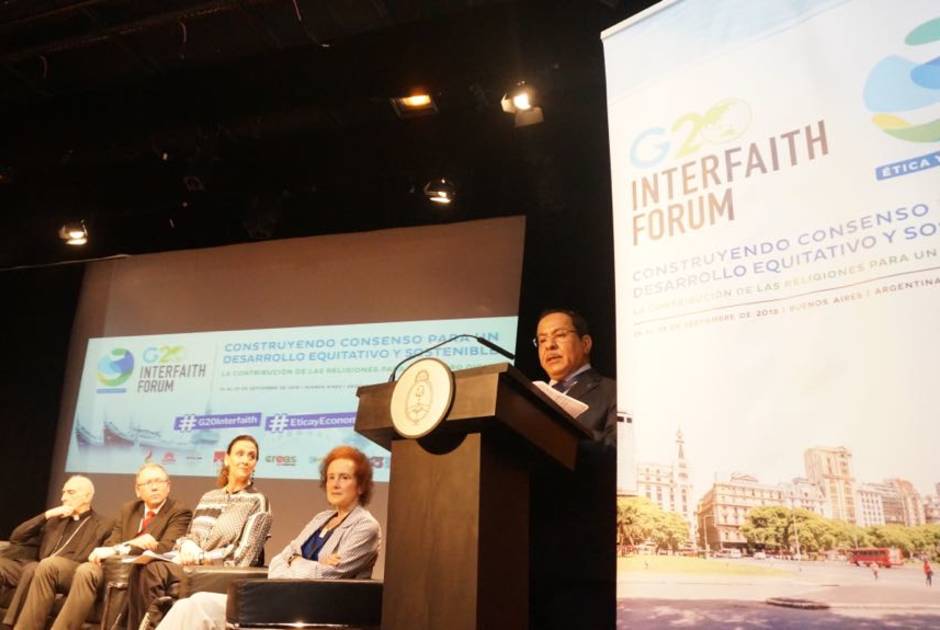 Under the premise that the Sustainable Development Goals (SDGs) cannot be achieved without the contribution of religiously motivated individuals and organizations, and with the conviction that religious communities are actively working in areas such as education, health, migration and climate change; academics, religious leaders, policymakers and representatives of national and international organizations will meet in Buenos Aires, Argentina, on 26-28 September to exchange experiences and gather recommendations on issues that will be discussed at the G20 summit to be held in the Argentine capital from November 30 to December 1, 2018.
The G20 Interfaith Forum is an informal platform whose debates enrich the G20 meetings annually. On this occasion, in its fifth edition, and taking into account the priorities of the G20's Argentine presidency, the discussions will be framed under the theme of "Building consensus for fair sustainable development: Religious contributions for a dignified future".
The International Dialogue Centre (KAICIID) has been part of the organizing team of this meeting. The sessions will take place in the Ministry of Foreign Affairs and Worship, as well as in the Sheraton Buenos Aires hotel and convention centre. KAICIID will be represented by its Secretary General, Faisal bin Muaammar; Deputy Secretary General, Álvaro Albacete; and Senior Adviser Patrice Brodeur, who will address issues such as religious actors' responses to violence and extremism; humanitarian aid financing in conflict zones; and public-private sector collaborations including religious organizations for sustainable development.
His Eminence Metropolitan Emmanuel (Adamakis) of France, KAICIID Board Member, and Claudio Epelman, Executive Director of the Latin American Jewish Congress and KAICIID Advisory Forum member will share their experiences on the contribution of religions to emerging global challenges.
"We are pleased to participate once again in the G20 Interfaith Forum, which in the same way as KAICIID brings policymakers and religious leaders to the table to find solutions to specific issues of global importance. In a special way we are happy to travel to Argentina, a diverse, inclusive society with interreligious coexistence in its DNA. We hope to have a fruitful dialogue in Buenos Aires, whose leaders' hard interreligious work has led it to be officially declared 'City of Interreligious Dialogue' and to become a regional and international reference, "said the KAICIID Secretary General, Faisal bin Muaammar.
The full program of the 2018 forum is available here. Previous editions have taken place in Australia (2014), Turkey (2015), China (2016) and Germany (2017). Japan (2019) and Saudi Arabia (2020) are planned as future venues.
About the G20 Interfaith Forum
The Forum helps to identify and showcase the policy and societal contributions of faith traditions and philosophies on leading global issues. The aim is to develop recommendations on priority issues that draw on interfaith insight and experience. Particular attention is paid to ways that religious communities can contribute to the host country's priorities.