Interreligious Communities Come Together by Staying Apart: Each in their Own Way #PrayforHumanity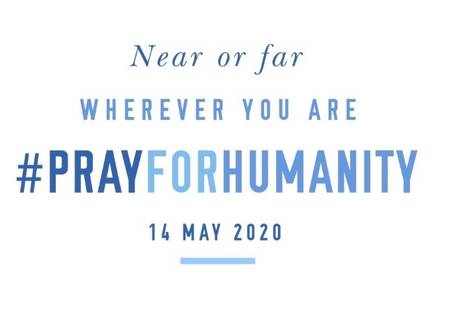 As COVID-19 sweeps the globe, people following diverse religions around the world join together on May 14 for a day of reflection; each from their own home, within the parameters of their own faith, in their own way.
This demonstration of interreligious solidarity comes in a time of social distancing and quarantine and is intended as a demonstration of global solidarity and hope at a time when collective worship is actively discouraged.
The Higher Committee of Human Fraternity's call for action has been well received by prominent religious leaders and policymakers, including Pope Francis, Imam Al-Tayeb of Al-Azhar, and the UN Secretary-General Antonio Guterres, all of whom see it is a reaffirmation of religious and global values that are common to humanity.
Pope Francis said: "Because prayer is a universal value, I welcome the committee's call to believers of all faiths to be spiritually united on May 14, a day of prayer, fasting and charitable work, to pray to God to help humankind overcome the coronavirus pandemic."
The Grand Imam of Al-Azhar Sheikh Ahmed Al-Tayeb also expressed his support: "I invite everyone to participate in this call, and to pray sincerely to Allah Almighty to lift this blight for people and to inspire scientists to find a cure that can turn back this disease."
The Secretary-General of the United Nations Antonio Guterres tweeted on 3 May: "In difficult times, we must stand together for peace, humanity & solidarity. I join His Holiness Pope Francis and the Grand Imam of Al-Azhar Sheikh Ahmed Al Tayeb in their support for the Prayer for Humanity this 14 May – a moment for reflection, hope, and faith."
Social media plays an important role in keeping everybody connected for this universal day of human solidarity under the hashtag #PrayforHumanity.
The Higher Committee of Human Fraternity is an independent body of religious leaders, educational scholars and cultural figures from across the world, dedicated to achieving the goals of the Document on Human Fraternity signed by Pope Francis and Sheikh Ahmed el-Tayeb, Grand Imam of Al-Azhar, during the Pope's Apostolic Journey to the United Arab Emirates in February 2019.