Interfaith Leaders and Policy Experts Discuss the Ethical Dimension of Climate Change at the G20 Interfaith Forum 2020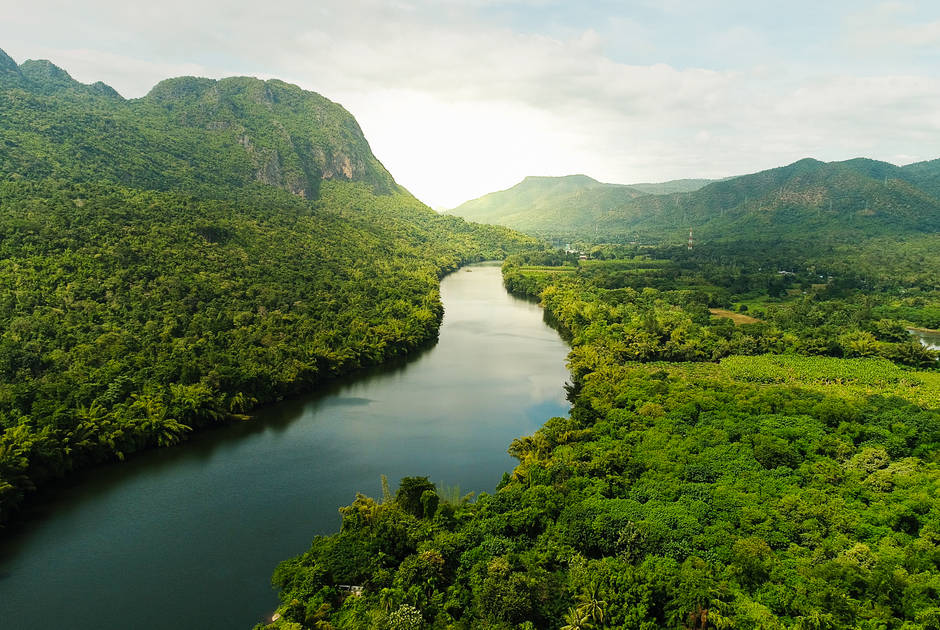 The looming dangers posed by climate change should spur faith organizations and lawmakers to address its potentially catastrophic impact on vulnerable populations around the world, according to religious leaders, policymakers and other experts gathered virtually yesterday at the G20 Interfaith Forum.
In the opening plenary on Day 4 of the G20 Interfaith Forum, hundreds of faith leaders, policymakers and other experts discussed ways in which religious and interfaith organizations can take action to address the threat of global warming.
The G20 Interfaith Forum, which concludes today, is being held in its first ever virtual incarnation by KAICIID and its partners, the United Nations Alliance of Civilizations (UNAOC), the G20 Interfaith Association and Saudi Arabia's National Committee for Interfaith and Intercultural Dialogue.
"The Kingdom of Saudi Arabia seeks to preserve natural resources and environmental sustainability and achieve water security," said keynote speaker H.E. Abdulrahman Abdulmohsen A. AlFadley, Minister of Agriculture and Environment, Saudi Arabia. "It aspires to contribute to food security, protection of ecosystems and the quality of life in general, based on its religious and humanitarian principles."
"I believe that the ethical dimensions of climate change should have a stronger voice in the global debate," said keynote speaker H.E. Aksel Jakobsen, State Secretary and Deputy Minister of Foreign Affairs, Norway.
He warned that climate change could push as many as 120 million more people into poverty by 2030. "The science is clear. Climate change is occurring at an alarming rate and human activities are the primary driver. Climate change exacerbates poverty and inequalities and triggers new vulnerabilities. In fact, it threatens to undo the last 50 years of progress in development, global health and poverty reduction." 
Climate change is having a catastrophic effect on environments and economies across the world. Recent California wildfires have been exacerbated by global warming; a new study has warned that the Arctic is undergoing "an abrupt climate change event" that will probably lead to dramatic changes. Last month, it was reported that a large ice shelf in Greenland had torn itself apart, worn away by warm waters.
"We are faced by a tragic global food shortage, a global land shortage, a global water shortage, but most critically what we are faced with is a global consciousness shortage," said Dr. Sadhvi Bhagawati Saraswati, Secretary-General of the Global Interfaith WASH Alliance. "…(As) people of faith and as leaders of faith, we have the opportunity to embody and to teach conscious living, choosing in every minute the core tenets of our faith: compassion, love, non-violence, care for the earth." 
Other speakers at yesterday's opening plenary included His Eminence Metropolitan Emmanuel Adamakis of France, Exarch of the Ecumenical Patriarchate of Constantinople and member of KAICIID Board of Directors, Dr. Juliette Biao Koudenoukpo, Regional Director for Africa at the UN Environment Programme (UNEP), Rev. Fletcher Harper, Executive Director of GreenFaith, H.E. Margaritis Schinas, Vice-President in the European Commission with the portfolio of Promoting the European Way of Life and Rabbi Awraham Soetendorp, President of Green Cross Netherlands.
In 2018, the world's leading climate scientists warned there is only a dozen years for global warming to be kept to a maximum of 1.5C. Any temperature beyond 1.5C could significantly worsen the risks of drought, floods, extreme heat and poverty for hundreds of millions of people around the world. The authors of the landmark report by the UN Intergovernmental Panel on Climate Change also said that urgent and unprecedented changes are required to reach the target, set out by the Paris agreement pledge to keep temperatures between 1.5C and 2C.
"Today's ecological challenges are not only related to globalisation. I would also say they are geopolitical, economic and philosophical…faith-based institutions have the crucial task to raise awareness of the dangers related to the destruction of the natural environment," said His Eminence Metropolitan Emmanuel Adamakis of France, Exarch of the Ecumenical Patriarchate of Constantinople and member of the KAICIID Board of Directors.
"To surmount the many obstacles that disrupt our focus on enhancing climate action and ambition, every decision, every investment, every action must be founded on the timeless values of selflessness and the singular purpose to touch many lives," said Dr. Juliette Biao Koudenoukpo, Regional Director for Africa at the UN Environment Programme (UNEP).
The opening plenary ended with a Q&A session during which Rev. Fletcher Harper, Executive Director of GreenFaith, encouraged citizens to equip themselves in matters of theology, as well as solutions to climate change like renewable energy sources.
"Have your sacred text in one hand and the day's newspaper in the other hand, so that you can make a substantial moral contribution to public discourse about the issues, not only speaking about the issues, not only quoting sacred texts, but to bring those into dialogue to help people understand why these issues matter as moral and religious issues," he said.
The G20 Interfaith Forum is the culmination of a months-long process of consultations between hundreds of religious leaders and policymakers, experts and representatives of faith-based organizations from 90 countries on five continents collaborating to discuss and identify joint solutions to issues ranging from protecting the global environment, access to education and gender equality to countering hate speech and COVID-19.
The opening plenary was followed by panels on protecting ecological spaces, the importance of partnerships address climate change and the rule of law, human rights and religious rights.
Ecological challenges: rainforest protection and purposeful action to protect the environment
Participants in the panel discussion on ecological challenges urged immediate cooperation from the international community on environmental protection plans, pointing to the problems the climate crisis has instigated across the globe.
"We live in an interconnected world – a drought or flood in one part of the world can disrupt supply chains or move commodity markets in another with serious implications for the poor and for the vulnerable," said Dr. Iyad Abumoghli, Director of the Faith for Earth Initiative and Principial Policy Advisor at United Nations Environment Programme (UNEP)
According to Marylita Poma, Communications Officer at the Interfaith Rainforest Initiative, particular consideration must be given to the planet's Indigenous and First People communities, who face a very immediate threat from climate change.
Poma also called on faith-based organizations to champion young people's voices and support their efforts on environmental policy, because action can no longer be postponed. "Today, young activists are the largest mobilised movement supporting climate justice. We're no longer the future, because climate change is now our present," she said.
Practical partnerships to address climate change
Participants in the second panel acknowledged the challenge of involving faith communities in environmental protection initiatives, as their credibility and knowledge is often questioned.
According to Kiran Bali, Chair of the URI Global Council of Trustees, faith communities can overcome this through evidence-based work and learning the ins and outs of policy. She outlined one recent example from the United Kingdom where faith-based and civil society organizations united to reduce carbon emissions and greenhouse gases. Together, they made targeted plans for policy reform and set clear goals to make their community carbon neutral by 2038.
These types of partnerships are vital, according to Prof. Auwal Farouk Abdussalam, KAICIID Fellow and Associate Professor at the Department of Geography at the Kaduna State University in Nigeria, because they ensure that change will be made from both the top down and the bottom up.
"We have the religious leaders, and we have the scientists and policymakers. If you gather them in one room and ask them to bring a solution, that will be a real practical solution, it can be scaled down to the grassroots and community levels. We all know that religious leaders are the link," he said.
The rule of law, religious and human rights
Shifting the discussion from climate change to the rule of law, participants in the third panel called for religious communities to unite on fundamental human and religious rights.
Panellists also said that the need for dialogue and mutual respect has been more urgent than ever during the current pandemic.
"The situation of the Muslim and the Jewish communities in Europe, while worrying in general, has become even more acute in the context of COVID-19, whereas you know there have been preposterous claims, made particularly on social media, regarding their role in in propagating the virus," said Prof. Michael O'Flaherty, Director of the EU Agency for Fundamental Rights
Claudio Epelman, Executive Director of the Latin American Jewish Congress said in cases like these, religious communities need to stand up for each other, combatting misinformation and fighting for freedom of worship and pluralism.
"I believe that we have to spread the idea that our rights must be reflected in 'the Other'."