Following a Stellar Year of Achievements, KAICIID Renews its Call for Proposals for the 2021 Dialogue60 Grant Programme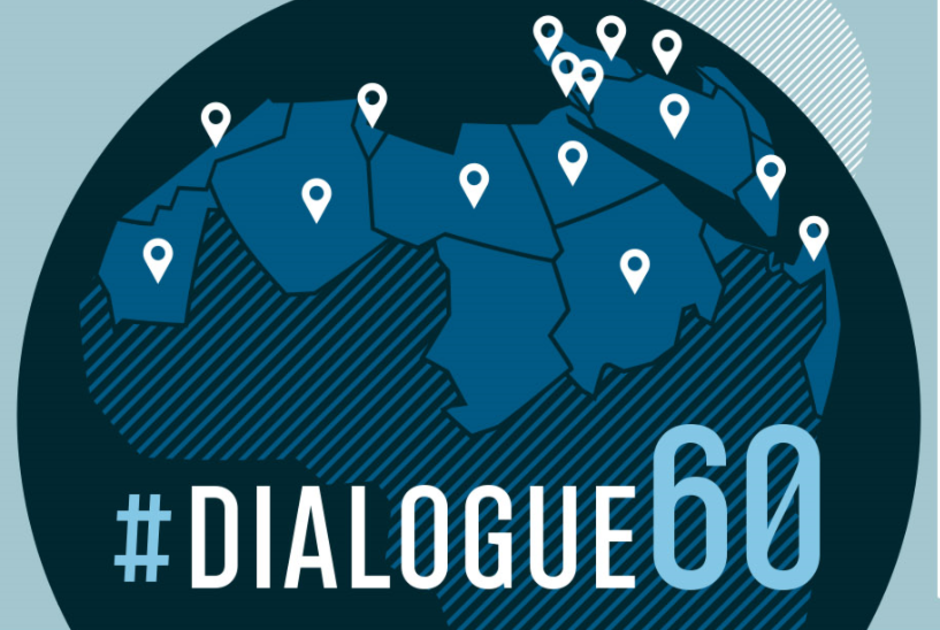 After successfully sponsoring and supporting the implementation of 60 projects in 2020, KAICIID is inviting submissions for 2021 aimed at promoting interreligious and intercultural dialogue and cooperation in the Arab region.
The Dialogue60 grant programme, one of many initiatives delivered under the umbrella of the KAICIID-supported Interreligious Platform for Dialogue and Cooperation in the Arab World, last year benefited nearly five thousand people across 15 Arab countries, among them youth, women, activists, journalists, religious leaders, students, academics, researchers and policymakers.
In 2021 KAICIID is seeking to support projects focusing on four major areas, including three from last year's call for applications - countering hate speech, promoting interfaith cooperation to counter the effects of COVID-19 and supporting common citizenship through interreligious education and awareness.
Using Online Platforms 
The newly introduced fourth area for grant applications is for initiatives aimed at safeguarding religious sites. Last year, projects aimed at the elimination of hate speech dominated, numbering 25 of the 60 initiatives undertaken. One such project, United Against Hate Speech, was coordinated by a Tunisian Scouts group and engaged around 200 children, youth, trainers and educators in the city of Sfax.
"One thing we, young people, can do to counter hate speech is using social media to spread positive values and love between members of the society," said 19-year old student Mariem Kchaou, one of the participants.
As with many other projects supported by the Dialogue60 grant programme, this initiative used the internet and social media to convey positive messages to counter hatred and intolerance spread through the same channels. Nearly 80 social media videos were produced by projects supported through last year's grants, for the most part involving online awareness campaigns targeting a range of issues from cyberbullying to fake news. Two websites, a web TV and a mobile application were also created.
"Through Dialogue", a project promoting interreligious dialogue in the Arab region, also made large use of online platforms. Organisers gathered participants from different countries in six webinars and promoted their project through social media networks.
They also produced a series six of motion graphics in Egyptian Arabic and set up Facebook, Twitter, Instagram and YouTube accounts which earned 60 thousand views.
Project coordinators said that online platforms were essential to success as the COVID-19 pandemic rendered physical gatherings impossible.
"We had a totally different idea of what it should be like, then the COVID-19 pandemic came about and we had to adapt our plans to all the travel and gathering restrictions, so we decided to use social media," said Lebanese PhD researcher Katie Nassar, one of the coordinators.
---
Read more: "WE PRACTICE WHAT WE PREACH": FOUR FRIENDS PROMOTE INTERRELIGIOUS DIALOGUE IN THE ARAB WORLD BY SETTING THE EXAMPLE
---
Impact of COVID-19 
Despite restrictions on movement and physical gatherings, nearly 80 dialogue sessions, as well as over 20 meetings between religious leaders and policymakers, were staged as part of the 2020 projects.
The three rounds of dialogue sessions organised by the Iraqi Diversity Group brought together over 40 participants from the Yazidi, Christian and Muslim communities in different areas of Iraq, including Mosul and the Nineveh Plains.
"Talking to each other is very important, especially in these times, when we need intense interreligious dialogue in order to achieve peaceful coexistence and build bridges," said the project's coordinator Fayza Ismail, a Yazidi human right activist.
KAICIID estimates that the 2020 round of Dialogue60 grants may have indirectly benefited around 4.8 million people through awareness campaigns on the effects of hate speech, COVID-19 prevention measures and other social issues.
In Morocco, a project convened virtually an interreligious and multicultural audience of 135 students, NGO workers, activists and researchers, who exchanged ideas on how to better assist the most vulnerable parts of society during the COVID-19 crisis and its aftermath.
"We focused in particular on the impact this emergency had on migration issues in Morocco and on the importance of interreligious dialogue and the promotion of a spirit of tolerance in this complex context," said Dr Sali Bouba Oumarou, a political scientist who coordinated the project. 
Interreligious dialogue in the context of COVID-19 was the second most targeted area of action in the 2020 edition of Dialogue60 grant programme after hate speech, with 24 proposals receiving support. 
The remaining eleven projects focused on common citizenship, diversity and education. Around 40 per cent of those benefiting from the 2020 projects were female and 33 women served as coordinators or were part of the coordination teams. 
Among them were social entrepreneurs Shahad Altukhaim and Ameera Alnejaim who launched the "Theatre for Change", a project in Saudi Arabia aimed at "including the excluded", with a particular focus on female participants.
For more information and to apply, please press here