Expertos afirman que las organizaciones religiosas pueden contribuir a solucionar los problemas de la migración forzada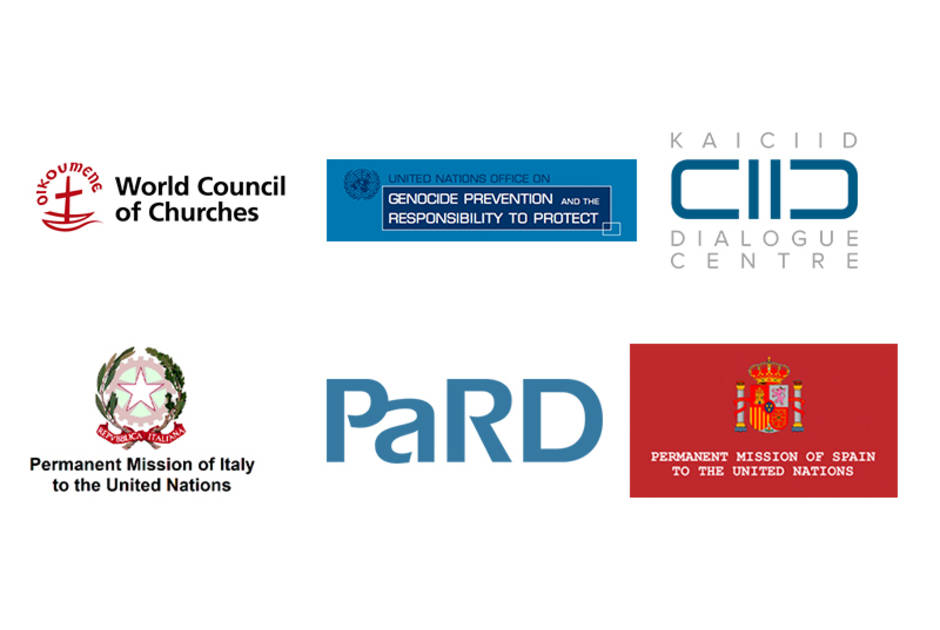 30 September 2016, New York: Faith-based organizations and religious leaders must be included in efforts to address the challenges of human trafficking and forced migration, said representatives of the United Nations, international organizations, Member States and civil society meeting on 23 September in New York after the landmark United Nations Summit on Refugees and Migrants and the Leaders' Summit on Refugees.
 "In many cases, migrants and refugees are seeking to escape situations of violence and grave human rights violations that in some cases may amount to atrocity crimes, by which I mean genocide, war crimes and crimes against humanity", stated Adama Dieng, Special Adviser to the United Nations Secretary-General on the Prevention of Genocide, which, together with the United Nations Inter-Agency Task Force on Religion and Development, the World Council of Churches (WCC) and the International Dialogue Centre (KAICIID) organized the event.  "If we are to prevent these situations and provide the kind of targeted assistance that would allow people to live fulfilled lives in peace and security, we need to focus our efforts on strategies designed to help to build national resilience. At the same time, we need to make sure that those who decide to migrate and seek refuge in other countries can do so safely.  Host countries must respect their obligations under international human rights and refugee law."
Speakers were unanimous in their call for religious leaders to be included in addressing not only the symptoms, but also the root causes of forced migration and human trafficking, from the point of departure, to assisting with integration into their host countries at the points of destination.
"Religious leaders know their communities. They have access to the people. They are trusted and respected by their communities and are already working to save and improve lives where they are most needed. Through their example and guidance, communities can combat prejudice, support integration and build peace," said Faisal Bin Muaammar, Secretary General of the International Dialogue Centre.
Rudelmar Bueno de Faria, the World Council of Churches Representative to the United Nations, stressed that "especially from a faith based perspective, from which human dignity is a key concept and commitment, we are obliged to address the entire experience, the whole spectrum of the forced displacement trajectory, from points of origin through points of transit to points of destination, rather than just the symptoms of the problem at the point of reception".
Successful initiatives by religious communities working together to support refugees and migrants in their countries of origin, while in transit, as well as in their new host countries were presented at the meeting. Panellists highlighted the generosity of the Greek people, together with the Orthodox Church, in responding to the influx of over a million people fleeing conflict in the Middle East, Africa and Asia, the assistance provided by faith based organisations to refugees arriving in Italy, and to the different communities displaced by violence in Iraq.
At the same time, participants called for a more cohesive and coordinated international response to the challenges of forced migration and human trafficking by policymakers, civil society and religious organizations working together to find shared solutions.
Discussing the situation of Senegal as a source country for migration, one speaker also highlighted the importance of raising awareness in source countries of the risks of trafficking and other forms of exploitation, building capacity, providing education and protecting families to reduce illicit migration.
The event highlighted the unique vulnerability of women in this crisis: armed groups often view women as commodities to be traded or trafficked, and in many cases, smugglers and traffickers are described as using sex as a currency for access to migration routes.
The meeting was organized by the United Nations Office on Genocide Prevention and the Responsibility to Protect, the International Dialogue Center and the World Council of Churches, in cooperation with the Governments of Italy and Spain, the Institute for Strategic Studies and Democracy (ISSD) of Malta and the Partnership for Religion and Development (PaRD). The agenda of the meeting is available here.
For more information, please contact:
Martina Donlon, United Nations Department of Public Information: [email protected], Tel: +1 212 963 6816
Mariela Hoyer Starcevic, KAICIID Public Affairs: [email protected], Tel: + 43 664 887 24068
Marcelo Schneider, World Council of Churches Communications: [email protected], Tel:  +55 5199985515