European G20 Interfaith Forum consultation focuses on the displaced, inequality and the environment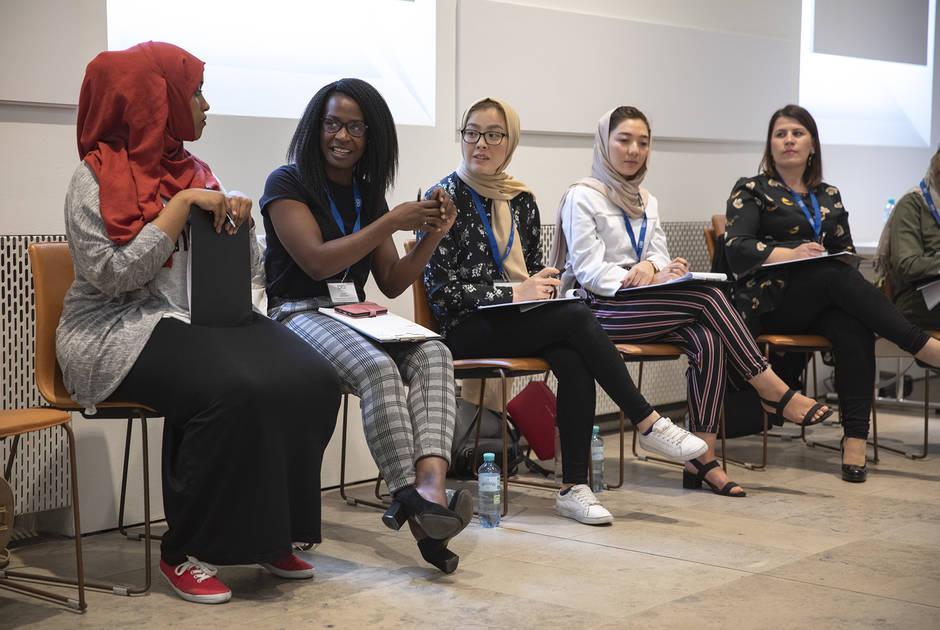 European religious leaders, policymakers, academics and representatives from the world of business met virtually on June 29 in the second of five regional fora with the aim of providing policy recommendations ahead of the G20 Interfaith Forum, scheduled to meet in Riyadh, Saudi Arabia in October.
The International Dialogue Centre (KAICIID), with key partners the G20 Interfaith Forum Association, the United Nations Alliance of Civilizations and Saudi Arabia's National Committee for Interfaith and Intercultural Dialogue are jointly supporting the consultations, which will help shape a final series of recommendations to world leaders attending the G20 summit, scheduled to take place in Riyadh in November.
Ahead of the G20 summit, religious leaders and policy experts in the Arab Region, Europe, Africa, the Americas and Asia are meeting to discuss region-specific challenges, including responses to COVID-19, access to education, women's rights, youth, peacebuilding, governance, and environmental justice.
The European consultation comes in the wake of the first regional meeting, encompassing the Arab region and led by KAICIID which for almost a decade has been administering programmes aimed at fostering common citizenship, dialogue, the protection of minorities and the prevention of hate speech. In 2018, KAICIID established the first regional multi-faith platform of Christian and Muslim religious leaders.
At the June 29 G20 Interfaith Forum European consultation, H. E. Metropolitan Emmanuel of France, who is also Chairman of KAICIID's multireligious Board, used his opening remarks to highlight issues of sustainable development which are a priority of G20 Summits, including reducing poverty and inequality; promoting health and well-being, addressing the challenges of displacement, migration and refugee inflows as well as protecting the environment. 
Metropolitan Emmanuel's speech reflected on the many challenges posed by the coronavirus outbreak which has seen 10 million cases, 500,000 deaths and lockdowns around the world. He outlined the three ad hoc working groups that will be developing substantive recommendations on areas including empowering people and fostering gender equality and religious engagement with environmental concerns.
"As leaders and experts who work at the interface of religion and policy, we are conscious of the ways that religious communities have responded to the challenge and of ways they have learned to adapt," said Metropolitan Emmanuel. "Most of us will never forget this year's Easter, this year's Passover, this year's Ramadan, and the ways that life in every religious community has been affected."
"Our consciences have also been seared by other pandemics—the all-too-resilient strains of racism—both personal and structural; the burdens of inequality, in all their myriad forms; the suffering of people who 'can't breathe'; the unending flood of refugees and displaced persons; the ongoing degradation of the environment; and countless other ills that bear in upon us as we shelter and social distance in our homes."
European Commission Vice-President for Promoting Our European Way of Life Margaritis Schinas delivered a powerful keynote address which emphasised the importance of input from European religious stakeholders on this year's G20 priorities.
"The admirable examples of solidarity we have witnessed during the pandemic should not be limited to crisis times but also be part of our future policies. This spirit of solidarity is certainly present at the European level and the European Commission considers it is an essential component of its post-crisis strategy. Through our structured dialogue we will continue focusing on issues which relate to the core values and ethical concerns and which should be at the heart of EU policies. We will ensure that they are built into our action, not remain empty words."  
President of the Conference of European Rabbis, Chief Rabbi Pinchas Goldschmidt, who co-chairs the KAICIID-supported Muslim-Jewish Leadership Council (MJLC), raised the issue of the importance of European institutions providing strong protections of the fundamental right to freedom of religion or belief. "This issue needs to be discussed within future G20 Interfaith Forum meetings to ensure that there is legal protection of religious freedom or belief for all." 
Last October, KAICIID held a two day international conference which convened more than 150 faith leaders, policymakers, civil society and human rights experts in Vienna to discuss ways of recognising and fighting hate speech.
Speakers at the European consultation also drew attention to the plight of migrants in Europe, where KAICIID supported the establishment of the Muslim Jewish Leadership Council, and implements a programme for People Seeking Refuge. This latter initiative encompasses the Network for Dialogue, comprised of 25 religious leaders, academics and civil society actors working on programmes to improve the social inclusion of refugees and migrants and the creation of a special Dialogue Facilitation Toolkit, which lays out practical guidance for refugees and migrants in Europe as well as for host countries.
"The governing principle for relations between Muslim communities and the rest of European society is intercultural respect and understanding, said H.E. Grand Mufti Nedžad Grabus of the Islamic Community in Slovenia and MJLC Co-Chair. "Whether new arrivals or longstanding citizens, many Muslims struggle with negative narratives, prejudices and misunderstandings. We encourage initiatives like KAICIID's European Policy Dialogue Forum on Refugees and Migrants which shares best practices from which cities and states can learn."
Arab Region meeting
On June 27, at a virtual meeting of the G20 Interfaith Forum focused on the Arab Region, over 70 religious leaders, policymakers and environmental experts focused on priorities ahead of this year's G20 Summit in Riyadh as well as long-term goals for the region. These included strengthening social cohesion and promoting peaceful coexistence in the Arab Region, as well as protecting the environment. 
Attendees included dignitaries from Iraq, Lebanon, Syria, Jordan, Saudi Arabia, Egypt, Algeria, Tunisia, Morocco, and Palestine.  
"These consultation meetings present a platform and a great chance to get to know each other and to consult and cooperate between individuals and religious actors and leaders to contribute in recommending and putting forth recommendations for the G20 summit," said Faisal bin Muaammar, KAICIID Secretary General.
"We are proud to present you the aims for the G20 summit and the aims of the interfaith Forum for sustainability, cohesion, and cooperation which will reflect on the priorities of the aims proposed by the Kingdom of Saudi Arabia," he continued. 
"Had it not been for the public response to the guidance of religious leaders in providing food and personal protective health equipment which complimented the efforts of individuals, institutions and the community. Today, we would be talking about a painful humanitarian catastrophe". 
Said H.E. Ivan Faeq Yaqoub Jabro, Iraq's Minister of Migration and Displacement in her speech stressing the important role of religious institutions in helping policy makers.
Speakers included Dr Iyad Abumoghli, Director of Faith for Earth Strategic Engagement with Faith Based Organizations, United Nations Environment Programme, H.E. Fayez al Shahry, Member of the Supreme Council, Kingdom of Saudi Arabia.
The Arab Region's religious leaders, policymakers and experts will meet again on July 3 to present recommendations to be included into a programme ahead of the G20 Interfaith Forum, scheduled to meet in Riyadh, Saudi Arabia in October.
tags: