DISCURSO AL PLENO DE LA 41ª CONFERENCIA MUNDIAL SCOUT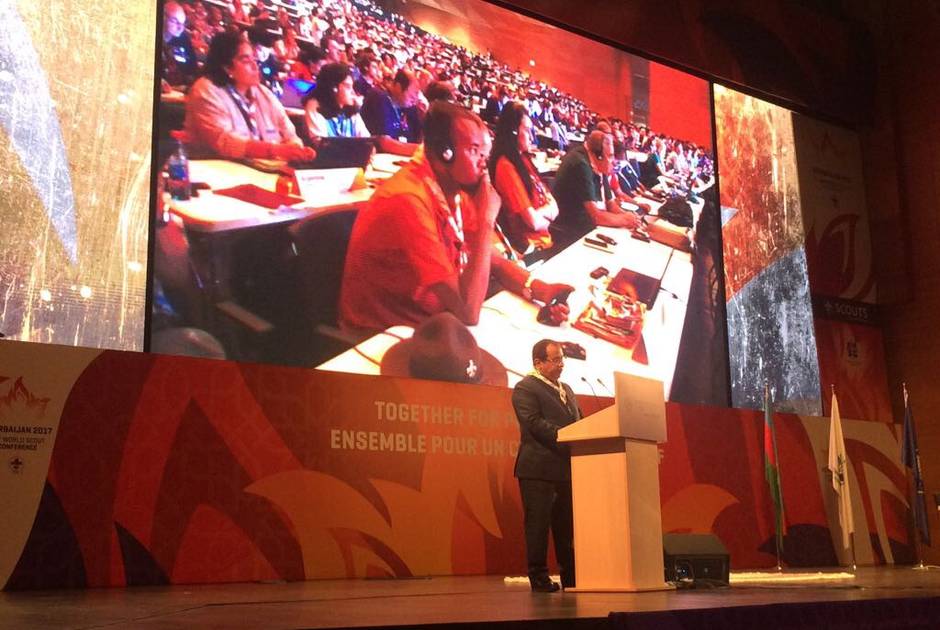 //Check against Delivery
Chairman Goncalves, Secretary General Alhendawi,  Dear Brothers and Sisters in Scouting.
Before commencing, I would like to thank His Excellency the UN Secretary General for his message. He is a man of faith and a true advocate of dialogue.
With his help and vision, the KAICIID International Dialogue Centre, in partnership with the UN, launched a Global Action Plan enabling religious leaders to prevent and counter incitement to violence in the name of religion.
It is a tremendous privilege to be the first non-Scouting partner and friend to address a World Scout Conference.  Thank you for this unique honour.
For many years, I have been personally inspired by the Scouting movement and have been enriched by the friendships and experience of serving on the World Scout Foundation.
In my own country of Saudi Arabia, and around the world, I have seen the great work carried out by Scouts, inspired by the universal principles of Scouting to make a positive impact on their communities.
The joint partnership between WOSM and the KAICIID Dialogue Centre in Vienna has been a beacon of light  and is the perfect vehicle for enabling Scout dialogue warriors to achieving peace, coexistence and building bridges  at both the local and global level.
Despite the fact that over time many have manipulated religion to justify acts of violence and hate in the name of religion, we must also recognize the integral part that religion plays in the dialogue process.
Over 80% of the world subscribe to a religious or strong ethical belief, share common values that unify them in respect and coexistence.
Through our work with political, religious and cultural leaders, we are firm in our conviction that a culture of tolerance  and coexistence is an achievable goal.
Religion is part of the solution, not the problem.
One of the jewels in the crown of Scout-led projects, has been the Messengers of Peace Programme which enjoys the continued support of the Kingdom of Saudi Arabia under the leadership of the Custodian of the Two Holy Mosques, King Salman Bin Abdulaziz, and His Majesty King Karl Gustaff, the Honorary Chairman of the WSF.
The Messengers of Peace Programme, has been unique in enabling us to reach out to a much larger segment of world youth by engaging with Scout activists and Scout networks on the ground.
We at the KAICIID Dialogue Centre have developed Dialogue for Peace training,  a Dialogue Badge,  a Scouts Dialogue Manual, and we worked on a major survey about Spiritual Development in Scouting, which demonstrated clearly to us that spiritual development  and dialogue  are important to most of you.
For us all to succeed in building these bridges of coexistence for peace, we need to combine the efforts of at least 3 Scout programmes:1) the Messengers of Peace Programme, 2) the Dialogue for Peace Programme and 3) the Spiritual Development Programme.
I believe strongly that all of this work needs to happen at all levels of our societies, engaging people from all ages and all walks of life.
I believe that you the Scouts, have the ability and drive to make this a reality, through your commitment / and inspirational dedication worldwide.
Your generation is the largest youth generation in history.  Throughout your lives, you can make a real difference in your communities, and you will change the world for the better.
You, Scouts, are leaders and represent a positive force in your countries and communities. There are thousands of stories of how Scouts have been instrumental in maintaining peace during wartime in many parts of the world, and have reached out to the 'Other' across the divide.
With over 40 million Scouts active around the world, you represent an amazing force for good!
I congratulate Secretary General Alhendawi for bringing youth to the global decision-making table. He led the UN Security Council to empower youth in contributing to peace-building in a truly meaningful way.
His leadership of the Scouting movement worldwide  will now help all of you here bring millions of hearts and arms to building peace worldwide, through Scouting and beyond.
I wish you a very successful conference.
tags: