"Covering Religion: Making Best Practices Count": KAICIID Discusses Image of the Other in the Media with Journalists, Editors, Media Experts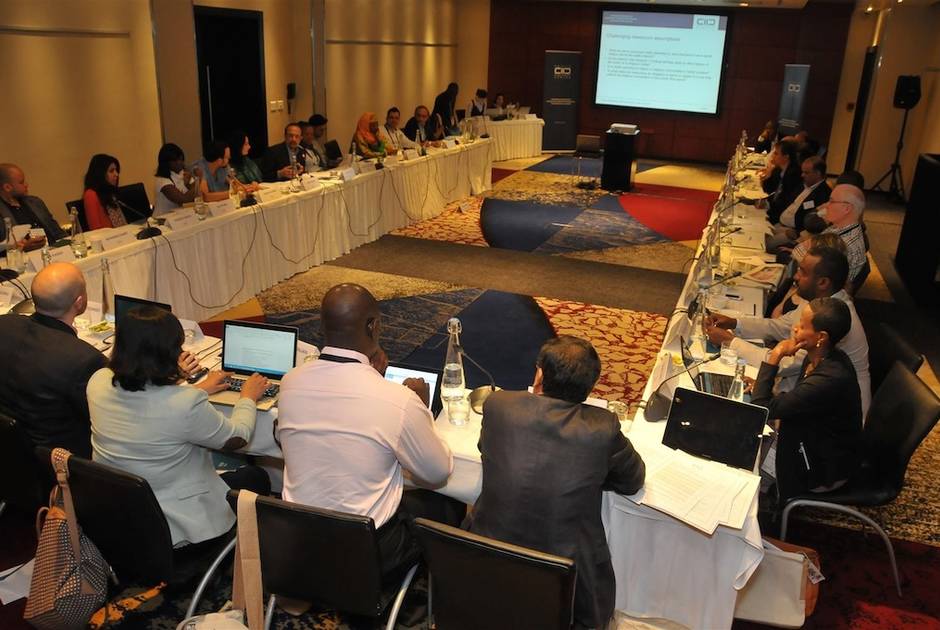 Working journalists, editors and representatives of religious media gathered at a KAICIID working meeting in Cape Town, South Africa, to discuss the portrayal of religious and cultural "Others" in the media. The participants represented a wide range of countries from the Middle East, Africa, Asia, North America and Europe.  
 The working meeting formed part of KAICIID's programmatic focus on improving the representation of "Others": people from other religions and cultures, through education and the media. The meeting was held a day before the annual World Congress of the International Press Institute. KAICIID also organised a public panel at the World Congress entitled, "Images of Faith: Clash of Perceptions?" on 15 April, which examined the representation of religion in the media.
"Working to improve the representation of religious and cultural diversity is a priority for KAICIID. Last year, we worked with educators to showcase best practices in this field. The media is one of the most important channels of learning about others, and so this year we look forward to working closely with members of the media, editors, journalists and also religious media," said Peter Kaiser, Director of Communications at KAICIID, who led the delegation.
"The timing of this event, at the IPI World Congress, was opportune, as it allowed us to discuss this important issue with hundreds of journalists and editors from around the world and learn from them how KAICIID can support their work."
 
"The media still has to reflect or mirror society": Challenges of Representation in Reporting Religion
In the first two sessions, participants looked at reporting on religion, both in their own regional or local contexts and on a conceptual level. The participants largely agreed that the representation of religion in the media was far from ideal, and discussed reasons for the perceived gaps. A tendency to sensationalism was discussed: either through the necessity of responding to commercial agendas or through inaccurate reporting, due to ignorance or a lack of resources, or through news agendas and lack of time.
One of the participants said, "For some reason, I think the media are not doing their job. For most journalists or most media, religion is just too complex to cover. But we as the media have a responsibility to the public. We stereotype the other and then we become part of the problem and not a part of the solution."
The participants also acknowledged that journalists may also have inherent biases which are reflected in the choice of language, sources or images, and stressed the need for training as a tool to overcome these biases.
Participants also stressed that there was more to reporting on religion than reporting on religious conflict.  And in many cases reporting on religion in conflict was, in fact, reporting on politics.
One participant declared: "There's a difference between covering religion and covering politics and government. When we talk about conflict, we are frequently talking about politics and not religion."
 
"Who Speaks for Religion?": Towards a Checklist for Covering Religion
In the other sessions, participants discussed solutions to the problems raised above, and developed a checklist of recommendations covering best practices in language, structure, sources and image selection for journalists covering religion. In the context of three specific types of religious coverage -- reporting on the internal affairs of a religious community, reporting on religion in conflict, and reporting on religious minorities -- the participants discussed specific ways in which quality coverage could be achieved. Recommendations from the session including guidelines on avoiding stereotyping and labels, finding and cultivating sources, and providing context and background on religion, especially its perceived role in conflict.
In addition to more nuanced and inclusive reporting on religion, the participants also discussed the need for a wider variety of stories on religion, including positive narratives of interfaith relations.
These success stories, the participants stressed, are important for fairer self-representation of religious communities in the media. They discussed in detail how to ensure the inclusion of these interfaith voices of peace into the media.
These recommendations will be compiled in a report to be released by KAICIID in collaboration with the participants.
In the words of a participant: "Journalism is about stories: people are interested in stories. The best stories are about people. Churches and others are great repositories of these stories."
 
Aims of the KAICIID Media Programme
Through its Media Programme, KAICIID aims to increase the diversity of authentic voices and perspectives both in media and social media. KAICIID aims to establish lasting networks of journalists, editors and media owners from secular news media outlets and religious media to share good practices in the areas of inclusive policies, reporting, and the sourcing of stories. KAICIID also values its networks of religious leaders and seeks to be of service to them through capacity building initiatives to improve the ability of proven interreligious dialogue practitioners to better access and utilize media and social media to promote dialogue and peacebuilding initiatives.  KAICIID also seeks to improve the conditions for interreligious dialogue among religious leaders by offering training in Media and Information Literacy.
tags: