Countering Hate Speech through Interfaith Cooperation and Multi-stakeholder Partnership in Europe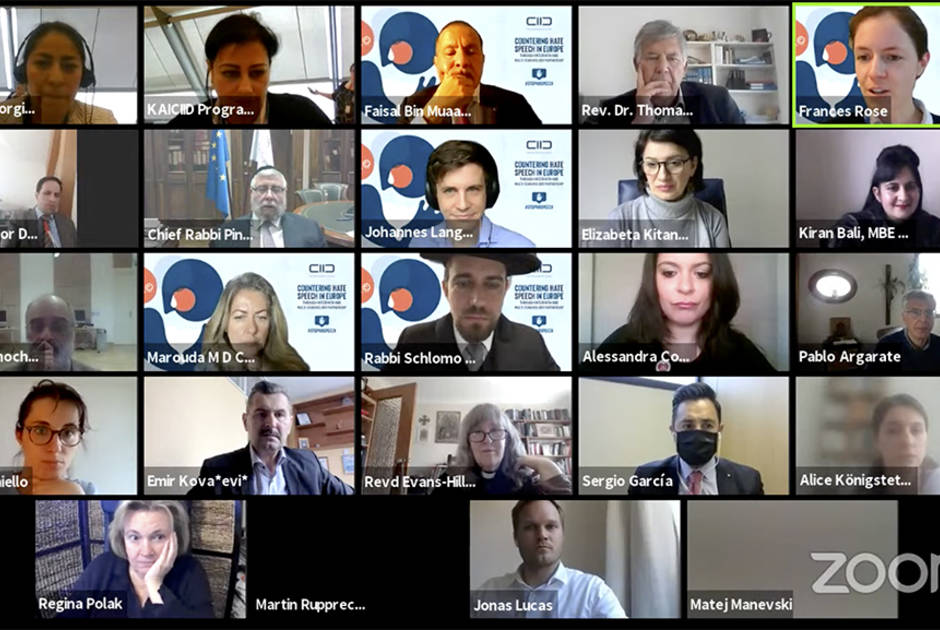 "The words of a human being have tremendous power, to build and destroy, to give life and to take life. In Abrahamic religions, an essential part of the creation of the world was the word. It was words that created this world and it is words that will destroy this world," said Chief Rabbi Pinchas Goldschmidt, Chief Rabbi of Moscow and member of the KAICIID-supported European Muslim and Jewish Leadership Council (MJLC).
With this solemn warning, Goldschmidt helped open the "Expert Consultation on Countering Hate Speech through Interfaith Cooperation and Multi-stakeholder Partnership," organized by KAICIID in partnership with the European Council of Religious Leaders/ Religions for Peace- Europe (ECRL/RfP Europe) with the support of the OSCE Office for Democratic Institutions and Human Rights (ODIHR).
Featuring experts with on-the-ground experience confronting hate speech and its disastrous effects, the goal was to share and explore ways in which endeavours to counter hate speech are working across Europe.
Read more about what is hate speech here
"Hate speech is virtually everywhere," said Goldschmidt, "but we must not tolerate it anywhere."
KAICIID has been employing a range of initiatives to help religious communities and leaders counter hate speech, from producing a guide on how to monitor and analyse hate speech to hosting this consultation on 20 April.
"Religious actors and interreligious leaders," said Faisal bin Muaammar, Secretary General of KAICIID, "have a role to play in countering hate speech."
Specifically, he said, "to promote an environment of coexistence" and to utilise "interreligious and intercultural dialogue to do this."
Worrying trends
The challenge, speakers agreed, is that hate speech is on the rise.
"Let's be clear: nowadays there exists a disturbing rise of xenophobia and hate across the world and especially in Europe," said Dr. David Fernandez Puyana, Permanent Observer of the UN University for Peace (UPEACE).
Dr. Kishan Manocha, Head of the Tolerance and Non-Discrimination Department at the OSCE Office for Democratic Institutions and Human Rights (ODIHR), underscored how this is nothing new. "Over the years its targets have been many and varied." But now it is mainstream, he warned.
The language of exclusion and marginalisation has crept into media coverage, digital platforms and national policies in recent years, all exacerbated by the COVID-19 pandemic. In particular, Manocha pointed to a worrying increase in online hate speech.
Dr. Daniel Höltgen, Council of Europe Special Representative on Antisemitic and Anti-Muslim Hatred and Hate Crimes, said, "hate speech online magnifies and exacerbates the harm done through words and often leads to hate crimes."
Careful to point out the distinction between incitement to violence and free or protected speech, he warned that while not all hate speech incites violence, when left unaddressed, it can lead to violence or atrocity crimes against marginalised groups. Höltgen said we must remember that freedom of expression is not an absolute right.
Read more about how to analyse and monitor hate speech here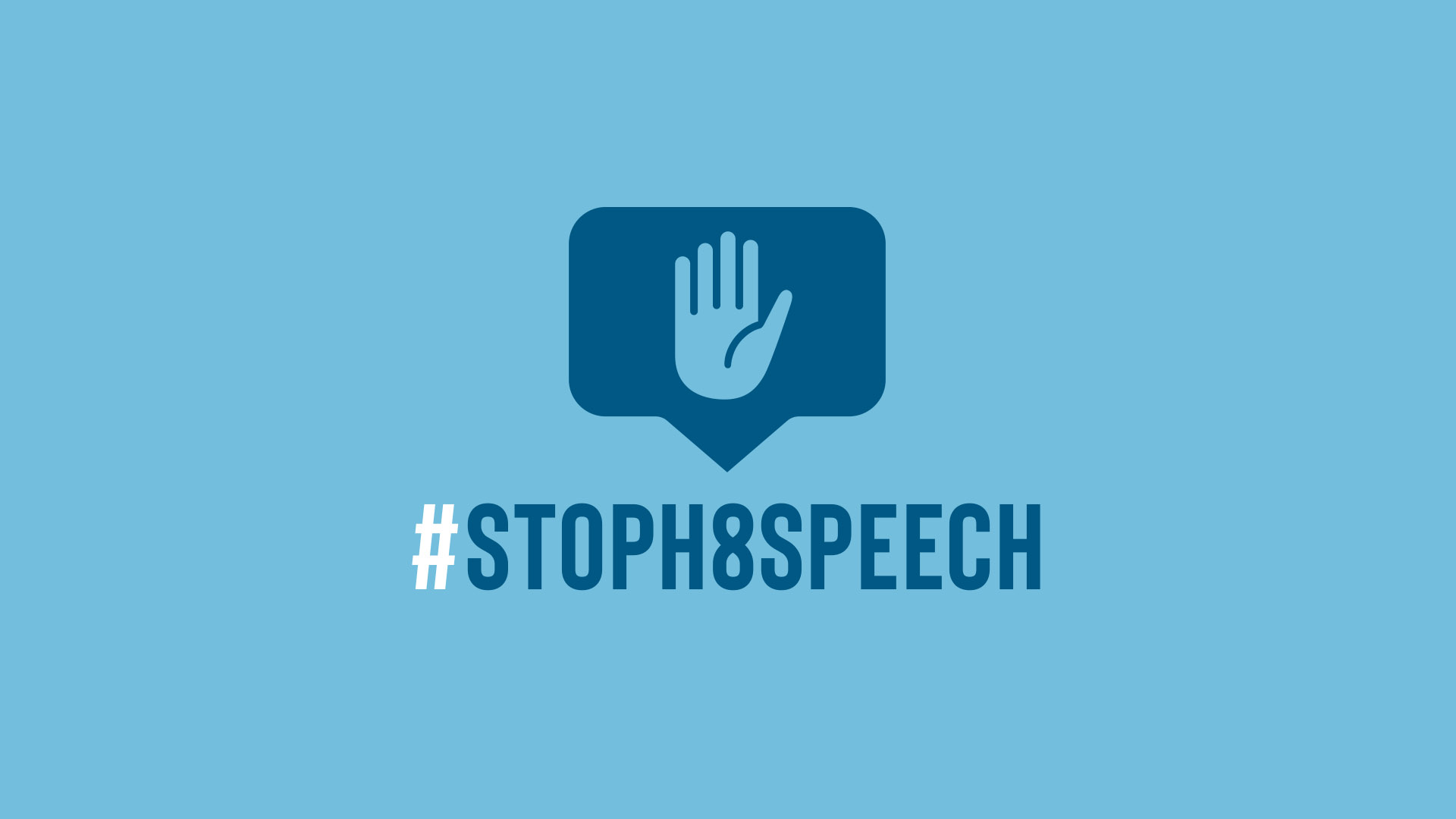 "Speech is allowed to offend, shock, and disturb," he said, "but it cannot go against other fundamental rights or prohibitions against discrimination. We are of the opinion that governments must insure that hate speech laws are enforced scrupulously at all levels," he said. To that end, he said the Council of Europe has recommendations on addressing online hate speech.
The European Commission against Racism and Intolerance (ECRI), for its part, provides policy recommendations on combatting hate speech, antisemitism, or discrimination against Muslims. ECRI's chair, Prof. Maria Daniella Marouda said these recommendations are based on country-by-country monitoring and expertise gathered from governments, religious leaders, and NGOs.
Beyond policy recommendations, there are also numerous interreligious dialogue initiatives addressing online hate speech, particularly among youth.
One highlighted program was the No Hate Speech Movement Italy, which focuses on providing human rights education for youth. Alessandra Coppola, its Vice Coordinator, said youth are an integral part of combatting hate speech and providing and promoting alternative narratives about the "Other."
Another effort, the ALTer Hate campaign, aims to do just that. Ms. Emina Frjlak, Board Member of the European Interfaith Youth Network of RfP Europe, said the campaign is focused on education, sensitization, and advocating the acceptance of diversity and inclusion through counter and alternative narratives.
Ms. Christie J. Edwards, Deputy Head of Tolerance and Non-Discrimination at the OSCE Office for Democratic Institutions and Human Rights (ODIHR), said the perils of hate speech have been exacerbated by the pandemic.
In particular, she said, "COVID has made 'scapegoating' quite potent." Scapegoating occurs, she said, when people of certain races, ethnicities, backgrounds, classes, or religions are blamed for the pandemic or its attendant effects.
"Some of these groups were already in a position of vulnerability before the pandemic started," she said, "and they have only upticked during the pandemic."
Speaking up together
While the primary responsibility to counter hate speech — scapegoating and otherwise — lies with states, Edwards said, "faith actors and civil society partners are crucial. Particularly at such vulnerable times."
There are numerous ways for religious communities and leaders to stand together against hate speech in all its forms, she said.
Dr. Henri Nickels, Policy Coordinator of the Institutional Cooperation and Networks Unit at the EU's Fundamental Rights Agency (FRA), said "no one is immune to hatred, it's an issue that knows no boundaries."
He emphasised that to limit its spread, it is important to use clear parameters to monitor, report, and record hatred; to prosecute hatred and bring perpetrators to account; to provide solidarity and support to victims; and educate against hatred.
In the end, said Dr. Mark Owen, Secretary General of the European Council of Religious Leaders, the "causes of hate speech are extremely complex and so our responses must be equally complex and nuanced if we have any hope of them being effective."
Rev. Dr. Thomas Wipf, President of ECRL/RfP Europe, echoed Owen. He said, "this topic can only be tackled jointly by partners."
Wipf believes there is hope that speaking up together, religious actors, civil society, and governments can serve as an effective bulwark against hate. "I am convinced that interfaith cooperation has great potential in this area," he said.
Chief Rabbi Goldschmidt said it is words that dehumanise the other, call for violence, and endanger the world. At the end of the day, it is words, attendees and speakers agreed, that can effectively counter hate speech in all its forms.
"It is often a small minority that speak the loudest and their negative narratives get heard," said Owen. "We have to be active and strategic in offering positive counter narratives."