A Common Word Among Youth (ACWAY)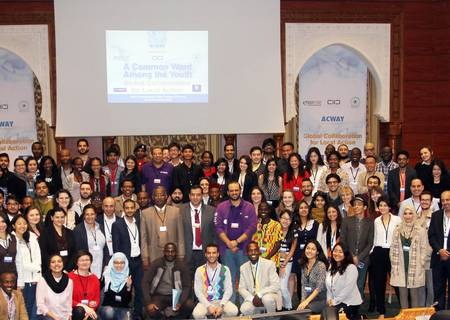 KAICIID, ISESCO, Partners Create Young "Ambassadors of Dialogue" in Morocco Training
Young people are increasingly changing the world for the better. Especially with the advent of social media, young people can be strong advocates of respect for diversity, tolerance, coexistence and social cohesion in their communities.  The King Abdullah Bin Abdulaziz International Centre for Interreligious and Intercultural Dialogue (KAICIID) is working with a number of partners to train young people to activate interreligious and intercultural dialogue to achieve harmony in their communities.
The initiative, titled "A Common Word among Youth" (ACWAY), was launched by KAICIID, in partnership with ISESCO, Right Start Foundation International, World Scout Movement, and Georgetown University on Saturday 12 December 2015.
100 youth were selected from a pool of 3800 applicants from 75 countries to participate in trainings on interreligious dialogue and conflict mediation, to equip them with the skills to be ambassadors for dialogue and harmony within their respective communities.
The trainees will return to their homes after the training, and work in their local communities to promote peace and harmony.
"Young people can be powerful ambassadors of dialogue. Through social media, and in real life, they are influential change makers. We need them to speak for peace, and tolerance, at a time when their peers are being poisoned by hate speech and seduced by divisive discourse. Our trainings are designed to help them advocate for pluralism", said Fahad Abualnasr, Director General of KAICIID.
This training is part of KAICIID's focus on building a multireligious response to violence in the name of religion. The need for such training was first highlighted by religious leaders during KAICIID's high-level conference held in Vienna last November, where the "United Against Violence in the Name of Religion" initiative was launched.
During the ACWAY Project, KAICIID held a follow up meeting in parallel to the youth forum, which brought together selected participants from its social media workshop in Amman, Jordan.  
In Jordan in September, the trainees developed ten ideas for social media campaigns to bring interreligious dialogue online, to amplify moderate voices that advocate for peaceful coexistence, as well as to test a social media manual focusing on interreligious dialogue best practices. The selected trainees participated in this follow up meeting in Rabat, to refine their campaign ideas and create an implementation plan.