Closing Remarks delivered by the Secretary General of KAICIID, H.E. Faisal bin Muaammar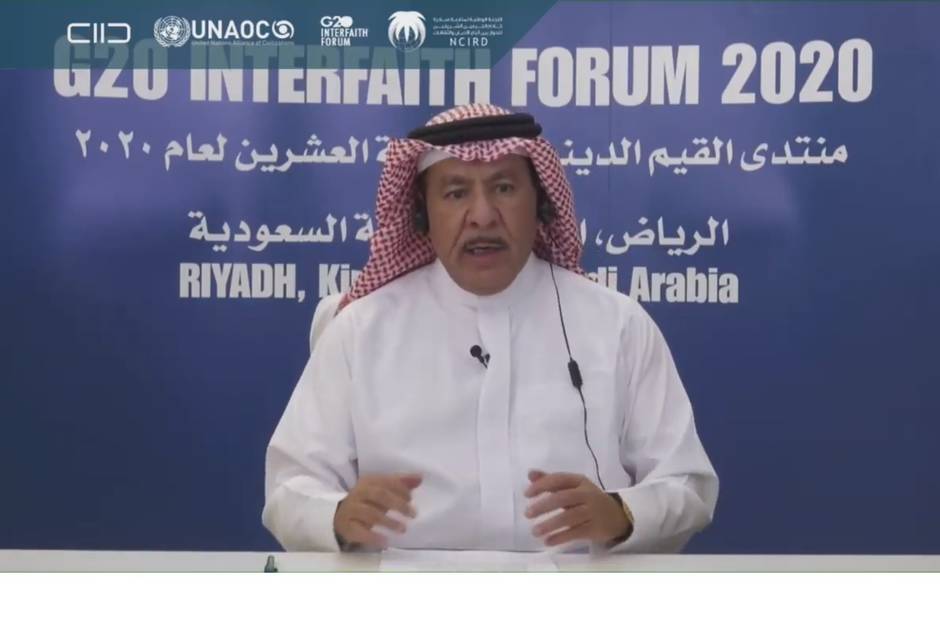 At the outset, I would like to express my gratitude for the immense effort of the past five days:
First of all, I would like to express my sincere thanks to the Kingdom of Saudi Arabia, and to the Custodian of the Two Holy Mosques, King Salman bin Abdulaziz Al Saud for their leadership of the G20 Process. I am also immensely grateful to them for their steadfast support to interfaith dialogue, and for enabling KAICIID to do the work we do: building bridges between followers of different religions and cultures.
The G20 this year has been called upon to deliver solutions to some of the most serious problems our societies have ever confronted. I thank the G20 Secretariat here in Riyadh, for their support and efforts towards making this possible.
To our partners, Mr. Moratinos and his team at the United Nations Alliance of Civilisations, and to Professor Cole Durham, and his team at the G20 Interfaith Forum Association.
And of course it is a pleasure to conclude this event here from Riyadh, the host of the G20 Summit 2020, with my co-panelist Dr. Abdullah AlHomaid and the National Committee for Interfaith and Intercultural Dialogue. Your support in organizing this event, in bringing the voices of the G20 Interfaith Forum to the heart of the G20 Summit and the Kingdom of Saudi Arabia, has been invaluable.
As I have said before, the journey, the Road to Riyadh, did not start with this event. Over the past six months, hundreds of participants have joined us in six regional consultations. The recommendations from those meetings have been deliberated and collected by members of G20 Interfaith Task Forces, working according to the themes of the G20 Summit in November. All of these experts, policy makers and religious leaders have given their time, expertise and commitment to this process: freely, and in the middle of a pandemic. I thank them all for their contribution. Their work has resulted in an impressive collection of concrete, actionable recommendations for policy makers on the global problems of our time: COVID, Inequality, Inclusion, Climate Change and the Safeguarding of Religious Sites.
Thank you also to the more than 2000 participants who have joined us, from over 90 countries, over the past five days. Your active participation has enriched our work, and is testament to the enormous importance and representation of religious communities to the global landscape.
When we started this process, we knew that what we were doing was difficult, and that it was important. But we did not realise how difficult, and how important, until the world plunged into possibly the greatest global crisis it has known since 1945.
COVID-19 has shown us that the world is more interconnected than we think. That our societies are more fragile than we think. That our economies, and our progress, are less secure than we think.
And the past five days, and the months to this G20 Interfaith Forum, have shown us that global cooperation, and solidarity are more important than ever before.  As we ask ourselves "how do we build a more inclusive, more equitable world", religion, and religious actors remain at the heart of the answer.
Over the past five days we have seen evidence, from all corners of the world, that religious leaders are instrumental in building a better world.
Religious communities are promoting strong, inclusive, green, sustainable economies, based on sharing and collaboration. They can be instrumental in educating for equality, inclusion and respect. They can advocate for considering the impact of actions on others.
They are already contributing to ending poverty, leaving no one behind. They are advocating for access to basic services for all. In partnership with policymakers and civil society, they can be, and often are, powerful advocates for common citizenship, good governance, tolerance and reconciliation. They are invaluable allies in the effort to build safe, inclusive and peaceful societies.
One of the panellists, Her Excellency Aminata Touré, the former Prime Minister of Senegal, spoke of faith actors coming to the rescue of multilateralism. Cardinal Ayuso spoke of a "contagion of hope" from religious actors. I echo their calls for a greater recognition by policymakers of the potential of religious actors to chart a better path.
The G20 Interfaith Forum has demonstrated the vast breadth and scope of the work carried out by religious actors. I would like to reiterate my call to the current host of the G20 Summit, the Kingdom of Saudi Arabia, and the next host, the Italian Republic, to recognise this contribution by recognising interfaith collaboration as a formal engagement group to the G20 Process.  
I would also call for the establishment of formal and/or informal engagement mechanisms to ensure sustainable cooperation between policymakers and religious actors in each country. This type of formal engagement is also integral to preventing the manipulation of religious identities for the promotion of political agendas. KAICIID has supported the development of interfaith platforms in each of its focus countries, which provide a formal space for religious actors to collaborate, in an interfaith setting, with State and policy actors. This model should be formalised, strengthened and adopted in each country.
In conclusion, I would like to re-emphasise the vital importance of closer connections between religious leaders and policymakers. As my friend Mr. Moratinos expressed it, there is a need for convergence between faith actors and state actors. Investment, and dialogue, is needed to build these bridges. KAICIID stands with the interfaith community, and the United Nations, and is committed to working with both these actors through training, capacity-building, consultation and advocacy.
Thank you.
tags: