Arab Region Stakeholders Stand with KAICIID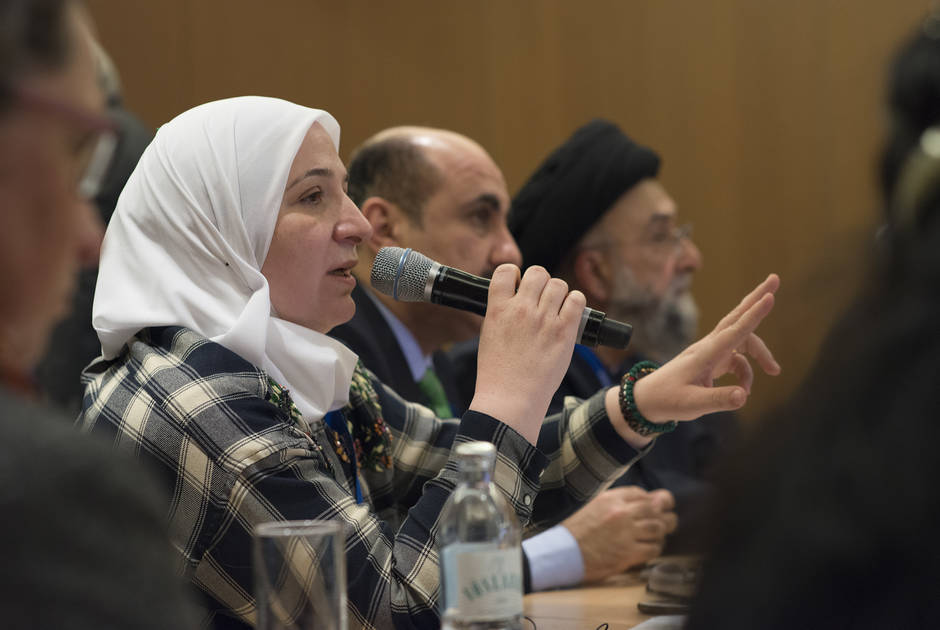 For centuries, religion has been a pivotal part of political life in the Arab world; however, the misuse of religion by violent factions has led to increased polarisation and conflict. Many Arab countries are plagued by violence, large-scale displacement, sectarianism, violent extremism, and the collapse of critical infrastructures – the combination of which significantly challenges regional, national and global stability.
In the Arab region, KAICIID works through the Interreligious Platform for Dialogue and Cooperation, which advocates the rights and inclusion of vulnerable and marginalized communities, and fosters peace at every level of society. The platform, which is led by 22 of the highest level religious leaders in the Arab world, equips members to combat hate speech and sectarianism, and to advocate inclusive policies. This work has resulted in concrete action plans which target issues such as citizenship, education, conflict sensitive media and improved participation in the policy making process.
KAICIID's partners and stakeholders in the Arab region have voiced their support for this critical work through written statements and via social media. We thank them for raising their voices to #StandwithKAICIID.
Through our experience and work in the Arab countries and the Middle East, we express our support for KAICIID's activities and work, for its great achievements in dialogue, non-violence, anti-hate speech, extremism and the promotion of coexistence around the world in general and in conflict areas in particular.
KAICIID's remarkable efforts during the past years in bringing together religious leaders from different countries to solve many of the problems affecting the Middle East, North Africa and even Europe, have had a positive and influential presence at all levels.
Our desire to spread world peace and to build bridges of understanding and dialogue among all people according to their religions, nationalities and ethnicities makes us enormously responsible for the cooperation with KAICIID while supporting and blessing its steps towards a world filled with peace, love and reconciliation.
- The Interreligious Platform for Dialogue and Cooperation in the Arab World, a KAICIID-supported platform
Since its establishment, the KAICIID Dialogue Centre has contributed significantly to bridging the barriers that divide us – and more importantly – to a peaceful future where people respect each other and cooperate regardless of their ethnic background, religion or culture.
From its beginning, I took part in all the major initiatives of KAICIID and will remain committed to its objectives and endeavours. I strongly hope and pray it will continue its blessed work to promote God's will of love, respect and cooperation among all of us.
- His Eminence Shawki Allam, Grand Mufti of Egypt
We were surprised with the decision from the Austrian parliament to withdraw from KAICIID and close it, especially because Austria is the first European country that recognized Islam as a religion, and also because it is one of the founding member states of KAICIID. KAICIID has successfully built bridges between followers of different religions and cultures in the Middle East, in Asia, and in Africa.
I hope that the Austrian government will reconsider this decision out of respect for human values that Austria preaches, and out of respect for the good work that the Centre is doing in this context.
- His Eminence Abdullatif Derian, Grand Mufti of Lebanon
The King Abdullah Bin Abdul Aziz International Centre for Interreligious and Intercultural Dialogue in Vienna has a crucial role to play particularly nowadays where religion has started to emphasize its role in the lives of societies, sometimes with positive and sometimes with negative consequences and implications. World religions are based on peace, love, justice, truth and common values. It is very important to enhance these values in the lives of followers of different religions. 
Christian and Muslim leaders, through education, should keep their followers away from such violence and misuse of religion. In this context, KAICIID's mission, that I am well aware of, is of utmost importance and I highly appreciate and thank the Centre. The Armenian Orthodox Church will continue its collaboration and active participation to all KAICIID's programmes and projects.
- Aram I Keshishian, head of the Catholicosate of the Great House of Cilicia of the Armenian Apostolic Church
The Coptic Orthodox Church lauds KAICIID's great efforts to build bridges of dialogue, coexistence, and respecting the Other. KAICIID operates through various platforms and programmes in which the Coptic Church has participated, as we are members of the Arab Region Platform as core contributors through its Steering Committee. We are also members of the KAICIID-supported Network for Religious Faculties and Institutes, and we have participated in various Fellows training programmes over the years.
We have also welcomed KAICIID Board members and Fellows more than once to Cairo, and visited the KAICIID headquarters in Vienna in support of its programmes and initiatives. We pray to God that you (KAICIID) may succeed in your humanitarian efforts to do good in the world.
- Father Metta Zakaria Aziz on behalf of Pope Tawadros, as the representative of the Coptic Orthodox Church in Egypt in the KAICIID-supported Arab Region Platform
We would like to express to everyone at KAICIID our appreciation for your efforts under the leadership of KAICIID's Secretary General Faisal Bin Muaammar. We trust that your message is one of humanitarian dialogue that aims to enhance respect and diversity. This results in peaceful coexistence and building dialogue bridges that address and combat present challenges facing communities. It also makes coexistence, understanding and cooperation between followers of different religions and cultures an effective way to build peace.
- Sheikh al-Aql Naim Hassan, Head of the Druze Council in Lebanon
KAICIID has created spaces for interreligious dialogue in the Middle East and has launched pioneering projects across the region, including the Dialogue Platform, the Arab Fellows Programme and others. KAICIID's distinctive role is based on its long-term and profound impact strategy.
- Bishop Elias Toumeh, Bishop of Wadi al Nasara, Syria
I would like to express my gratefulness for the work KAICIID has been doing through our long history of partnership. We consider KAICIID one of the most important organizations in the world, one of the few that were able to gather various religious leaders, various religions and beliefs in programmes and fruitful discussions. The role that KAICIID is playing is important and needed, and we wish them to flourish and to be able to serve all the communities that are in need.
- Rev. Dr. Andrea Zaki, President of the Protestant Churches of Egypt
Today's world is exposed to barbaric attacks carrying extremism, violence and terrorism. To address such barbaric behaviors, we desperately need to build a peaceful and shared life that depends on human partnership as a basis for relationships in our societies.
This can only be achieved through productive dialogue based on acceptance of the other and respect for diversity and difference. This is what we have seen in KAICIID's approach. Since its inception, it has fought against discrimination on religious or ethnic grounds and has always denounced hate speech. The Centre has worked to promote dialogue in conflict areas. KAICIID is characterized by a diversity of its members, from all religions and cultures, away from political conflicts and partisan disputes. We are proud of the Centre and will continue supporting it, as it is serving world peace and building a better future for the coming generations.
- Dr. Hussein Ghazi Al-Samarrai, Member of the Supreme Council of the Iraqi Juristic Society and Mr. Saleh Hakim, on behalf of the Intra-Muslim Dialogue Team in Iraq, a KAICIID-supported initiative
We would like to express our sincere appreciation for the special relations we have with The King Abdullah Bin Abdul Aziz International Centre for Interreligious and Intercultural Dialogue (KAICIID). In these times of abundant intellectual and ethnic disagreements, there is a great need for the practice and promotion of a culture of dialogue. We commend the importance of KAICIID as a centre that supports and promotes dialogue and brings together religious leaders, particularly in the Arab world.
KAICIID contributed to our ability to implement our peacebuilding initiative called the "Friendship Network of Church and Mosque Goers" in various Lebanese regions, as we have worked towards the mitigation of religious segregation between Muslims and Christians through dialogue and the promotion of mutual understanding. Dialogue is a pathway to change. It creates rapprochement where disagreements divide and builds bridges in the midst of differences. This is the approach we have seen at KAICIID, whose members have spared no effort at constructing a culture of dialogue for the sake of peace in various communities around the world. They have pursued this through the training of individuals and local leaders in interreligious and intercultural dialogue, with dedicated care for scientific quality and objectivity.
- The Institute of Middle East Studies, Lebanon
Through my participation in the Arab Fellows Programme I acquired knowledge and skills that helped me understand and respect the Other. I also had the opportunity to meet representatives of religious institutions and colleagues from different Arab countries who have shared experiences and educational resources that contribute to my work.  I have shared these experiences in my country with colleagues who did not have the chance to participate in this wonderful programme, particularly among young people, who are more susceptible to intolerance and to be attracted to circles of violence.
KAICIID is a reflection of the human values ​​that I have observed through communication with its employees, programme managers and trainers. More efforts are required by KAICIID to promote the values ​​of citizenship and acceptance of the others. KAICIID is a distinguished institution with a strong message and vision.
- Awatef Anwar Boshra, Acting Monitoring & Evaluation Manager for Forum for Intercultural Dialogue (FID), Coptic Evangelical Organization for Social Services (CEOSS) Egypt
In September 2015, I participated in KAICIID's conference in Jordan for the first time entitled "United Against Violence Through Social Media". This conference helped me to change my views about the other, by opening my mind and social connections I became a personal and community figure. In addition, I attended the fellowship program in the Arab region. I got knowledge about and the chance to meet Jewish, Hindus and other religions as an example from different countries representing different cultures. The KAICIID Centre worked day and night to collect this rich diversity under the heading of humanity and coexistence with the other without any kind of discrimination. The initiatives that were funded by the Centre have had a great impact on the local community, I have gained experience, work and training, and I have personally invested in raising awareness and spreading all these to my regional community.
I highly appreciate KAICIID's mission. I wish KAICIID more success and progress.  The whole world needs the work and efforts of the Centre.
- Media D. Marcelle Jwaniat, KAICIID Fellow, Jordan
Given the terrifying reality that affects our world today, KAICIID's presence is very important. It is the most prominent Centre in the world playing this role. It teaches us dialogue, humanity, peace and how to live together. KAICIID's programmes have been spaces of knowledge and training that strengthen people's humanity. I have studied in many universities but my experience with the Centre has been the most prominent in my professional life.
- Mohammed Zerrouki, KAICIID Fellow, Department of Religion and Comparative Religions, University of Prince Abdelkader Constantine, Algeria
KAICIID is one of the important and pioneering centres that support dialogue between followers of different religions and cultures.
I have been honored to be one of the hundreds who have learned at such initiatives. We are working together in partnership with other important institutions to achieve our common goal of creating a peaceful, secure and pluralistic generation.
- Zaid Bahraluloom, KAICIID Fellow and Director of Al-Balaghi Academy, Al-Khoei Institute, Najaf- Iraq
After diving deep into KAICIID's programmes and initiatives, it became clear to me that it has a very important positive international impact, through convening followers of different cultures and religions. I had never been inside a church before I got involved with KAICIID, and today I can proudly say that not only am I entering churches, but I am invited to give a lecture at the end of the month in one of Baghdad's churches.
KAICIID is an international organization with an impact far wider than just the international community. It affects humanity as a whole, and it is unfair to judge KAICIID based on external issues. Let us be fair and look realistically into its community impact before taking a decision that will affect humanity, freedom, and human rights.
- Ammar Hekmat, KAICIID Fellow, Professor in the Department of Theology at the University of Baghdad
tags: