Against Backdrop of Globalization, Migration and Social and Political Polarization, Young Peacebuilders at International Conference Learn How to Build Cohesive Societies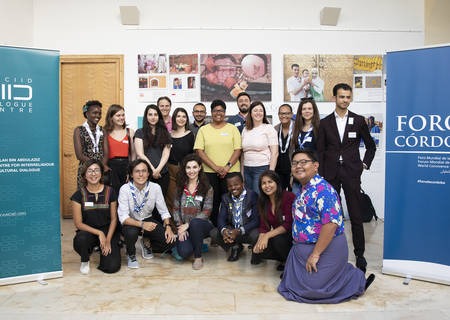 CORDOBA, 13 May 2019 – The Cordoba Forum Youth Seminar, starting today in Cordoba, Spain, will train 30 young people from over 20 countries around the world to build peace in their communities through intercultural and interreligious dialogue. The participants, selected based on their contributions to peace in their local communities, will be empowered to continue working towards peaceful coexistence using their fresh skills in dialogue and having learned from other young leaders' experiences.
"The Youth Forum will be an amazing chance to increase my skills and to bring more knowledge to my local and national community" states Camilo Pitu Ayala Herrera, whose family was one of millions to suffer as the result of guerrilla warfare in his native Colombia and whose personal project, Peace through Dialogue, uses his own story to encourage people to forgive and create avenues for reconciliation.  "I decided to participate in the Youth Seminar because I find it an amazing opportunity to learn more about dialogue, to expand my experiences and use them to keep building peace in my country". 
 "The United Nations has called for increased youth participation, as equal and respected partners, in peacebuilding initiatives. At KAICIID we fully appreciate the important role of youth in bringing peace, mutual understanding and the principles of peaceful coexistence to their communities. With this first Cordoba Forum, we are celebrating the role of young people in promoting the spirit of coexistence. Throughout this week, we will equip young leaders with knowledge to build bridges of better understanding, and they will also enrich us with their vision, their innovative thinking and their dream of coexistence," KAICIID Secretary General, Faisal Bin Muaammar said.
Young people trained at the Seminar will gather a global collection of best practices, challenges and recommendations for how to achieve peaceful coexistence, and present them during the Cordoba Forum, held from 15-17 May.  Participants will discuss what roles youth in particular can play in building social cohesion and coexistence. They will learn from KAICIID trainers Patrice Brodeur, Katerina Khareyn and Anas Alabaddi the theory and practice of transformative dialogue, dialogue facilitation skills, and intercultural communication. They will also have the opportunity to participate in an iftar and to play DialoGo!, a board game that facilitates difficult conversations, developed by the Centre and available in five languages.
The Youth Seminar, organized by the Vienna-based International Dialogue Centre (KAICIID) and taking place from 13-15 May, precedes the Cordoba Forum, a gathering of organizations and individuals which meets regularly in Cordoba on May 16th on the occasion of the United Nations International Day of Living Together in Peace. The Forum is co-sponsored by the Cordoba Municipality, Nicolas Puech Foundation, Paradigma Cordoba Foundation, Salam for Cultural Communication and KAICIID. H.M. King Felipe VI is the Forum's Honorary President. "For KAICIID, and for me personally, it is a source of pride to join this inspiring group of actors." Mr. Bin Muaammar said. "Because of Cordoba's history, in which Abrahamic cultures flourished side by side, the city is a powerful symbol of social solidarity and coexistence. The message that we send from this Forum; that the will and capacity to reconcile differences, to learn from one another and to build strong, diverse, thriving societies is strong; will carry through Europe and across the globe."
The Forum will engage over 100 individuals and organizations from some 35 countries who are working to foster mutual understanding and social solidarity in many different sectors and regions. The event provides an opportunity to highlight the urgent need for such initiatives in the context of globalization, emigration and social and political polarization, to share successful approaches and initiatives so that a network of likeminded organizations can grow and offer inspiration and mutual, intergenerational support. In addition to the organizers, representatives of local, regional and national governments will speak at the opening ceremony, as well as the High Representative for the United Nations Alliance of Civilizations, Miguel Angel Moratinos.