2019 KAICIID International Fellows Meet for First Training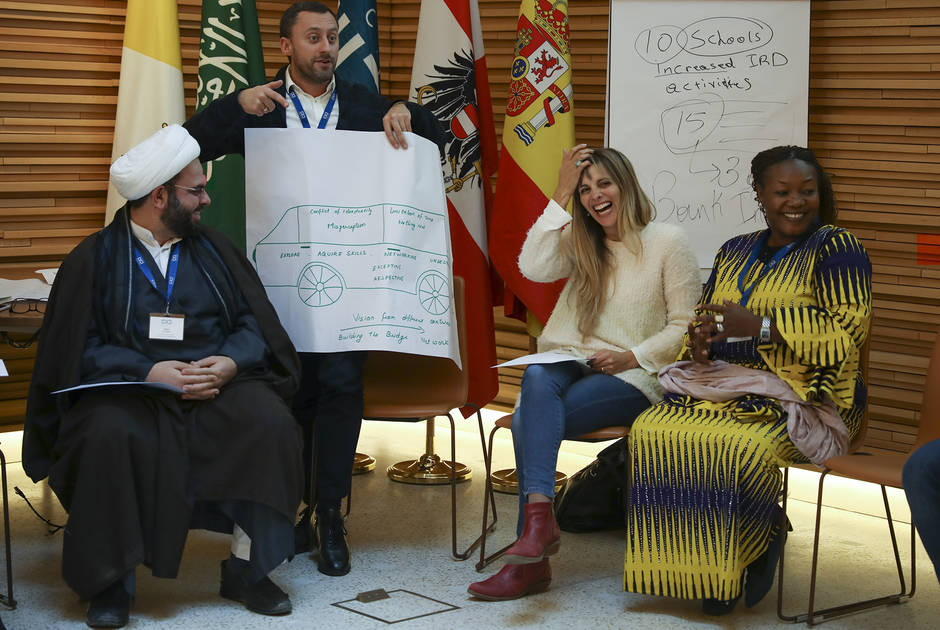 The 2019 International Fellows completed their first training at KAICIID headquarters and have returned home with new impressions, inspiration and friends who support them in promoting dialogue in communities around the world.
During their time at KAICIID, the diverse group of religious leaders and scholars learned to enhance and improve their interreligious work, held interreligious dialogue amongst themselves, shared their experiences, and discussed how dialogue can promote peace in their own contexts.
"Interreligious dialogue is really important for the peacebuilding process in our country because we have 135 different ethnic groups, "said Sayalay Ketumala, a Buddhist nun from Myanmar. "We need to promote dialogue culture, and also we need to have many dialogue sessions – not only in our country – but around the world."
Members of this cohort, who spent 20 to 27 January in a snowy Vienna, Austria, come from Buddhist, Christian, Hindu, Jewish, Muslim, Taoist, and Yazidi traditions and represent 15 countries. Many of the Fellows are dialogue practitioners, but for some, this was their first experience to meet and befriend people of different religions traditions.
"I enjoyed meeting people from all over the world, but also learning about how to do dialogue in a better way," said Anja Vanessa Fahlenkamp, a Jewish participant from Germany. "I really hope to learn more techniques, to gain more perspectives from the other participants and trainers, and to get feedback to make my own work better."
The Fellows will meet for the second time in April in Kuala Lumpur, Malaysia, for further training and to develop their interreligious dialogue projects that they will implement in their own communities. The programme will also include online sessions, which provide further training for Fellows' professional development.
"I'm looking forward the sharing of experiences from different perspectives of the participants, which will help in broadening our perspectives of conflict issues and the role that religion plays in strengthening humanity," said Sani Suleiman, a Muslim from Nigeria.
The KAICIID Fellows Programme
The KAICIID International Fellows Programme brings together leaders and educators from different religious backgrounds from around the world for training in dialogue facilitation, intercultural communication and promoting social cohesion by KAICIID experts. The programme equips Fellows with the skills to educate their students and communities about interreligious dialogue so they can become facilitators and leaders in the dialogue and active peace advocates in their communities.
The Fellows Programme is intended to make an impact in four areas:
mainstreaming IRD in Fellows' affiliated religious and educational institutions and communities;
helping to better equip educators at institutions with the knowledge and skills necessary for teaching IRD;
building up more educators who will advocate for dialogue, are committed to the Centre's mission, and will act as Ambassadors for Dialogue, especially in the conflict zones where KAICIID focuses;
and regularly connecting Fellows through a Network with each other and with KAICIID.
tags: