"Religions in Dialogue": Lecture on Platform Christians and Muslims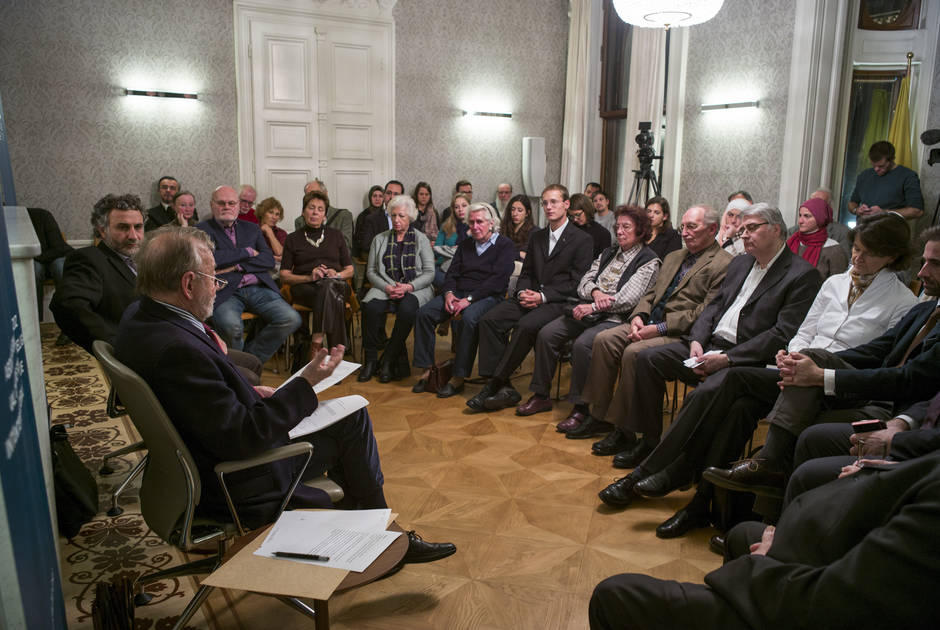 The International Dialogue Centre (KAICIID) invited the 'Platform Christians and Muslims' (Plattform Christen und Muslime) to speak as part of its 'Religions in Dialogue' lecture series held at the Centre's headquarters. Chairperson Tarafa Baghajati and co-founder of the platform, Prof. Dr. Peter Pawlowsky, introduced the capacity audience to the platform's work and Christian-Muslim co-existence in Austria.
The Platform Christians and Muslims, emerging already in 2006 as an initiative, was established as association in 2014 with the aim of taking a stance against prejudice and propaganda against sections of the population. It actively supports dialogue and better coexistence between Christians and Muslims in Austria through lectures, workshop, etc. As foreseen in the founding document, the Christian-Muslim co-chairmanship is held by Tarafa Baghajati and Prof. Dr. Susanne Heine, represented at the lecture in KAICIID by her husband and co-founder Prof. Dr. Peter Pawlowsky.
At KAICIID, the importance of the platform's work, especially in recent times, was highlighted and interreligious dialogue was emphasized by both speakers as a tool to build bridges between religions to foster mutual tolerance and to reduce prejudices. Dialogue needs to reach not only interfaith experts, but also the general public, which is one of the aims of the Centre's ongoing lecture series.
Common misperceptions about both religions and the abuse of Islam to justify violence, were also discussed and clarified.
Following a lively Q&A session, the interested public had the opportunity to continue the dialogue at a small reception.
The next 'Religionen im Dialog' open-house lecture will be held on 19 January 2017, please click here to register. 
tags: