"Refugees have a place in open societies" - KAICIID Secretary General to World Leaders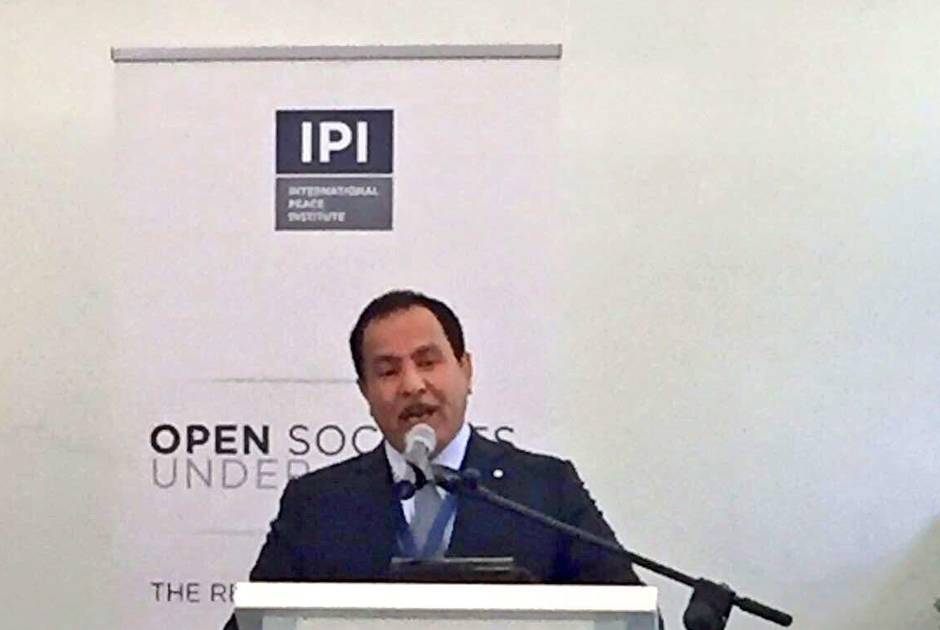 Nedžad Grabus, Grand Mufti of Slovenia Joins Secretary General on KAICIID Panel at Salzburg Conference
Salzburg, 6 September 2016: 27 years after the fall of the Berlin wall, fear of migrants and refugees is building new walls, separating people in Europe, Faisal Bin Muaammar, Secretary General of the Vienna-based International Dialogue Centre (KAICIID), observed at an international conference in Salzburg, Austria.
The Secretary General was speaking at the International Peace Institute Salzburg Forum on 6 September. He was joined at the event by KAICIID Board Members Metropolitan Emmanuel, Exarch of the Ecumenical Patriarchate of Constantinople, Dr. Mohammad Sammak, Secretary-General of the National Committee for Christian-Muslim Dialogue, and Dr. Hamad Al-Majed, Faculty Member, Imam Muhammad Bin Saud University.
The Secretary General's address opened a panel discussion on "Open Borders and Open Societies: Stability, Integration and Dialogue". Panellists included Nedžad Grabus, Grand Mufti of Slovenia, and Professor, Faculty of Islamic Studies, University of Sarajevo, Hind Kabawat, Director of Interfaith Peacebuilding, Center for World Religions, Diplomacy, and Conflict Resolution, and Masroor Aswad Muhialddin, Member of the Board of Commissioners of the Iraqi High Commission for Human Rights (IHCHR). The panel was moderated by KAICIID Senior Advisor Patrice Brodeur.
Speaking of refugees in terms of "movements" and "floods" threatens to erase each refugee's individuality, which can offer a unique contribution to the host country, he said. 
Through dialogue, the Secretary General said, especially through efforts to increase mutual understanding and acceptance as modelled by religious communities and their leaders, people could overcome fear to build trust in their new neighbours.
"In dialogue, people who fear each other and disagree, can safely learn about the fears and resentments on the other side. When we know more about each other, we are more likely to trust each other."