"An Action Plan for Africa" on the Role of Religious Leaders in Preventing Incitement to Violence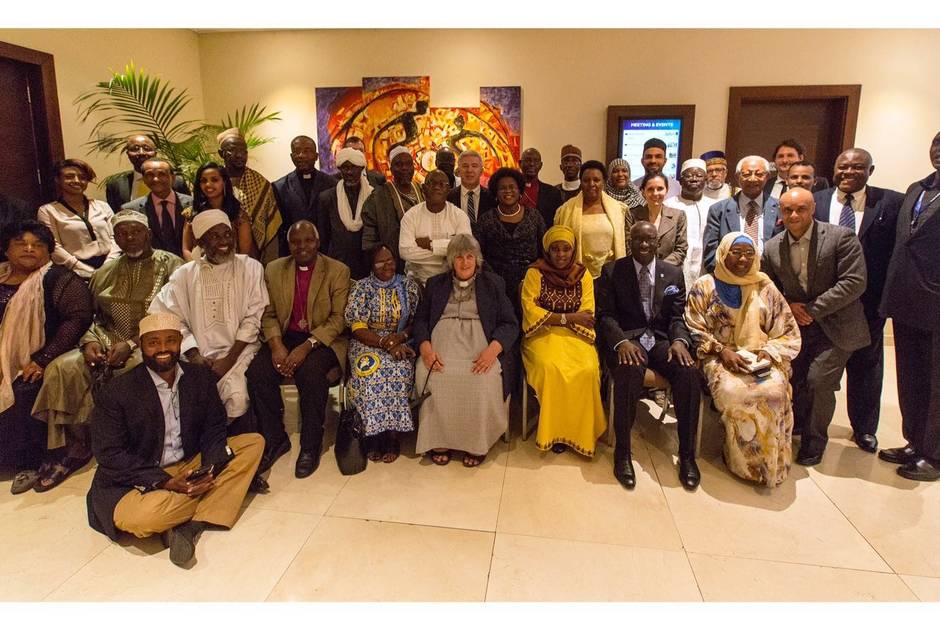 The African continent bears witness to the tragic consequences of the manipulation of religion to incite violence. Yet it is also the home of untold instances of the power of religious leaders and actors to exert a positive influence, said panellists at an international meeting in Addis Ababa, Ethiopia, today.  
Over 40 religious and community leaders and actors came to Addis Ababa to discuss practical actions they can take to help their communities become more resistant to "hate speech", especially hate speech that constitutes incitement to violence and targets people because of who they are – because of their religious beliefs their ethnicity or other form of identity.
The meeting, which was co-organised by the United Nations Office on Genocide Prevention and the Responsibility to Protect, the International Dialogue Centre (KAICIID), the World Council of Churches, and the Network for Religious and Traditional Peacemakers, brought together religious leaders and actors from countries across Africa, including Burundi, the Central African Republic, Chad, Cote d'Ivoire, the Democratic Republic of the Congo, Ethiopia, Guinea, Kenya, Liberia, Malawi, Nigeria, Rwanda, Somalia, South Africa, South Sudan, Sudan, Tanzania, Uganda and Zimbabwe.
Welcoming the participants to the meeting, Special Adviser of the United Nations Secretary General for the Prevention of Genocide Adama Dieng said: "It is my strong belief, and that of the United Nations, that you as religious leaders and actors have an important role to play in preventing incitement to violence, given the influence you have over the communities you lead.
In the Central African Republic, Cote d'Ivoire, Nigeria, Rwanda, Sudan and South Sudan, we have seen how incitement to violence by State and non-State actors has in some cases led to atrocity crimes, including genocide. Religion has been used to justify targeting of communities: religious leaders have spread messages of hatred, or stayed silent in the face of brutal violence.
We also know, however, that religion can – and has been - part of the solution: religious leaders and actors have in many instances been instrumental in preventing violence."
The International Dialogue Centre's Deputy Secretary General, Ambassador Alvaro Albacete agreed, noting that: "The role of religion, and the role of religious leaders, both in aiding and mitigating incitement to violence needs to be more closely investigated. In many parts of the world, religion is a powerful motivating factor for people. Religious institutions, their leaders and key actors, may exert as much, if not more, influence and authority than their secular counterparts.
We have all seen the negative effects of the manipulation of religious identity. Thus it is imperative that we work together to prevent this manipulation and the abuse of religion to promote discrimination, stereotyping and hatred of "the Other"."
The World Council of Churches Director of International Affairs, Peter Prove, stressed: "We believe it is incumbent upon us to examine our own traditions for the sources of violence, at the same time as seeking for those inspirations for peace that can bring us together.
The message of religious leaders and actors must be one of hope; hope for peace, hope for justice, hope for community."
Steps to Prevent Incitement
Acknowledging that economic, social and political factors can often contribute to the manipulation of religious identity to incite violence, the meeting participants outlined a number of concrete steps that religious leaders and actors can take to counteract incitement, for instance:
Provide training for religious leaders and actors to identify the root causes and risk factors for violence and its incitement, their consequences and impact as well as strategies to prevent or counter incitement
Develop early warning mechanisms to identify and respond quickly to incitement when it occurs
Create inter-faith and interethnic cooperation platforms and networks; speak with one voice and carry out joint initiatives;
Build inter-generational understanding and engage with youth both to prevent and to respond to incitement;
Engage with those who are at risk of or who have been radicalised
Work closely with the traditional and new media to spread counter and alternative messages; use radio to disseminate messages of peace and respect for diversity
Advocate against sexual violence as a weapon of war; promote "healing of memories" approach to sexual violence; welcome back survivors to their communities rather than isolating and doubly victimising them.
The recommendations and strategies provided by the participants will form an "Action Plan for Africa" on the role of religious leaders and actors in preventing incitement to violence that could lead to atrocity crimes.