'Religions in Dialogue': Lecture on the Protection of Fundamental Religious Rights in a Plural Society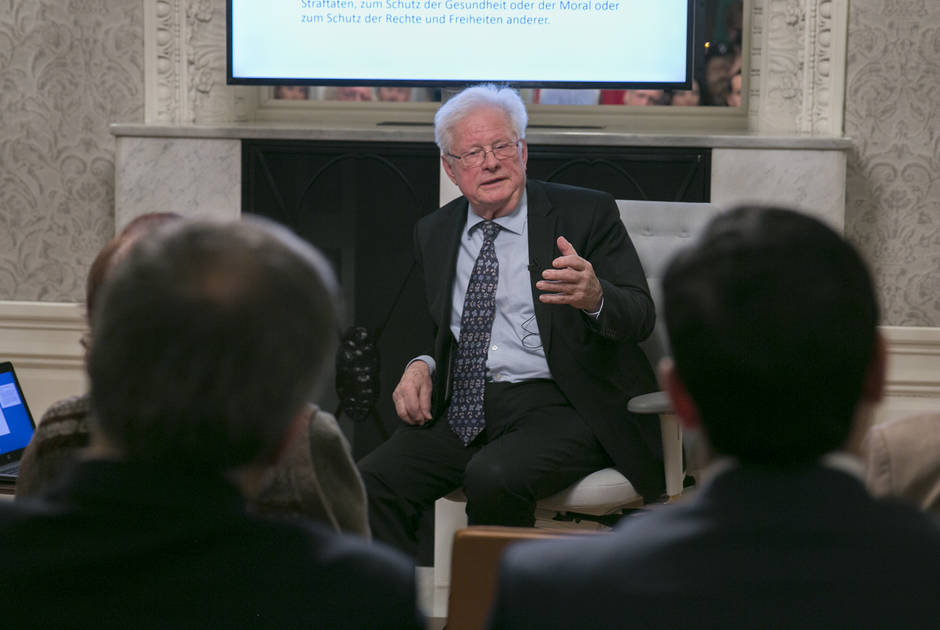 The International Dialogue Centre's (KAICIID) monthly 'Religions in Dialogue' (Religionen im Dialog) lecture series continued with a talk by Prof. Dr. Raoul Friedrich Kneucker. An Austrian expert on church law and legislation related to religious practice, Prof. Dr. Kneucker gave a lecture on "Religious Rights, Customs and Traditions from a Legal Perspective".
During the lecture, he discussed the history and scope of the legal framework for religious traditions and symbols within European legislation. This regional legal framework was examined in relation to national laws of EU member states and was illustrated through various examples, referencing rulings of the European Court of Human Rights regarding the discrimination of religious minorities practicing their religion or belief.
Particular emphasis was placed on the European Convention on Human Rights' Article 2 'Right to life', Article 8 'Right to respect for private and family life' and Article 9 'Freedom of thought, conscience and religion' as well as the EU Charter of Fundamental Rights' Article 10 'Freedom of thought, conscience and religion' and the Protocol to the Convention on the Protection of Human Rights and Fundamental Freedoms' Article 2 'Right to education'.
About 'Religions in Dialogue' lecture series
Last year, KAICIID established a German-language lectures-series, titled 'Religions in Dialogue' (Religionen im Dialog) on issues of relevance to interreligious and intercultural dialogue for the interested public based in Vienna. These lectures are followed by a round of discussion and a concluding reception to engage in dialogue.
If you would like to receive regular invitations, please register via dialog(at)kaiciid.org. Kindly note that these lectures are held in German only.
The next 'Religions in Dialogue' open-house lecture will be held on 20 April 2017 to offer insights into Buddhism in Austria, please click here to find out more information.
tags: