Hiba Ibrahim's passion for intercultural dialogue started as a nightly monologue to herself. 
"My family doesn't speak much English, so I used to practice by talking to my pillow at night. One time, my father passed by my bedroom, heard me speaking a foreign tongue, and entered to ask who else was there. 'Just me,' I said, encouraging him to look around. I think he was concerned," Hiba recalled with a laugh.
These solo late-night language sessions paid off when a few Arab American and European students joined her high school in Amman. Conversing in a mixture of Arabic and English, Hiba's language skills steadily increased, as did her curiosity about different cultures. 
"I began thinking of language not just as a functional tool to get things done but as a way to interact with people and to learn more about our cultures. Too often we limit our idea of culture to food, festivals, and fashion, but culture is how we think in different ways. Learning about culture through language can help us better understand our place in the world."
This philosophy inspired Hiba and a group of friends to start Yalla Talk in 2006. For nearly a decade, Yalla Talk promoted face-to-face intercultural dialogue and language partnerships between young Jordanians and foreign college students, professionals, and artists who were eager to learn more about the Arab world and Islamic culture. 
By conversing across language barriers and cultural divides, participants learned about one another's lives and discovered new aspects of their own identities.
"It was eye opening to talk with Christian and Jewish colleagues about their faiths, and our foreign participants were able to ask us about personal experiences around wearing the hijab and practicing Islam. I'm proud of how we created a safe environment with no boundaries and no red lines."
Maintaining such an environment created obvious challenges, but also opportunities for growth. 
"Sometimes conflicts or clashes arise because ideas are lost in translation. That's where language and dialogue facilitation skills come in. Sometimes we just need to help people clarify or rephrase their thoughts because what they are trying to say is not clear or their facial expressions or body language doesn't match another culture's."
Between its group dialogue sessions and language partnerships, Yalla Talk worked with more than 300 participants from around the world. Hiba says the impact is still ongoing. 
"An American history teacher emailed to say that Yalla Talk had given him a fresh perspective after seeing and experiencing and being part of conversations with hijabi women in Jordan. That was really inspiring to hear."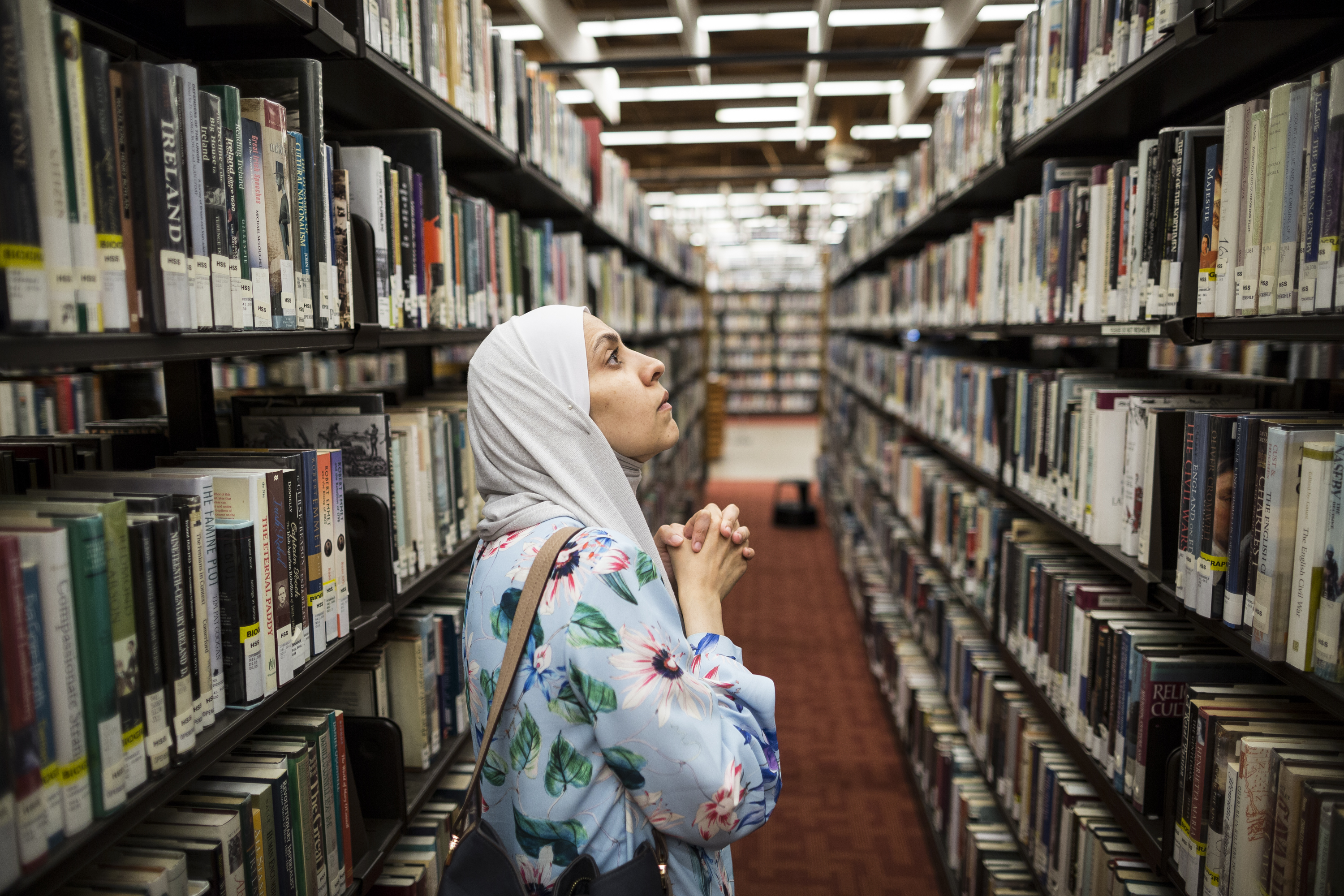 One such woman, a Yalla Talk participant from a conservative region in southern Jordan, experienced her own transformation through the programme.
"It's harder for women to be out and active in that community," Hiba said of the woman's home town. "She was really shy and reluctant to share her perspective and culture at first. Then one day she started speaking more positively about aspects of her community, and over time we saw her become more outgoing and confident. It's inspiring to see how Yalla Talk helped participants like her reflect on their own identities and cultures."
Yalla Talk no longer organises regular dialogue sessions or language partnerships, but Hiba has incorporated many lessons from the programme into subsequent work as a dialogue facilitator with the online cross-cultural exchange platform Soliya and as a programme coordinator with Global Nomads Group, which fosters dialogue and mutual understanding between students in the Middle East and the United States.
These roles helped inspire Hiba to complete a master's degree in education, allowing her to delve deeper into some of the theoretical underpinnings of her intercultural exchange work. As part of her studies, Hiba started an after-school programme for ninth-grade girls in Amman to see whether adding components of intercultural communicative competence to their English curriculum might enhance their enthusiasm to learn the language. It did.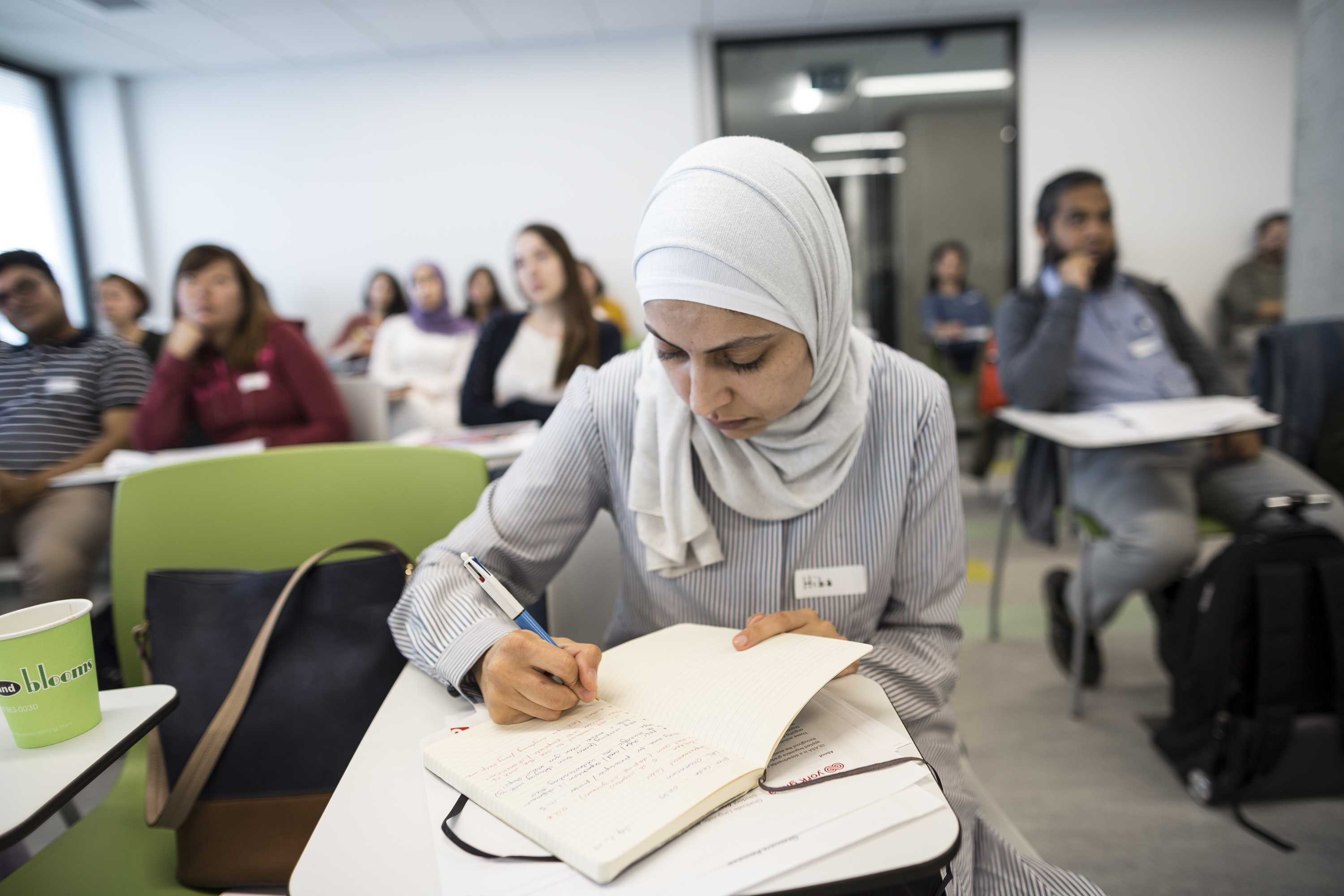 "We focused on mutual understanding and identity, and the girls were motivated to learn about themselves as Jordanians and Muslims," she said.
"It's really important for kids to master some facilitation and dialogue skills in their own language to better understand who they are and to have a base to build on when they enter those conversations in a foreign language."
Hiba did just that in 2013 when she moved to the United States to teach Arabic as a Fulbright Scholar at Baldwin Wallace University in Ohio. There she collaborated across departments and spoke on panel discussions at churches, movie festivals, and other universities about women in the Middle East, religion, and Islamophobia. 
"I tried to do all I could. I read a storybook to third-graders called The Sandwich Swap, which was written by Jordan's Queen Rania. The story addresses issues of cultural difference. Through the book and activities, we talked about cultural identity and how people come from different backgrounds and how we should celebrate their differences," she said. "Although the Americans I met were not very experienced with Islam, they were very friendly and welcoming, and I enjoyed being part of their community."
That year in the U.S. solidified Hiba's commitment to pursuing an academic career in intercultural learning. She is now working on a PhD in Applied Linguistics at York University in Toronto.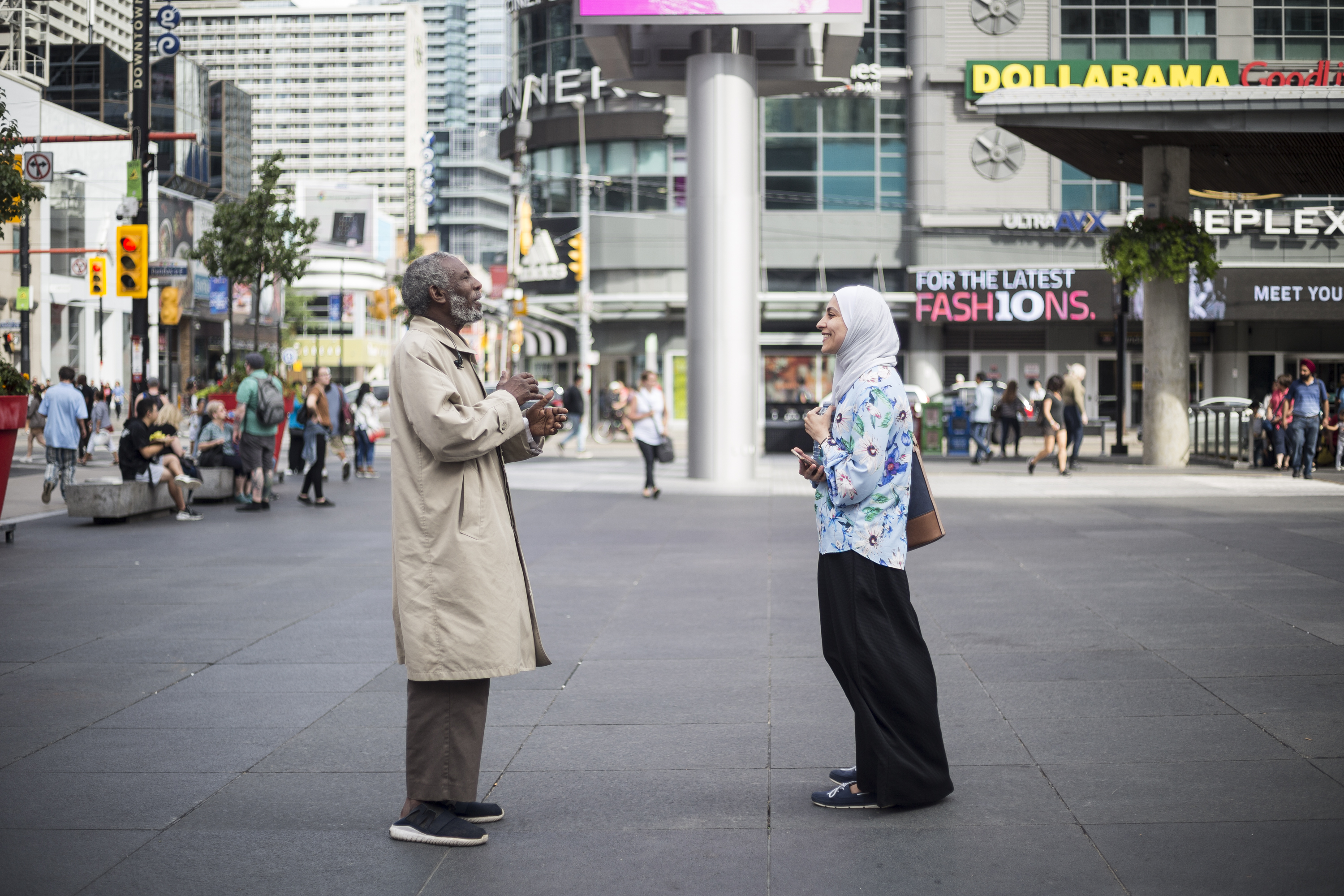 After finishing her doctorate, Hiba plans to return to Amman to develop intercultural communicative competence tools that can be integrated into teaching curriculum in Jordan and beyond. She also wants to start a student-led podcast in English and Arabic that would allow young people to reflect on intercultural issues and celebrate their own diversity. 
"Traveling and studying abroad are very important for cultural exchange, but new technology gives policymakers, learners, and educators a lot of effective alternatives. I'd like to contribute to this new field of intercultural communication and learning," she said. 
Although Yalla Talk no longer hosts regular dialogue sessions, its legacy lives on through former participants and in Hiba's work. 
"Yalla Talk exposed me to cultural perspectives, tolerance, and mutual understanding at an early age and enriched my skills as a facilitator. It helped me become more introspective, open-minded and curious about how people connect with each other. It made me celebrate being a Jordanian Muslim woman -- all key parts of my identity -- and appreciate intercultural dialogue as an opportunity to learn not just about other people but also about ourselves," she said.
Hiba Ibrahim is one of KAICIID's featured Heroes of Dialogue. To find out more, click here