In his own words, Rabbi Alex Goldberg has "reverse-engineered" his career. He pursued a rabbinic education only after becoming a chaplain at the University of Surrey, where today he serves as Dean of the College of Chaplains and Advisors. Not only does his professional network read like a Who's Who of global game changers, Alex also packs an extraordinary list of projects into his CV — founder, BBC radio presenter, human rights activist, CEO and barrister are among his titles.
The lessons that Alex learned during the Fellows programme have helped him transition into a post-Brexit UK. As his country has grappled with its future relationship with Europe and questioned how to heal rifts between its citizens, Alex has responded with dialogue principles.
"We're actually using interreligious dialogue to try to respect each other's points of view and listen to each other. It helps to navigate that path on a campus where people display their politics in public," he said.
His goal is to use dialogue to develop a new chaplaincy model that promotes the wellbeing of all. Gone is the monocultural Surrey of his youth. In its place is a 21st century community where religious, ethnic and ideological perspectives jostle for attention.
Today, there is a new focus on creating more inclusive spaces and women-friendly areas. The university canteen has started to cater for those who follow halal, kosher and Hindu diets, and the number of people who affiliate with Hindu, Jewish, Muslim and Sikh faith traditions at the university has increased in 2019. A sure sign, Alex says, of the impact of the chaplaincy team's work.
Alex's team of chaplains now stands at an all-time high of 15, double the number of 2019, and includes the university's first humanist chaplain. Being able to reorient the chaplaincy at the university to fit with the changing face of Britain is particularly satisfying for him.
"We're probably the most diverse team at any leading university. We're trying to engage with each other among 16,000 students, and 2,000 staff­, and we're trying to produce programmes that matter," he said.
Among a series of notable firsts since becoming a KAICIID Fellow, Alex is the first and only rabbi in the UK to become a coordinating chaplain at a large university, a role that was traditionally the preserve of Church of England Anglican chaplains. He is also one of only two rabbis working in the public sector. In 2019, Alex was also the first rabbi to enter Lebanon's second largest city, Tripoli, in over 40 years as part of the European Union's Programme of Religion and Society.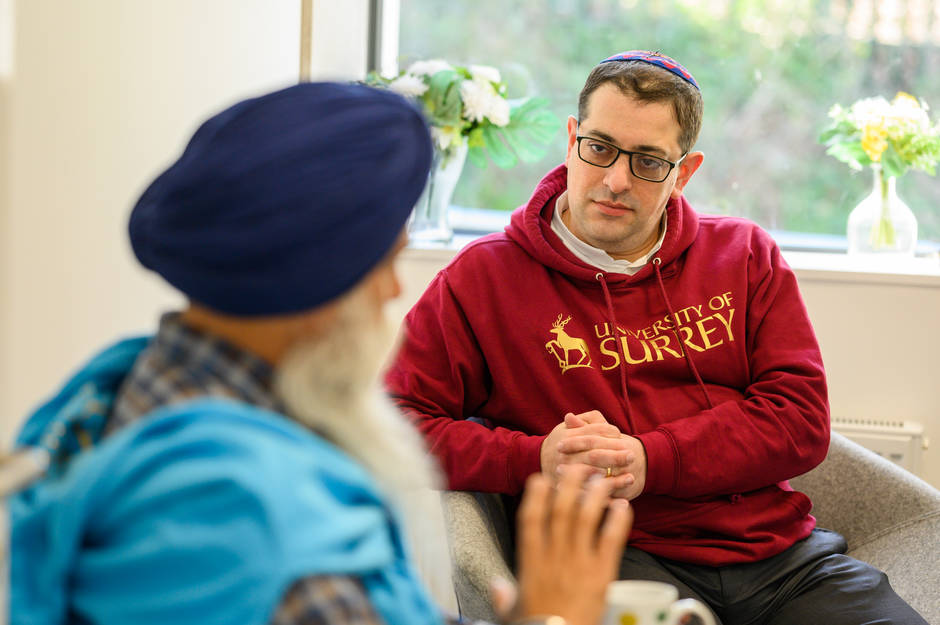 A staunch believer in the maxim that diversity is a strength, Alex appreciates KAICIID's e­fforts to balance the representation of di­fferent faith communities within their initiatives. "The fact that there is gender balance as well as a geographical and regional balance creates a very powerful network," he said. This network is one that he considers an "enormous resource" and a springboard for a number of ideations.
Among major projects that he has spearheaded or contributed to through the Fellows network has been the Transatlantic Dialogue Programme which brought together Fellows to view urban conflicts in complex, multi-ethnic, multireligious areas across major European and US cities.
"The Transatlantic Dialogue Programme looked at very di­fferent models of how interreligious dialogue can influence society and how it can help to bring people together in large urban metropolises that results in action and changes on the ground," said Alex.
In a programme-sponsored trip to Philadelphia, together with other members of the Fellows network, Alex discovered "critical incident chaplaincy", which is an arrangement that provides a member of the clergy during periods of civil unrest or at the site of a traumatic incident such as a road traffic accident.
After police, fire and ambulance, Alex considers the introduction of these frontline chaplains akin to having a fourth emergency service, and has been instrumental in setting up this facility for forces in southern England.
Being a Fellow has also crystallised for Alex the need to contribute to conflict resolution work.
"Through KAICIID, I've met people who've been working in war zones all around the world and it's opened my eyes to the fact that I probably have a role in international conflict resolution," said Alex.
He is now working with England's Football Association as chair of its faith network to develop a programme bringing together, through football, Arabs and Jews in Israel and Palestine.
"I think it's that KAICIID experience and the Centre's network that enables me to contribute to projects like this," said Alex. "Because KAICIID does have a cachet, it is seen as a leader in interreligious dialogue. And, when I tell people in the field that I have been a KAICIID Fellow, they see me as part of an organization backed by Austria, Saudi Arabia, Spain and the Vatican. That connection opens doors and enables access."
Although it is clear that much has changed for Alex Goldberg in the five years since his KAICIID Fellowship, it is equally apparent that the foundational principles that guide him remain the same. He draws inspiration from great thinkers like Martin Buber and Rabbi Joshua Heschel, the latter of whom joined the 1965 marches from Selma to Montgomery alongside Reverend Martin Luther King Jr. Rabbi Heschel, a Hasidic Jew and passionate social activist, was in his element when he lent his voice to the African-American protest. He pronounced: "When I marched in Selma, I felt that my legs were praying."
The idea of unequivocally responding to calls to social action resonates strongly with Alex, who sees his engagement with KAICIID as a chance to metaphorically wear the shoes of Fellows from the Arab world, with people from conflict areas, and to work through the necessary discomfort that comes with true empathy, so that he can view the world through another's eyes. For him, it is these encounters that are most meaningful.