Along Vienna's Ringstrasse, young people huddle under umbrellas, standing watch day and night over portraits of Holocaust survivors. Since its opening three weeks ago, vandals have attacked the art installation, titled "Lest we Forget" by German-Italian artist Luigi Toscano, three times – leaving swastikas and racial slurs and slashing gaping holes with knives.
---
An exhibition of portraits of Holocaust survivors has become a rallying cry for multi-faith resistance to antisemitism. Opened in May, the exhibition, "Lest We Forget",  by Italian artist Luigi Toscano stretched along Vienna's Ringstrasse from the Volksgarten past the iconic Hofburg palace. Surrounding Vienna's historic Centre, the Ringstrasse is frequented by thousands of commuters and tourists every day.
Featuring 50 portrait photos, each over two meters in height, the exhibition depicts the faces and stories of those who survived Nazi persecution.  It has lined Vienna's famous boulevard since May 7.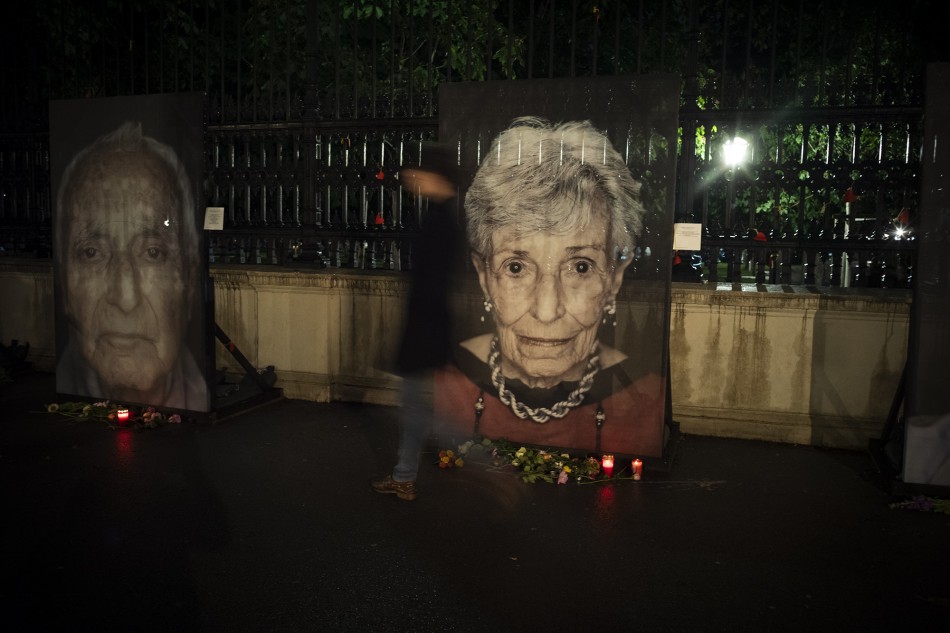 The portraits were vandalised on multiple occasions, usually during the night. Many were slashed through, or burned with cigarettes.
Mobilized through an interfaith cooperation between the Austrian Union of Jewish Students, Catholic Youth Austria, Muslim Youth of Austria, and Young Caritas, volunteers guard the exhibition around the clock, determined to protect the survivors' faces from further vandalism.  

"When I heard that this happened, and even happened for a second time, I had no words. It's terrible. What is so shocking is that in the middle of the city and after so many years that there are still people that would want to destroy this," said Fatima Ali, a young Muslim woman who was among the first to sew up the damaged images.
Following news of the vandalism, the Muslim Youth of Austria took to social media, calling for an overnight watch.
"When we saw the destroyed portraits of Holocaust survivors, we had to do something. We didn't want to let this happen again. We wanted to send a strong message that this hate can't divide us as Austrians," said Nesrin El-Isa, member of Muslim Youth of Austria.

A volunteer relights a candle placed before a portrait. Requests for candles on social media specified weatherproof candles to protect against the unseasonably cold rain and wind. The temperature sometimes reached 10 degrees Celsius.
Other religious and civil society organizations soon joined in the act of interreligious solidarity, reaching out to their members and starting action groups on Facebook. Caritas brought tents and jackets; staff from the nearby Natural History Museum supplied coffee and tea. Others showed up with free pizza and words of encouragement.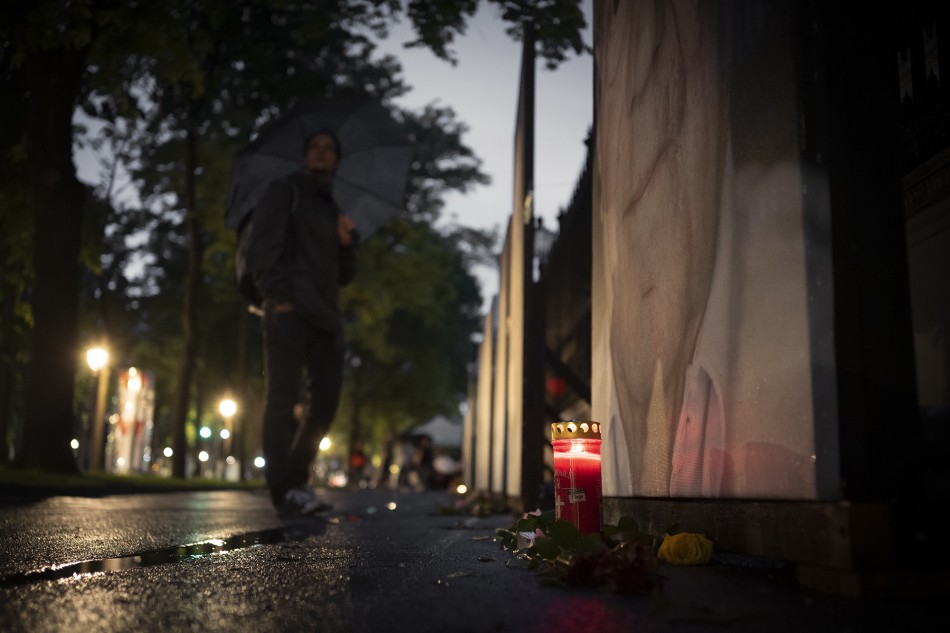 As the sun set, volunteers from Christian, Jewish and Muslim religious organizations gathered to watch over the portraits through the night.
"There is a good relationship between our organizations," said Fatima Ali, from Muslim Youth of Austria. "We just call each other up, and suddenly, there are 50 people. I believe that it doesn't matter who this happened to, we would have come together anyway because there is solidarity between us."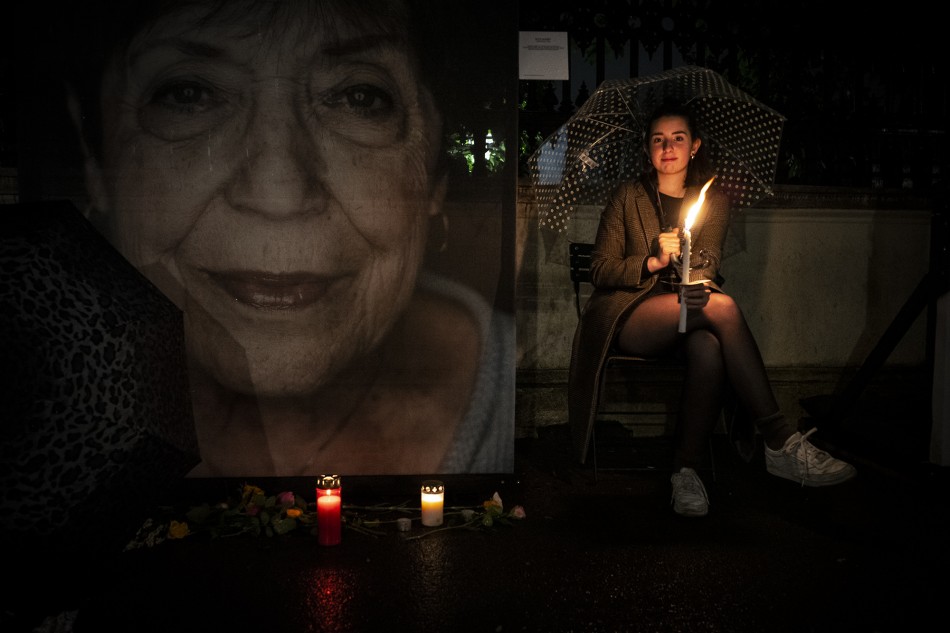 "I heard about this and I thought it was just horrible. I wanted to help, so I just came by and took this empty chair," said Nina, a student from Vienna. "I just thought it was something I needed to do."
Sitting in the pouring rain, faces lit by flickering memorial candles, the young people take around the clock shifts, guarding over the portraits until the exhibition's close on May 31. Some brought sewing kits, painstakingly stitching each portrait back together. Now jagged scars heal the faces where the wounds were originally cut.
"It was their first impulse," said Ariane Gollia, representative for Caritas. "People wanted to repair what has been done."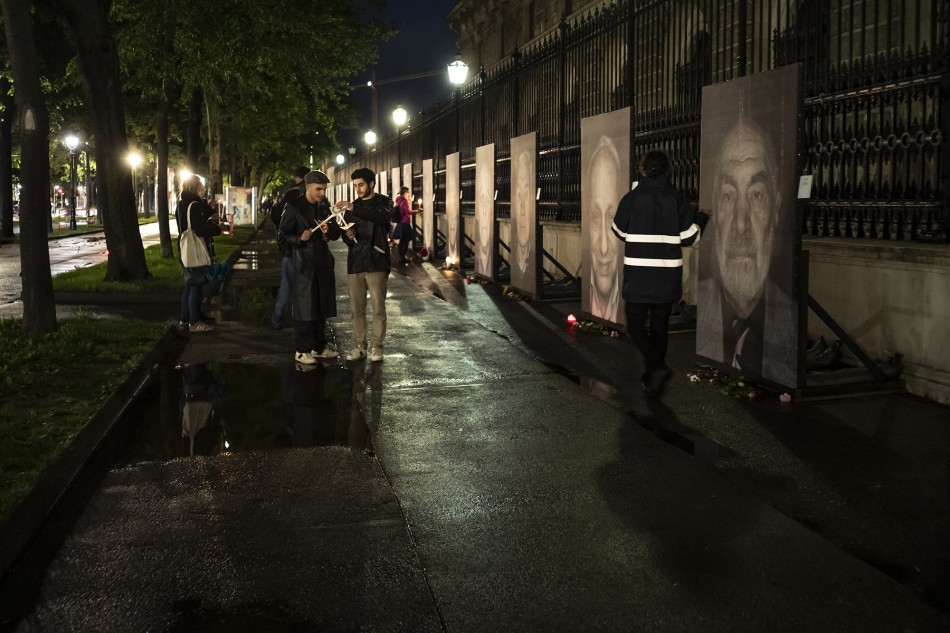 A local theater troupe hands candles to passers-by.
Many of those gathered say the night watch is a symbol of how interfaith cooperation can bring people together when crisis tries to tear them apart.
"We are deeply moved by this gesture from our friends at Muslim Youth Austria," the Austrian Union of Jewish Students wrote on Facebook. "As disheartening as [the] attack on the portraits of Shoah survivors was, this act of interreligious, civil society and human solidarity gives us hope."
"These people wanted to destroy," Ali adds. "But what they really did was bring lots of people together: young and old, different organizations, different beliefs. And they achieved exactly that."
On one of the final evenings of the vigil, an iftar was held, bringing together hundreds who stood watch, including Christian, Jewish and Muslim groups, Scouts, Antifascists and spillover from another demonstration nearby.