A Dutch rabbi and a Moroccan boxer walk down the streets of Amsterdam – what may sound like the beginning of a joke has formed the basis for one of the Netherlands' most powerful interfaith partnerships.
A prominent leader in Holland's Jewish community, Rabbi Lody B. van de Kamp is a former politician, and a member of the KAICIID-supported Muslim Jewish Leadership Council. In contrast, Said Bensellam recalls being a Moroccan youth from the borough of Bos en Lommer, adrift before he was admitted to the local kickboxing school. Today he is a self-made youth-worker and role model for his community, having been voted "Amsterdammer of the Year" in 2007.
Together, they form the duo "Said and Lody," working to counter anti-Semitism and Islamophobia in their community – an inclusive partnership forged in the fires of hate and discrimination.
Bensellam and van de Kamp trace their first meeting back to a Nazi salute.
In 2010, while van de Kamp was serving as director of an Orthodox Jewish school in Amsterdam, he received complaints from students who reported facing discrimination and racial slurs during their daily walks home. Wanting to see for himself, van de Kamp and a partner brought a film crew on a 10 hour walk through the streets of Amsterdam. Both men wore traditional kippahs (head coverings for Jewish men).
During the walk, they encountered two explicit incidents of hate. At first, they were called names. Then, a teenager stood up in front of his friends and raised his arm in a Nazi salute while staring at van de Kamp.
The incident made national news and prompted renewed debates about integration, anti-Semitism and Muslims in Dutch society. Watching at home, Bensellam decided he had to do something on behalf of his community.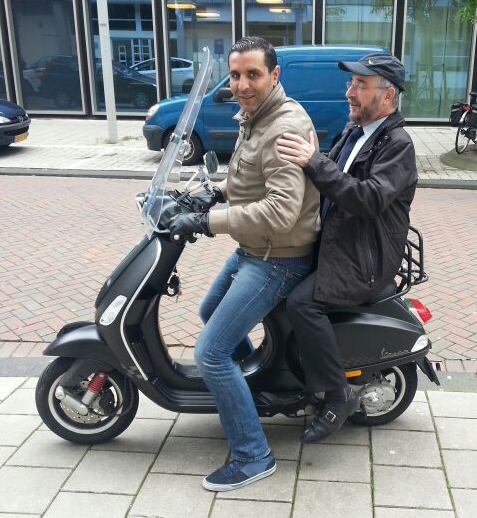 "Said and Lody" use their unique friendship to alter harmful stereotypes about Jews and Muslims in Amsterdam
"After talking with Dutch authorities, I received a second call about the video," said van de Kamp. "It was Said and he was asking me, 'how can we solve this together?'" After much discussion, Bensellam reached out to the teenager, encouraging him to meet with van de Kamp. He then facilitated a reconciliation between them.
The incident marked the beginning of a fruitful 10-year partnership. But, at times, Bensellam and van de Kamp admit they have faced an uphill battle. Over the last decade, the Netherlands has had to confront numerous public incidents of anti-Semitism and Islamophobia. Jews and Muslims have faced both physical and symbolic dangers from wide sectors of society.
According to experts, anti-Semitism and Islamophobia are not distinct phenomena, but instead often reinforce one another in a twisting helix of hate. For example, anti-Semitism within the Muslim community can exacerbate Islamophobia in Dutch society as a whole and, in turn, embolden elements of the public to express anti-Muslim and anti-Semitic rhetoric side-by-side.
From the beginning, Bensellam and van de Kamp's primary motivation has been to ensure that hostility is not allowed to fester in their communities. "How can we make sure that antipathy doesn't arise? That hate doesn't grow?" van de Kamp asked. "Our answer was that our communities do not know each other."
Bensellam and van de Kamp started with their own friendship and invited others to join them. They also reached out to youth in each community who were facing exclusion and discrimination. Working with schools, government agencies, and religious institutions, the two men found a willingness and welcoming hospitality to work together on both sides.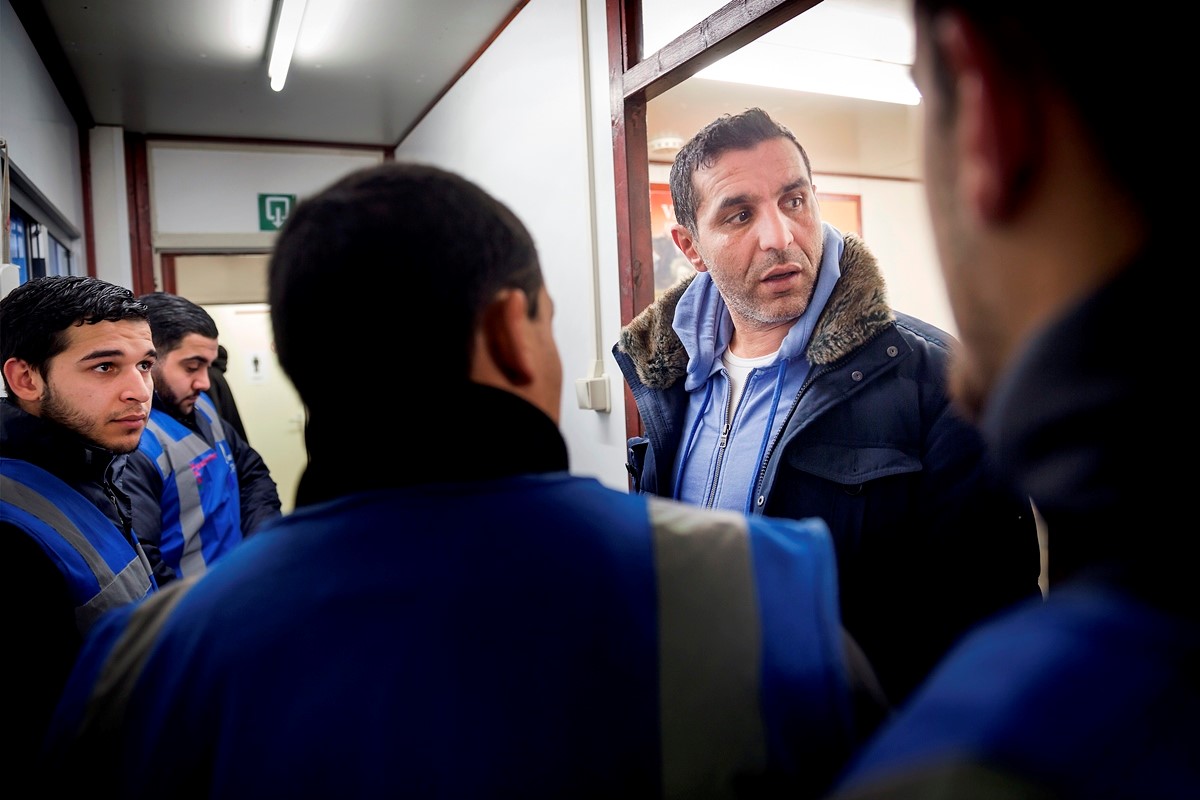 Over the past decade, van de Kamp says there have been countless stories of inclusion and reconciliation. For example, when a group of Muslim boys were found playing football in one of Amsterdam's historical Jewish cemeteries, "Said and Lody" reached out to help them make amends.
"The police got involved because a cemetery is usually not a place for football," van de Kamp said, "but when Said asked the boys what they were willing to do to make things right, they said they would clean the cemetery."
Bensellam and van de Kamp took the offer a step further, inviting 20 Jewish youth to join the 20 Muslim youth in their clean-up initiative. "The idea wasn't just to clean, it was to bring the two communities together. To have a common project. To get to know one another as we worked together," van de Kamp said.  
Dr. Matthew Kaemingk, professor of ethics who has written on Christian-Muslim relations in the country, says that in order to defend against stereotypes, misinformation, and aggression, different religious subcultures in the Netherlands must come together.
Referring to "Said and Lody," Kaemingk said, "Judaism and Islam are profoundly different theologically, culturally, and politically. The temptation to ignore those differences is very real. They have to find ways to collaborate across their deep differences."
Neither Bensellam nor van de Kamp deny these dividing lines. Still, they emphasise how their friendship has led to meaningful discussions and a lot of laughs along the way. "It's not comedy, it's just conversation. It's not a formal dialogue, it's not a system. It's just getting to know each other. Being there for each other. When you live life together, it's organic," van de Kamp said.
It's also contagious. Following "Said and Lody's" example of reaching out to one another in times of crisis, a group of Dutch Muslims recently brought flowers to a Jewish retirement home in order to help elderly individuals suffering from loneliness due to the COVID-19 pandemic.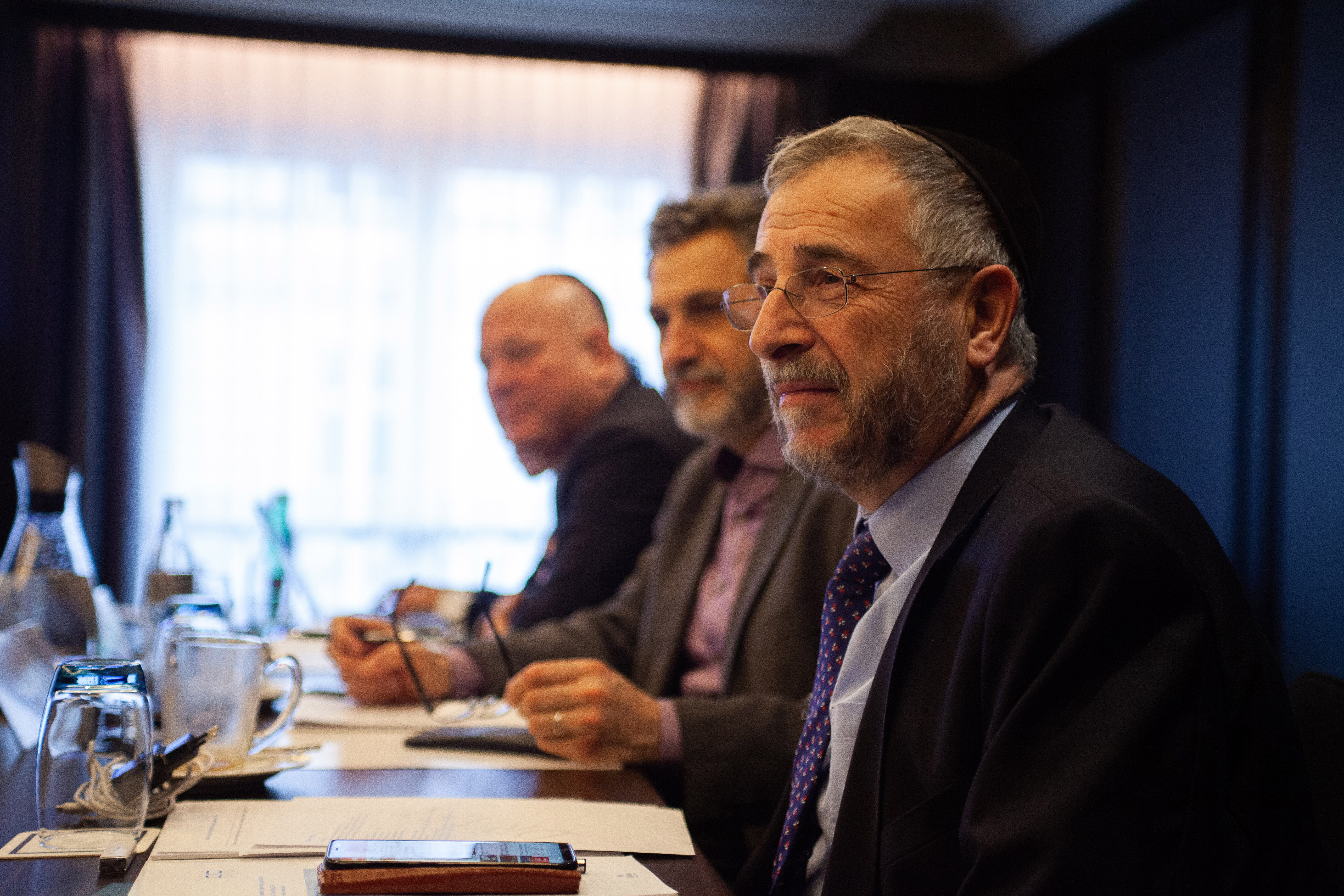 This makes van de Kamp proud. "It's not hard to reproduce the 'Said and Lody system,' if you want to call it that. This kind of work is not a luxury these days, it's a necessity. What we do, anyone can do it," he said.  
"And," he emphasised, "they should be doing it."
As societies across the world address the challenges and opportunities of globalisation, multi-ethnic communities, and alterations in national identity, Bensellam and van de Kamp's influence has begun to extend beyond the Netherlands too.
When Dr. Amy Peloff and Dr. Nicolaas P. Barr of the University of Washington in the United States brought a group of 18 study abroad students to Amsterdam in June 2019, they spent an afternoon with van de Kamp. Barr said the students were struck by his gentleness, presence, and candor.
When it comes to dialogue between communities, I think that what Rabbi Lody embodies is the willingness to show up in a real way with, and for, others," Barr said.
Barr says that although this doesn't magically solve all disagreements, "it shows a willingness to hear where people are coming from, and building relationships with others, even if you don't agree on every single issue."